Olympic Viewer's Guide: Wednesday, Aug. 8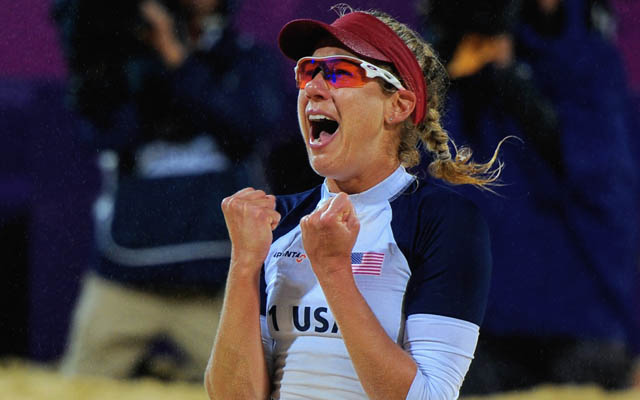 The U.S. is winning gold in beach volleyball, one way or another.
(Getty Images)
Trying to watch the Olympics? Even with NBC now streaming every event live online, the wild array of events -- and difficulty in finding live events, for anyone like us not interested in avoiding spoilers all day -- can make the television viewing experience a bit bewildering.

But we're here to help. Here's our chronological list of the events U.S. Olympic fans should consider watching, and where, for Wednesday, Aug. 8. All times Eastern and all events are live action unless otherwise noted. (Events broadcast on NBC will be on a one-hour delay for Mountain and Pacific viewers. Sorry.) Many secondary events are also subject to change.

Here's what awaits you Wednesday:
6:00 a.m. (live) NBCOlympics.com,
2 p.m. (tape-delay), women's semifinals 60-75kg, under 51kg, NBC Sports Network, replay at 6 p.m..
American Claressa Shields faces Marina Volnova in the semifinals. Hopfully the sport will manage not to embarrass itself in the process.
6:10 a.m.: NBCOlympics.com
10 a.m morning session, NBC (tape-delay), 8 p.m. Finals on NBC.
3:10 p.m. Men's 200m Semifinal:
Bolt action once again. Usain Bolt returns to the track in the 200m. Biggest reason to catch this on replay is then you can watch in slow-motion to actually see the guy. Americans Wallace Spearmon, Isiah Young, and Maurice Mitchell also compete to try and run down the wonder from Jamaica.


Assuming you're not interested in waking up at 5 a.m. ET to watch the morning session of preliminary heats in track, you can catch them sprinkled throughout NBC's daytime coverage. But if you want to know when to watch live on NBCOlympics.com, the schedule below, with U.S. performers in parentheses:
5:00 a.m. Men's Pole Vault: (Brad Walker, Derek Miles, Jeremy Scott)
5:10 a.m. Men's Decathlon (Trey Hardee)
5:45 a.m. Men's 5000m Heats (Lopez Lomong, Galen Rupp, Bernard Lagat)

3:05 p.m. Women's Long Jump Final (Janay Deloach, Brittney Reese)

3:45 p.m. Women's 400m Hurdles (T'erea Brown, Georganne Moline, Lashinda Demus)

4:00 p.m. Women's 200m (Carmelita Jeter, Allyson Felix, Sanya Richards-Ross)
4:15 p.m. Men's 110m Hurdles (Jason Richardson)
9 a.m. Men's Volleyball, United States vs. Italy, NBC Sports Network and NBCSports.com

With the men's beach team bounced on Monday, this is Team USA's only chance for a medal in men's. This team has't been nearly as dominant as the women's team, but face Italy who went 3-2 in group play.
3:00 p.m. Men's Water Polo, Team USA vs. Croatia, NBC and NBCSports.com

I've made the "the horses drown" joke like 700 times. I'm out. Apparently this is one of the most difficult sports in terms of conditioning. So I'd like to see Eddy Curry do it.
4:00 p.m.: U.S. women vs. U.S. women, NBCOlympics.com, 8 p.m. (tape-delay) NBC
May-Treanor and Walsh Jennings go for their third straight gold medal, an unbelievable run. They face fellow Americans Ross and Kessy in a shocker of a final that guarantees American gold. Win-win for U.S. fans but after Rosee-Kessy's revenge over Brazil, this is icing on the cake. Don't expect a letdown in intensity from either side, though.
5:15 p.m., U.S. men vs. Australia, NBC Sports Network and NBCSports.com

Australia has some sneakiness to them and Team USA needs to watch out. They stunned Group winner Russia in their final game of group play and even with the lowered importance of that match, it still shows what they can do behind San Antonio Spur Patty Mills.

Don't be surprised if Australia's hanging in there at the half, as most teams have been able to stay in range with Team USA. But that third quarter is when this one's likely over.

The big key will be whether Team USA shows an increased level of focus in this Final round.
Other events:
7:00 a.m. Equestrian, Individual jumping final

It's horses jumping. I maintain that the horses should receive a medal, but regardless, the grace and coordination required between the rider and animal is incredible. Well worth your time.

8:00 a.m. Sailing, Men's 49er skiff Final

Not going to lie, I think you should just watch this just for context in case this guy does another video.
10:30 a.m. Table Tennis, Men's Team Final, NBC Sports Network

China vs. Korea, and these things get intense. With the U.S. behind China in the medal count, U.S. fans need every loss they can muster for them. With so much on the line, I'm hopeful that they'll pump in really dramatic music throughout the entirety of this match.

Actually, I kind of hope they play the Ramones the entire time.
2:03 p.m. Wrestling, Women's Freestyle 48kg and 63kg NBC Sports Network
Beasting.