Three-times the charm: May-Treanor and Walsh Jennings win gold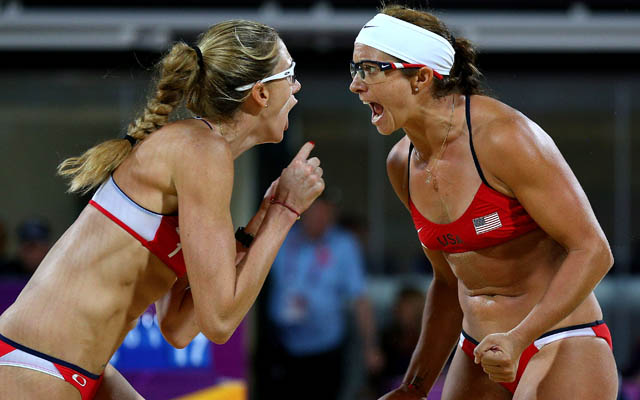 "I know! Three times!"
(Getty Images)
One, twice, three-times a pair of champions, apparently. Misty May-Treanor and Kerri Walsh Jennings took the gold medal 2-0 over fellow Americans April Ross and Jennifer Kessy Wednesday, earning them their third consecutive Olympic gold medal in women's beach volleyball.
It caps another sensational run for the pair, who only lose one set in the entirety of the 2012 games, playing in dominant style throughout. Their combination of experience and athleticism was just too much.
Maybe most impressive was their abilty to combine the two, using all that know-how that comes for the pair of mid-30's competitors while also frequently dominating with size and power. Challenging at the net, managing the edges, and controlling set after set.
Ross and Kessy take silver, but did receive a measure of validation with their win over Brazil to reach the gold medal game. They just weren't able to match May-Treanor/Walsh's lethal control of the ball and power on spikes. It was Treanor and Walsh's 20th straight win in Olympic play. No one has ever won three consecutive gold medals in beach volleyball.
Until now.