Olympic Viewer's Guide: Saturday, August 11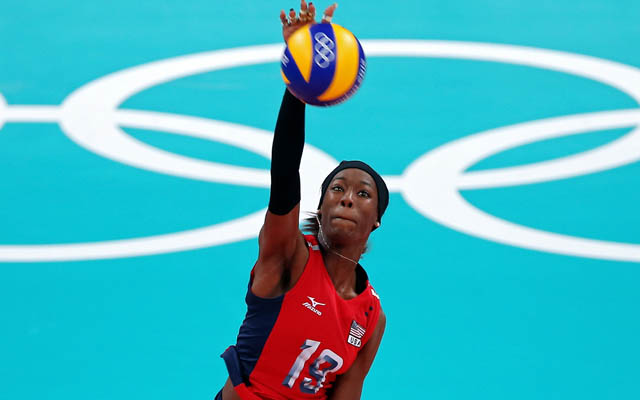 Destinee Hooker and Team USA go for gold on Saturday.
(Getty Images)
Trying to watch the Olympics? Even with NBC now streaming every event live online, the wild array of events -- and difficulty in finding live events, for anyone like us not interested in avoiding spoilers all day -- can make the television viewing experience a bit bewildering.

But we're here to help.
Here's our chronological list of the events U.S. Olympic fans should consider watching, and where, for Saturday, Aug. 10. All times Eastern and all events are live action unless otherwise noted. (Events broadcast on NBC will be on a one-hour delay for Mountain and Pacific viewers. Sorry.) Many secondary events are also subject to change.

Here's what awaits you Saturday:
10:00 a.m.: Soccer, Brazil and Mexico, NBC Sports Network
Brazil and Mexico play for the gold.
12 p.m. evening session, live NBCOlympics.com. Most will air on NBC (tape-delay) at 8 p.m. Team USA reps in parentheses.
4:00 a.m. Men's 50km race walk Final (John Nunn): This literally sounds like the most boring event ever conceived. But I imagine it' incredibly difficult.

12:00 p.m. Womens' 20km Race Walk (Maria Michta): In stereo!

2:00 p.m. Women's High Jump (Chaunte Lowe, Brigetta Barret): This is always one of the cooler events based simply on the purity of the athleticism. Jump.

2:20 p.m. Men' Javelin Throw: There's something really noble about this event, connected back to the original games. Finland has three competitors in it, so you have think they've got a leg up.

2:30 p.m. Men's 5000m (Lopez Lomong, Galen Rupp, Bernard Lagat)

3:00 p.m. Women's 800m (Alysia Johnson Montano)

3:25 p.m. Women's 4X400m Relay: Things get serious as the women try to avenge the men's loss in the same event on Friday.

4:00 p.m. Men's 4X100m Relay
1:30 p.m. Women's Volleyball, United States vs. Brazil, NBCSports.com, replayed in primetime on NBC

This has been the most dominant performance by any Team USA representative collection in these Olympics, including men's basketball. They face Brazil, who beat them in 2008 in Beijing. But this is a much better team, lead by athletic marvel Destinee Hooker. Team USA beat Brazil in four sets in group play, and swept South Korea. They have controlled every match and shown why they were No.1 going in. This could be the crowning of a new iconic Team USA. Don't miss it.
4 p.m.: Women's final, United States vs. France, NBC
Team USA took a scare against Australia. Was that their toughest test or does France have something more dangerous up their sleeve? A dominant win would put Diana Taurasi and Sue Bird on another level and validate Tamika Catchings as a legitimate Olympic star.
Also in action:


4:30 a.m. Men's Kayak Singles 200m Finals(Tim Hornsby):

7:30 a.m. Women's Cross-Country Cycling Final

1:46 p.m. Wrestling, MSNBC


1:46 p.m. Men's Freestyle 60kg (Scott Coleman)

2:21 p.m. Men's Freestyle 84kg

2:56 p.m. Men's Freestyle 120kg


3:00 p.m. Men's Field Hockey Final, Germany vs. Netherlands, MSNBC


3:30 p.m. Women's Team Handball, Montenegro vs. Norway: This has been the hidden sport of the Olympics which has caught fire on the internet. Norway is a fantastic and versatile team. If you watch one non-Team-USA event Saturday, I recommend this.