Basketball: Team USA Women leave no doubt with one for the thumb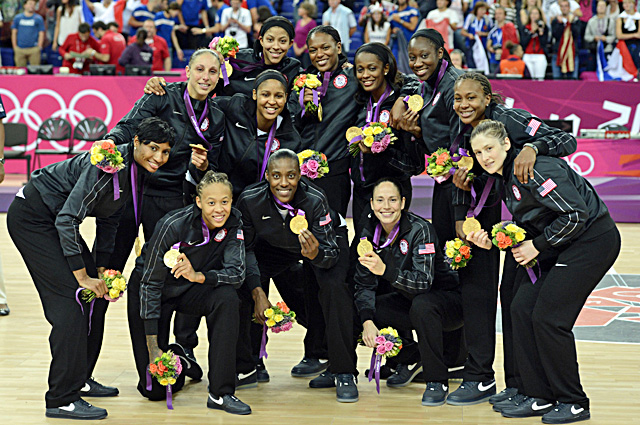 U.S. players pose with their gold medals after beating France in the women's basketball final.
(US Presswire)
Let there be no doubt. No question, no contemplation, no hypothesizing or consideration. This question has been answered in the most resolute way possible. Team USA is the best women's basketball team in the world, and the gap between the Americans and the rest of the world is not narrow. 86-50, Team USA wins the gold medal in women's basketball
Entering a gold medal match against France, there was enough to leave a little sliver of doubt. After all, Team USA had struggled against Australia in the semifinals.
Yeah, not so much.
They lead by only five after the first quarter vs. France, twelve at the half. Then it got ugly. The U.S. went on a 20-1 run in the third quarter to outscore France 26-12 and the celebrations started early.
After being lead by Diana Taurasi, Sue Bird, and Tamika Catchings for most of the tournament, it was Candace Parker who took USA to gold, leading the way with 21 and 11, with nearly a double-double in the first half. Her relentless assault on the glass pushed France from inside and took away what had started to be an advantage in the paint. Once that disappeared and the halfcourt execution got in gear, it was all over.
It's an unprecedented fifth world championship for America in the event and makes it forty-one straight victories in Olympic play. It is a period of dominance seldom found in sports, and a testament to the program, coach Gene Auriemma, and the players on a star-studded team. To debate which was better, this team or the 2008 team could take years to settle. But for the best in the world?
There is no doubt.