Kevin Durant puts his name in the books in first Olympics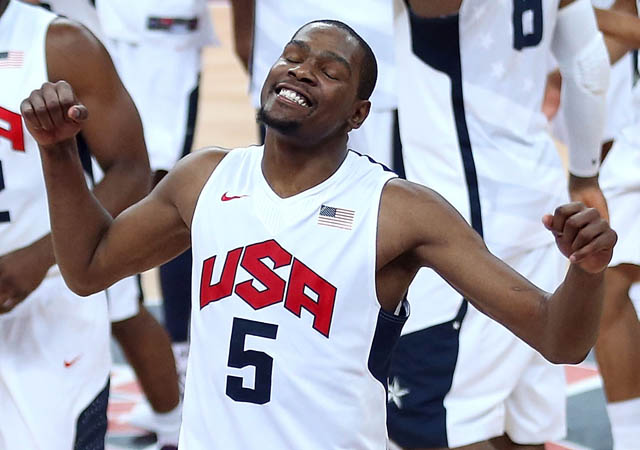 A young champion.
(Getty Images)
There are a million reasons why you would have expected Kevin Durant to struggle in the 2012 Olympics. For starters, he was coming off the biggest disappointment in his basketball career, a 4-1 loss to the Miami Heat in the NBA Finals. He was tired, he was beaten up, he was dejected. Durant was forced to go from being the primary option and No. 1 guy to being the third-fiddle in an offense and sometimes the fourth option (despite always being at least the second best player on the floor at all times). And he had to be a spot-up, catch-and-shoot scorer instead of an off-the-dribble player.
Related links
More on Olympics
Oh, and he had to play power forward at times, and play a dramatically different style of defense. That, too.
So you could understand why Durant wouldn't have the best Olympics ever.
Except, one thing. He did have the best Olympics ever. At least on the scoreboard, by an American.
Durant scored the most points in a single Olympics for a U.S. player with 156, including a scorching 30-points performance in the gold medal win over Spain. He blistered defenses from the perimeter time and time again, and just when you'd think he couldn't hit another one, he'd nail his heat check, too.
It was one of the finest offensive performances in basketball we've seen, and his name goes up there with Spencer Haywood and Michael Jordan.
Not bad for a 23-year-old.
With LeBron James finishing with the most points in an Olympic career, and with Rio very much in his range, Durant will have a steep climb. But given his career trajectory, it's not a stretch to assume he'll be the best Olympic scorer in history by the end and by a large margin.
For now, though, we marvel at how he was used by Coach K, a spot-up shooter with consistent form and incredible length, defenders helpless to defend him at the point of release. We see his ability to fit into the offense, and to take, and make, the big shot, over and over again.
Durant proved in the 2010 FIBA championships that he could lead a team to a world championship. In the 2012 Olympics, he showed that he can be a part of a team, and be the tip of the dagger without demanding the ball.
Durant is undoubtedly still full of disappointment off the Finals. But in his first Olympics, he set the record for most points in a single tournament. He introduced himself to the World, set a record, and won gold.
Not bad for a 23-year-old.