PHOTO: Jonathan Quick's mask has image of Tomb of Unknown Soldier
.@JonathanQuick32's "Tomb of the Unknown Soldier" tribute backplate airbrushed by Steve Nash of @Eyecandyair #TEAMUSA pic.twitter.com/j54ybjK2Lq

— EYECANDYAIR (@Eyecandyair) February 3, 2014
More NHL: Scores | Standings | League Leaders | Odds | Injuries | Power Rankings
Last week we got a sneak peek at the mask Jonathan Quick is going to wear in Sochi while backstopping Team USA. It took his familiar mask design from the Kings and added some American touches.
It was very well done and looked sharp but it certainly didn't quite have all of the great American touches that Ryan Miller's mask does. That's because the teaser failed to reveal the backplate of Quick's mask.
In 2010, Quick had a tribute to the troops that had to be removed from his mask per IOC regulations. This time around Quick has another tribute, but this one is a little different and is good to go as far as the IOC is concerned. The backplate of his mask is an image of the Tomb of the Unknown Soldier.
Eye Candy Air and artist Steve Nash shared the look on Monday and it's striking. Here's the mask in its full glory.
They might have saved the best for last on the reveal of Quick's mask, that's a really cool touch on the back side.
Quick's wasn't the only mask we got a partial view of before it was fully done. Jimmy Howard's mask was also in the works when we saw the images from it. The final look from Bishop Designs? Also worthy of a Wow.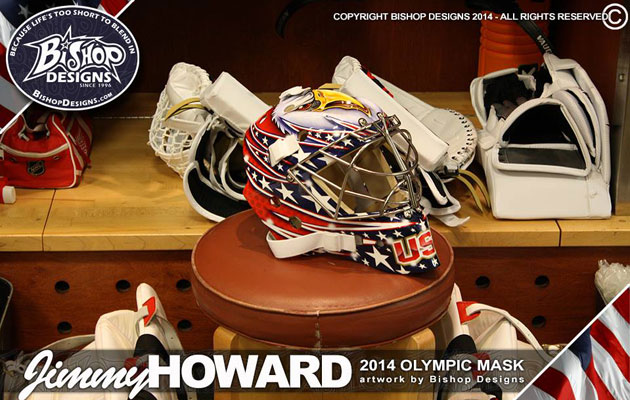 You can view a full gallery of Howard's mask on Facebook.