Henrik Sedin won't play for Team Sweden in Winter Olympics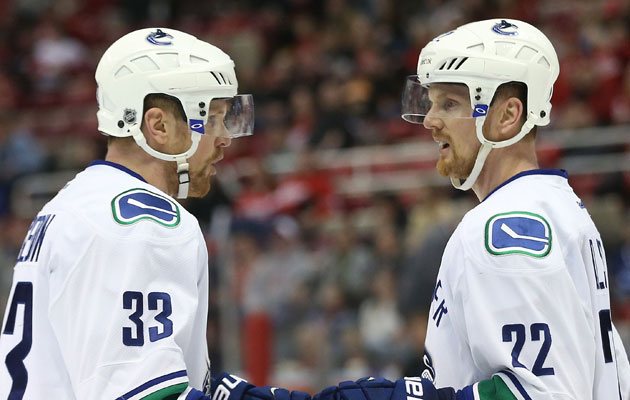 More NHL: Scores | Standings | League Leaders | Odds | Injuries | Power Rankings
John Tortorella is getting his wish, Henrik Sedin will not be competing for Sweden in the Winter Olympics.
On Thursday the Canucks coach said that he is going to rest Henrik for the final two games before the Olympic break to try and recover from a lower-body injury that has persisted to bother him. He recently returned after missing his first games in more than 10 years but didn't look ready to go so Torts decided to sit him and said that if he had a choice, Henrik wouldn't play for Sweden.
That's exactly what's going to happen. The Canucks captain confirmed it on Thursday.
"I'm disappointed not to be physically able to represent my country at the Winter Olympic Games," Henrik said in a statement. "This is a difficult decision but ultimately the best decision for me personally, Team Sweden and the Vancouver Canucks. I wish my teammates the best and look forward to returning to play."
For a guy who played more than 700 consecutive games, what an awful time to get seriously dinged up. Now Henrik won't be able to bring the magical twin powers with brother Daniel to the Swedish Olympic team, which is seen by many as a favorite to win the gold medal.
It really is a big blow for a team that already had to replace Johan Franzen because of injury. The Sedins have been mainstays for Sweden internationally and remain some of Sweden's top scoring threats. Having to replace Henrik won't be easy and it will surely sting him to be watching instead of playing but he has very clearly not been up to snuff in the two games since returning. This season, Henrik has nine goals and 31 assists for the Canucks, the same number of points as Daniel.
You'd have to figure that the replacement for Sedin is going to be Patric Hornqvist from Nashville, who was bypassed on the Franzen replacement. (UPDATE) Or not. Mikael Backlund, come on down!
Swedish media reporting that #Canucks Henrik Sedin is out of the Olympics and that Mikael Backlund will be his replacement.

— Matthew Sekeres (@mattsekeres) February 6, 2014