Canada survives upset-minded Latvia 2-1, will face USA in semifinals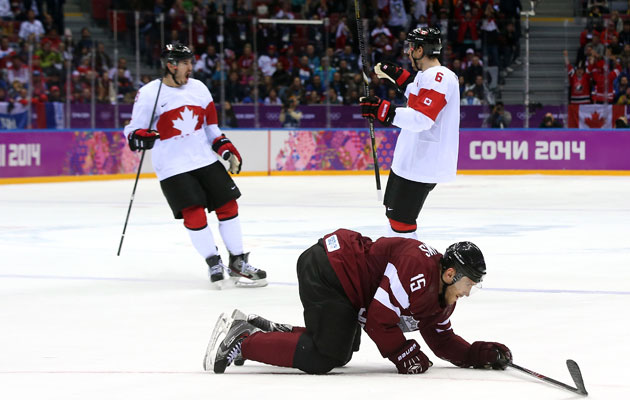 Canada survived the ultimate scare of their Olympics on Wednesday, getting a third-period power-play goal from Shea Weber to defeat the pesky Latvians by a final score of 2-1, setting up a semifinal matchup with the USA.
From start to finish, Canada was in complete control of the game but there was one problem; they couldn't get the puck past Latvian goalie Kristers Gudlevskis. The Canadians did get a goal early in the first period from Patrick Sharp but that was all they would get for a while as their relentless assault on the Latvian defense was fruitless.
Left to do little but try to counter-attack, Latvia was able to draw even before the close of the third period. With less than five minutes in the opening period, Lauris Darzins was sprung on a breakaway and he made a great deke to get Carey Price down to the ice before finishing with the backhand. That was just the start of the frustrations for Canada.
In the second period Canada outshot Latvia 19-5 but the game remained even at one. Between shots hitting the post and Gudlevskis, they couldn't break through, causing a small bit of consternation in Canada.
"I'm sure it was tense," Sidney Crosby said after the game. "People would have been yelling at their TVs."
The story was much the same in the third period as Canada kept coming and Gudlevskis kept stopping. It wasn't until Canada's 52nd shot of the game that they were able to get ahead of Latvia for good. With just a couple of seconds left on the power play, Shea Weber used his patented bomb from the blue line to beat Gudlevskis and give Canada a 2-1 lead with less than seven minutes to play. It was a bitter end to an otherwise sweet day for Gudlevskis.
"That was one of the best goaltending performances I've ever seen," his counterpart Price said.
Latvia tried in the closing minutes to get some pressure on Canada but couldn't do much to test Price, getting just a couple of good looks. They gave it all they had and pushed Canada to the brink but the talent disparity was evident and they just didn't have enough to counter Canada's late goal.
Now Canada draws the United States in the semifinals, a rematch of the gold-medal game in 2010 that Canada won in overtime. It will be the latest installment of what has become a great hockey rivalry.
"This is what it's all about. Canada-USA," Jonathan Toews said afterward. "It's becoming an even bigger rivalry than CAN-Russia. It doesn't get any better than that."
That semifinal will be on Friday at Noon ET. The other semifinal will be played at 7 ET on Friday and that will feature two Scandanavian rivals as Finland will face Sweden.