Sweden defeats rival Finland 2-1, advances to gold-medal game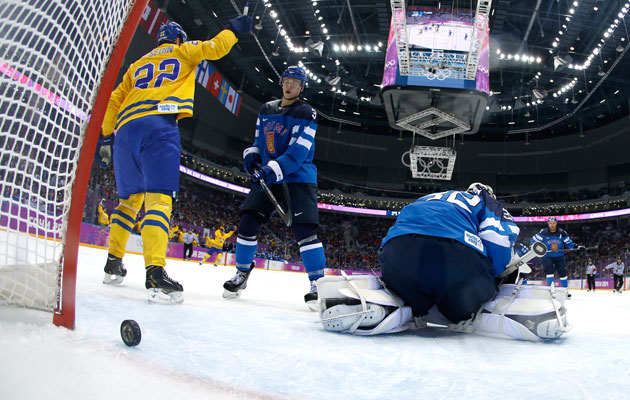 More NHL: Scores | Standings | League Leaders | Odds | Injuries | Power Rankings
Sweden booked the first spot in the men's gold-medal hockey final on Friday by defeating neighbor nation Finland in the semifinals, 2-1.
The bad news started for the Finns before the game even began. Starter Tuukka Rask, who was so good in net against Russia in the quarterfinals, was too ill to play, announced as a scratch shortly before the game. That forced Kari Lehtonen into the game as the starter, Antti Niemi as the backup.
It was actually Finland that got on the board first when Olli Jokinen beat Henrik Lundqvist on a short-angle shot right by the cage. Jokinen took the puck that would have been icing but was waved off due to a pinching Swedish defenseman, and jammed it home by the side of the cage. It was about the only thing Lundqvist has done wrong in these Olympics as he has been at his very best.
The King shut the Finnish offense down -- finishing the game with 25 saves on 26 shots against -- after that while Sweden did just enough to go ahead. Sweden tied the game in the second period on a goal from Bruins forward Loui Eriksson, assisted by Jonathan Ericsson and Nicklas Backstrom. It was a beautiful sequence of passing that found Eriksson all alone at the side of the net.
Sweden took the lead in the final four minutes of the second period while on the power play. Erik Karlsson bombed a one-timer from the point that rose and hit Lehtonen but had enough force -- and was just high enough -- to glance right off the Finnish goaltender and go in to the top of the net.
Karlsso has had a great Olympic tournament thus far. The game-winner was Karlsson's fourth goal in these Olympics and eighth point overall, tying him with the USA's Phil Kessel in that department. The high-scoring, smooth-skating Senators defenseman is making a good case for the tournament MVP at this point if it's not one of the goaltenders.
In the third period the game tightened up as you'd expect with two teams such as Sweden and Finland with a lot of neutral-zone trapping. Focused on protecting its lead, Sweden only had three shots in the third period to Finland's eight.
Sweden remains the only team in the tournament to win every game in regulation and now advances to the gold-medal game where they will face the winner of the other semifinal on Friday, Canada vs. the USA. Sweden will be looking for its second gold medal in the past three Olympics after defeating the Finns in the 2006 final in Torino.
Finland will face the loser of that game in the bronze-medal game to be played on Saturday.