Basketball: Kevin Durant and LeBron James the dynamic duo for Team USA
It's Kevin Durant and LeBron James leading the way for Team USA, versus the 2008 Team USA's more balanced attack as the Americans finish group play undefeated.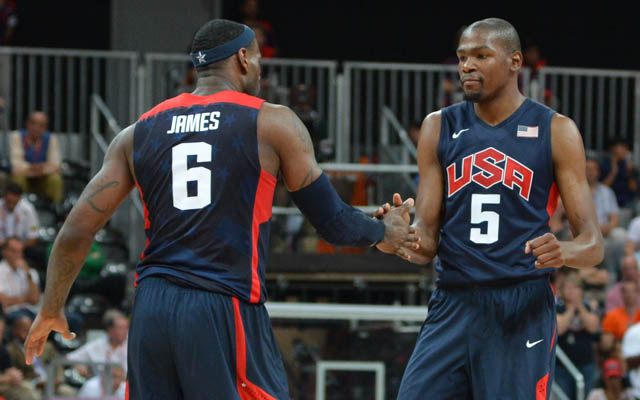 The dynamic duo broke open Team USA's game against Argentina.
(Getty Images)
In 2008, Team USA was not reliant on any one or pair of talents. It had too versatile and deep a squad to need or have time to center on one concept. The athleticism certainly played a part, the swarming defense creating fast breaks. But there was an even distribution.

What we're seeing from the 2012 team is that it has depth and athleticism. But what makes it go is the best scorer on the planet, and the best overall player on the planet.

LeBron James and Kevin Durant turned a one-point lead at halftime for Team USA into a total rout in the second half and Team USA cruised.

With every game, Durant and James, who worked together in offseason workouts last year and who faced off against one another in the NBA Finals, seem to develop more and more of a chemistry. In the midst of Team USA's crushing run, James sped down the lane in transition and manipulated the defense into collapsing to the center of the lane. A drop-off to Durant for the finish. It was one of several plays we've seen as Durant's perimeter assault mixed with James' bruising inside pounding he's giving smaller opponents combined with his adept passing. It makes for an extremely difficult combination to stop.

It was James that scored the opening points of the half to kickstart Team USA's control of the game, and when James was forced to the bench with fouls, Durant hit shots from everyone on the Isle. He warmed up and even hit the heat check, a 35-foot jumper that I'm pretty sure was from the far side of the channel.

The lost story in all this is Kobe Bryant's continued struggles. It's assumed that Bryant will be fine once the medal round starts, with Bryant having saved himself for when he's needed. But his shot and athleticism have seemed limited in group play, and James and Durant, along with Carmelo Anthony, have carried the team.

It's becoming more and more apparent that while Team USA is stacked with superstar talent, it will be those two players who lead the NBA's MVP race this season that will decide if Team USA wins gold. The multi-faceted freak of power and the perfect shooting machine. Too much for Argentina, so far, too much for the world.
Los Angeles preferred 2024, but may have to wait another four years to host Games again

TSA says it reached out to the gymnast and is looking into the incident

The record-setting Jamaican sprinter had one of his nine gold medals stripped
This could be the best Olympics ever

Hundreds of athletes are implicated across more than one Olympics

Biles hopes to add another heap of gold medals to the United States' cache