Basketball Roundup: France upsets Argentina as Deng can't close for Great Britain
Manu Ginobili lost to fellow Spur Tony Parker Tuesday in group play of the 2012 Olympics basketball tournament. Brazil hung on vs. Great Britain, and Jonas Valanciunas once again struggled in a win over Nigeria.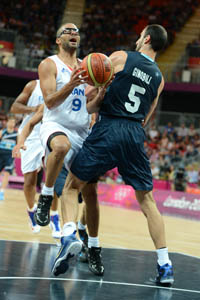 Tony Parker pushed past Many Ginobili and Argentina in group play Tuesday.
(Getty Images)
Here's a roundup of the relevant Tuesday action in men's basketball at the 2012 Olympic Games. 
France vs. Argentina
Always fun when friends get together. 
Fellow San Antonio Spurs Tony Parker and France upset Manu Ginobili and Argentina on Tuesday, 71-64. Parker scored 11 points in the fourth quarter to give France the lead for good, despite Ginobili's 26. 
Argentina, which had been a powerhouse for several years in international competition, was definitely showing the signs of age that had many thinking this could be a step-back year for the Argentinians.
Trail Blazer Nicolas Batum bounced back from the opening loss with a 14 point-7 rebound performance, and Nando De Colo added 11 points on 3 of 6 shooting from the arc. France looked like the more polished team, a considerable surprise to the traditonal concept of these two teams. 
Brazil vs. Great Britain
Brazil is regarded as a sleeper in the basketball event at the games, and is expected to be a serious contender for a medal.
They scored four points in the first quarer against host nation Great Britain on Tuesday. 
Four. 
Points. 
And yet, they hang on to win, 67-62. The very player that kept Great Britain in it on both ends of the floor, Chicago Bull Luol Deng, missed two key free throws late and that allowed Brazil to hang on. Marcelinho Huertas lead the way as usual for Brazil with 13 points and 8 assists, while Tiago Splitter lead the team in scoring with 21, punishing the smaller Great Britain inside. Deng had 12 points, 8 rebounds 7 assists, and 2 steals, but the Brazilians were able to pull it together despite a horrific day offensively. Great Britain was not expected to hang with anyone with Deng as their only NBA player, and it doesn't bode well for Brazil, who was also shakey in their opening game. 
Lithuania vs. Nigeria
Lithuania controlled an overmatched Nigerian team, but Raptors fans have to be concerned by the slow start for center Jonas Valanciunas. He struggled again, adding just four points for Lithuania in a 72-53 win while Linas Kleiza lead the way with 13 points. 
Show Comments
Hide Comments
The record-setting Jamaican sprinter had one of his nine gold medals stripped

This could be the best Olympics ever

Hundreds of athletes are implicated across more than one Olympics
Biles hopes to add another heap of gold medals to the United States' cache

If you've got a problem, yo, he'll solve it

The coaches made headlines for all the wrong reasons during the Olympics