Beach volleyball: Rogers/Dalhausser eliminated, Ross/Kessy move on
Defending Olympic champions Todd Rogers and Phil Dalhausser were shocked by lightly-regarded Italians Daniele Lupo and Paolo Nicolai to end their hopes of an Olympic repeat. But Team USA's Jennifer Kessy and April Ross advanced to the quarterfinals.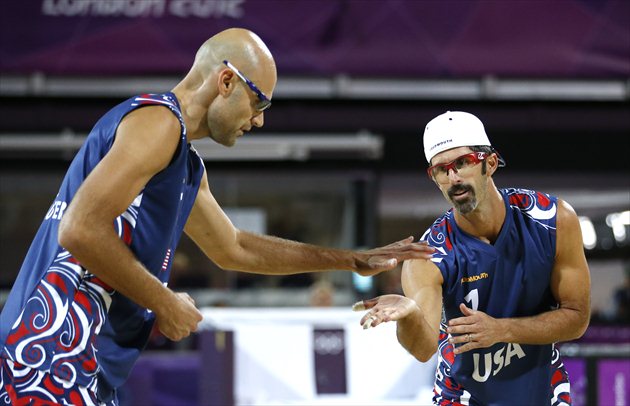 Phil Dalhausser (left) and Todd Rogers will not defend their Olympic title. (AP)
The U.S.'s hopes of putting all four of its beach volleyball teams on the podium died a quick and painful death Friday as defending Olympic gold medalists Todd Rogers and Phil Dalhausser were shockingly eliminated 2-0 by Italian underdogs Daniele Lupo and Paolo Nicolai.
Rogers and Dalhausser entered the tournament as the No. 2 seed but never looked like it in their final two matches, needing three sets to defeat Spain in their final group match and coming out of the blocks extremely slowly in the Round of 16 vs. the Italians. As he had against Spain, Rogers struggled badly on the attack, repeatedly either hitting into the block or missing his finesse shots wide. Italy took the first set easily, 21-16.
The Italians continued to exploit Rogers' weak offense and the U.S.'s uncharacteristic service errors to take a 14-9 second-set lead, putting the quarterfinals squarely in sight. But just as it seemed the Americans were finished, a handful of Italian errors and kills from both Rogers and Dalhausser brought them back into it at a 19-19 tie.
An Italian drop shot just caught the line for 20-19, though, and on match point Rogers was stuff-blocked by Nicolai to end the Americans' dreams of repeating.
The good news for Team USA is that women's pair Jennifer Kessy and April Ross continued to look like serious medal threats, eliminating the Swiss team of Simone Kuhn and Nadine Zumkehr 21-15, 21-19.
Buoyed by five aces and several other forced errors from Ross's powerful serving, the U.S. scored 15 of the final 23 points of the first set to turn a 7-6 Swiss lead into an easy victory. The second set was a tightwire affair that saw the U.S. never trail after leading 9-8--but never leading by more than one point, either, until the final point of the match.
Kessy and Ross adavnce to the quarterfinals, where they will likely face a stiff test against Brazilians Maria Antonelli and Talita Rocha.
Show Comments
Hide Comments
The record-setting Jamaican sprinter had one of his nine gold medals stripped

This could be the best Olympics ever

Hundreds of athletes are implicated across more than one Olympics
Biles hopes to add another heap of gold medals to the United States' cache

If you've got a problem, yo, he'll solve it

The coaches made headlines for all the wrong reasons during the Olympics