Canada vs. Norway Olympic Hockey Live Blog
Follow Canada vs. Norway as it happens in Sochi, Russia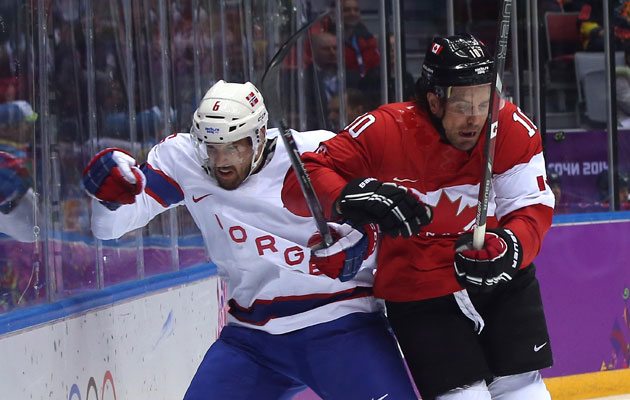 Refresh this page for updates.
Canada 3, Norway 1 - Final
2:14 p.m. -- Third Period Recap
Norway gave it an honest effort, scoring early in the third period, but Drew Doughty stole all the momentum away 1:25 later and Canada never looked back. Though the Canadian effort was inconsistent and rather uninspiring throughout, they were still the far superior team and didn't give Norway much.
Gold star goes to Norwegian goalie Lars Haugen though. He finished with 35 saves and made some big ones along the way to keep the scoreline close. Norway will be happy to head into their next matchup with a surprisingly low goal differential coming out of the Canada game. -- Peters
2:13 p.m. -- It's all over at Bolshoy. Canada wins 3-1. They'll be happy with the victory, but probably not too excited about the execution. Plenty for Canada to work on going forward.
2:12 p.m. -- Ole-Kristian Tollefsen lets a big shot go from the point, but Price makes a solid glove save to keep Canada ahead by two with just 17 seconds remaining.
2:11 p.m. -- Less than a minute to go in regulation.
2:08 p.m. -- More great work from Lars Haugen stopping a long shot from Duncan Keith and stifling the rebounds as well. He's done everything within his power to keep Norway's hopes alive. He must know how Jonathan Quick felt in January with the Kings.
2:06 p.m. -- Norway is still pushing, but struggling to get the puck on net with just over 2:30 remaining in regulation.
2:04 p.m. -- Here's a closer look at that slash from Kunitz via @PeteBlackburn
2:00 p.m. -- Chris Kunitz sent to the box after he slashed Norwegian goalie before getting the penalty. Would have made things 4-on-4, but Norway's Alexander Bonsaksen negates it by retaliating, keeping Canada on the power play.
1:59 p.m. -- Kristian Forsberg sent to the box for interference. Actually looked like a bit of a slewfoot from Forsberg on Corey Perry. Dangerous play and Canada back on the power play. 
1:55 p.m. -- Norway gets its first two shot on net in a while. Carey Price just gets a piece of the first slap shot from out wide. Norway not quitting, but the pace of this game starting to get a bit sluggish on both sides.
1:52 p.m. -- Have to give Lars Haugen credit. He's done all he can in net to keep this game close. Made a nice glove save on Pietrangelo from in tight. He has 26 saves so far in this game.
1:46 p.m. -- Norway loses defenseman Mats Trygg to an apparent injury. Even as he struggled to get off the ice, the ref ran into him. Poor guy couldn't catch a break on that shift. He's headed to the dressing room.
The hit of the tournament so far. pic.twitter.com/mCWUwEBxQQ

— Marc Dumont (@Dr_Habs) February 13, 2014
1:41 p.m. -- GOAL CANADA: Drew Doughty makes a fantastic play to get the goal right back 1:25 later for Canada as he weaves through the Norwegian defense and deposits a backhand shot into the top-left corner. 3-1 Canada.
1:39 p.m. -- GOAL NORWAY: Just 22 seconds into the third period, Carey Price misplays a puck behind the net and Mathias Olimb tips a shot past the Canadian goalie for a stunning power-play goal. Norway shockingly back in it.
1:38 p.m. -- You know who remains undeterred despite Norway only putting two shots on net that second period? This guy. 
Hard times for Ultimate Warrior - pic.twitter.com/aiDEBDVs1k

— Sean Leahy (@Sean_Leahy) February 13, 2014
1:33 p.m. -- Here's how much Norway is relying on its only NHL player.
Amazing to see a forward leading a game in ice time. Norway's Mats Zuccarello at 16:37 through 2 periods. Canada leader: Drew Doughty 14:55.

— Kevin Oklobzija (@kevinoDandC) February 13, 2014
1:31 p.m. -- The best scoreboard is on the roof of the Bolshoy Ice Dome.
Everyone in #sochi knows the score of the hockey game! #WeAreWinter pic.twitter.com/kbMHARlU91

— Jill Officer (@JillOfficer) February 13, 2014
1:30 p.m. -- Second Period Recap
That was much more like it from Canada in the second period. They only scored two goals but they couldn't have possibly dominated the period any more if they tried. Shots in the period were 14-2 in favor of Canada and one of Norway's two shots came on a dump in to make a line change. Seeing how Canada wouldn't allow the Norwegians to possess the puck beyond the red line, that two-goal lead feels a lot safer than it otherwise would. There will be no let up in the third for Canada so don't be surprised if the final score ends up looking as lopsided as the play was in the second period. -- Brian Stubits
1:24 p.m. -- Canada takes a 2-0 lead into the third period after out-shooting Norway 14-2 in the second. Canada in control, but probably not at their best at this point. Norway goalie Lars Haugen has 21 saves through two periods.
1:23 p.m. -- Duncan Keith grabbed Olimb by the back of his pants, which is not allowed. He will sit in the penalty box now and feel shame. Norway will have 1:33 of power-play time to start the third period as time expires in the second.
1:22 p.m. -- BREAKING: Norway gets a shot on net.
1:19 p.m. -- Norway on the power play as Patrick Sharp goes to the box for hooking. Norway still looking for first shot of the period with 3:09 to go.
1:15 p.m. -- GOAL CANADA: Jamie Benn takes a feed from Patrice Bergeron and wires a shot inside the left post to make it 2-0. Still no shots for Norway in the second period.
1:13 p.m. -- A big hit from Ole-Kristian Tollefsen on Marc-Edouard Vlasic was a thunderous meeting of the hyphenated first names. Still have to give the edge to Shea Weber on John Tavares for hit of the game so far though though.
1:07 p.m. -- A mad scramble in front of the net and a bouncing puck somehow stayed out of the net as Haugen was sprawled out. Patrick Sharp's shot actually bounced through the crease after swatting at a rebound.
1:04 p.m. -- Haugen made a point-blank save on Chris Kunitz and Norway shows some resiliency after the goal against. They haven't put any pucks on net this period, though. Canada out-shooting Norway 8-0 with 11:00 to go in the second.
1:01 p.m. -- GOAL CANADA: On a delayed penalty call, Shea Weber unleashes a bullet from the left point that beats Haugen over the shoulder. 1-0 Canada and a huge sigh of relief.
12:58 p.m. -- I'll just leave this right here...
Despite the scoreless first period, Norwegian Katy Perry is not impressed. pic.twitter.com/mu9xVGxef0

— Stojko's Mullet (@BonksMullet) February 13, 2014
12:57 p.m. -- Another good reminder of the gap between these two teams on paper.
Canada has, on average, 2 inches and 18 pounds per player on Norway.

— Ken Campbell (@THNKenCampbell) February 13, 2014
12:56 p.m. -- A couple of great chances early from Team Canada, but Jeff Carter ended up missing the net while wide open in the slot and a second attempt from the point was stopped by Haugen. Better pace from Canada out the gate, though.
12:53 p.m. -- We're back underway in Sochi for the second period. Canada starts Toews' line this time.
12:42 p.m. -- First Period Recap
Whether it was nerves, a lack of cohesion, underestimating their opponent or whatever other reason you can come up with, Canada certainly didn't impress in the opening period. They were out of sync, especially in the first 10 minutes and looked especially disconnected on the power play. As the period wore on, Canada looked to be settling in but clearly Norway came to play. It's still too early to panic but Canada has a lot of improvements to be made. -- Brian Stubits

12:41 p.m. -- This may be the biggest surprise of them all in that scoreless first period: Canada out-shot Norway 9-8. Expect adjustments from Mike Babcock's side, but Norway has to have some belief after getting through that first period unscathed.
12:39 p.m. -- Canada and Norway finish the first period scoreless. Meanwhile, this goal light blimp in Toronto looks a little bored.
The enormous goal light is probably going to get a workout today... beware Toronto pigeons pic.twitter.com/YwY7s3oHoi

— James Mirtle (@mirtle) February 13, 2014
12:37 p.m. -- Norway gets a few good chances on the power play, but Carey Price comes up big for Canada. Both teams even as time winds down in the first.
12:35 p.m. -- Ryan Getzlaf heads to the box for tripping as Norway will get their first power play of the game.
12:33 p.m. -- As Dave Strader notes on the broadcast, Canada's already gone offside six times in this game, indicative of some of the first-game jitters they may be facing. Things look like they're settling down for the Canadians as the period progresses though.
12:29 p.m. -- Sidney Crosby tried to literally jump through the Norwegian defense with a burst of speed, but didn't make it. At least he took one of the Norwegian defensemen with him on the way.
12:28 p.m. -- Shots are currently 5-5 in the late goings of the first period, with Canada and Norway still tied at zilch. Canada's looked the most threatening, but Norway doing a nice job of protecting the middle of the defensive zone.
12:23 p.m. -- Did anyone expect Canada to go the first 10 minutes of the game without a goal? Doesn't look like Mike Babcock did.
Mike Babcock, less than happy. pic.twitter.com/M7kBbnkCO3

— Erik Malinowski (@erikmal) February 13, 2014
It's certainly making the Canadian contingent of Hockey Twitter nervous as noted by this swell American.
Hockey Panic is Canada's real national pastime.

— Patrick Burke (@BurkieYCP) February 13, 2014
12:20 p.m. -- Not much going for Canada on the power play as the Canadians look a little too tentative. An icing on the power play showing some of those nerves out there.
12:17 p.m. -- Canada starts out the power play a unit with Tavares-Crosby-Kunitz up front and Shea Weber with Drew Doughty on defense.
12:15 p.m. -- Jeff Carter has the best chance for Canada after a nice feed from Jonathan Toews, but Norwegian netminder Lars Haugen was all over it. Canada now headed to the power play after Norway gets whistled for a too-many-men penalty.
12:14 p.m. -- Another good chance for Norway just before the 14:00 mark of the first period is thwarted by Price. Canada still struggling to put the puck on net at the other end.
12:10 p.m. -- After Canada takes an icing, Carey Price got tested right off the faceoff, shouldering away a turnaround shot. Norway moving the puck fairly well to start this one.
12:06 p.m. -- It's underway at the Bolshoy Ice Dome. Norway not backing down early as the teams still seem to be feeling each other out in the first two minutes of the game.
noon -- Just a little reminder of what Norway is up against from Bruce Arthur of the National Post:
Norway's would be $1,150,000 RT @YYZMarc @bruce_arthur If Team Canada were an NHL team, their 2013-14 cap hit would be $150,048,332

— Bruce Arthur (@bruce_arthur) February 13, 2014
11:45 a.m. -- Just about 15 minutes to puck drop. For viewers in the U.S., Canada-Norway will air on the USA Network.
11:34 a.m. -- This infographic from Hockey Canada is pretty nice.
Cheat sheet: Canada's Men's Olympic Team roster and historical highlights. Infographic: http://t.co/r0eUKnLGRq pic.twitter.com/TAE8ozIZ8S

— Hockey Canada (@HockeyCanada) February 13, 2014
11:15 a.m. ET -- Canada's lineup vs. Norway:
Chris Kunitz - Sidney Crosby - Jeff Carter
Patrick Marleau - Ryan Getzlaf - Corey Perry
Patrick Sharp - Jonathan Toews - Rick Nash
Jamie Benn - Patrice Bergeron - John Tavares
Martin St. Louis
Duncan Keith - Shea Weber
Marc-Edouard Vlasic - Drew Doughty
Jay Bouwmeester - Alex Pietrangelo
Dan Hamhuis
Carey Price
Roberto Luongo
Scratched: Matt Duchene, P.K. Subban, Mike Smith 
______
Preview
Who: Canada vs. Norway
What: Opening game of the Olympics for both teams in Group B
When: Noon eastern on USA Network
Where: Bolshay Ice Dome, Sochi, Russia 
Canada
2010 Finish: Gold
Three Key Players: Sidney Crosby, Duncan Keith, Carey Price
Quick Preview: The Canadians should be the heavy favorites in Sochi as the defending gold medalist. The offensive fire power and the depth on defense make them the best team on paper. There's a good mix of old and young with this club, too, and they'll be fast. The most-talked-about position on this team, however, is goalie. Whether it's Carey Price or Roberto Luongo owning the net for much of the tournament, it's not a huge weakness, but goaltending is where Canada lags behind other countries. The only way Canada doesn't make it to the latter stages of this tournament is if it can't figure out a way through the traps that will be run against them on the big ice or the goaltending is laughably bad. It won't be a cake walk by any means, but this is the best team in the tournament on paper.
Norway
2010 Finish: Tenth
Three Key Players: Mats Zuccarello, Ole-Kristian Tollefsen, Patrick Thoresen
Quick Preview: The Norwegians may have an honest shot at improving on their 10th-place finish from Vancouver. Mats Zuccarello has really come into his own as an NHL player and could be a good source of offense along with 2010's top scorer Patrick Thoresen. The goaltending will obviously be key as well as Norway goes with a very young trio of Lars Haugen, Lars Volden and Steffen Soberg. Norway should be happy if they can get into a favorable qualifier and maybe sneak in the backdoor to the quarterfinals. It's a tall order, but they have a lot of top-level international experience on the roster this time around and will have their eyes on an upset.
Gil Roberts claims that the only crime that he committed was loving too much

Los Angeles preferred 2024, but may have to wait another four years to host Games again

TSA says it reached out to the gymnast and is looking into the incident
The record-setting Jamaican sprinter had one of his nine gold medals stripped

This could be the best Olympics ever

Hundreds of athletes are implicated across more than one Olympics