Hear Me Roar: U.S. women the story of Team USA's first Olympic week
With 15 of Team USA's 23 gold medals to date, the American women have proven they have the quality to match their record quantity. But it's their magnetic personalities that have helped make them the definitive story of Team USA's Games so far.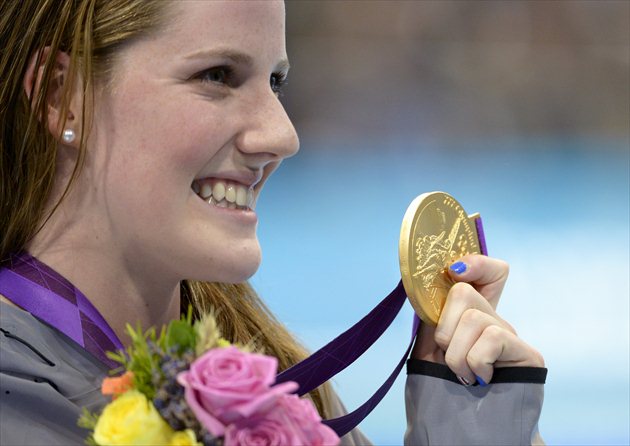 Missy Franklin: America's new Golden Girl, if there weren't

several new Golden Girls

.
(AP)
It's not like we didn't see this coming.
Gabby Douglas was officially anointed the individual all-around favorite the minute she walked off the floor as the U.S. Olympic Trials champion -- her second win over previous favorite Jordyn Wieber in 2012 -- and the Fab and/or Fierce Five had been on a collision course with the team gold medal for months. And of course, anyone who'd seen her do the Dougie for NBC's cameras at Trials or flash her now-iconic megawatt smile knew she had the personality to match her gymnastics skills. Her overnight superstardom is not a surprise.
Neither is Missy Franklin's. This is, after all, the same effervescent teenager who won five medals -- three of them gold -- at the 2011 World Championships and won FINA's global Swimmer of the Year award. If not necessarily expected to win gold in the 100-meter backstroke, nothing she's accomplished in London comes as a shock, including her imminent status as the face of American swimming once Michael Phelps retires.
We all knew what Abby Wambach was capable of. To those who were paying attention, the domination put on display thus far by Destinee Hooker and the U.S. volleyball team isn't worth much more than a raised eyebrow. Rebecca Soni, Kim Rhode, Dana Vollmer, the U.S. women's eight, Allison Schmitt, Serena Williams--gold medal-favorites, one and all. Even Kayla Harrison, the first-ever American judo gold medalist and the single best American story of these Games, came to London as the reigning world champion.
So why does it feel, with the first week of Olympic competition concluded, that this is a landmark Games for female American athletes? Why does it feel like we're watching something special, something important, when what we're watching is what we expected to watch? 
It's not like Douglas's or Franklin's presence atop the American Olympic marquee is anything close to unprecedented. One of the true glories of the Olympics has always been its willingness to celebrate athletic brilliance regardless of gender, its ability to put Mary Lou Retton on a Wheaties box when Diana Taurasi and Alex Morgan were still in diapers and their chosen sports far outside the U.S. sports consciousness.
Maybe the most likely answer to why this has been Team USA's Year of the Woman is simply that they've lived up to those outsized expectations, and then some. Following Jamie Lynn Gray's 50-meter rifle gold and Serena's annihilation of Maria Sharapova Saturday, the U.S. had won 23 gold medals--and 15 of them were won by women. Much was made of the U.S. bringing more female athletes than male to the Games for the first time, but the evidence of the first week is that the American women have trumped the men in quality as well as quantity.
Let's be honest: it doesn't hurt that the U.S. men haven't been living up to their expectations as often. Ryan Lochte was, unfortunately, an unequivocal disappointment. The gymnastics team finished first in qualification, then watched a far inferior British team land on the podium when it counted. Todd Rogers and Phil Dalhausser couldn't survive their first elimination match.  Favorites like archer Brady Ellison and shooter Joshua Richmond faltered. And even Phelps, for all his staggering success, missed out on what was supposed to be a certain medal in the 400 individual medley and on what was supposed to be a certain gold in the 200 butterfly. 
Meanwhile, aside from fencer and flagbearer Mariel Zagunis, female disappointments for Team USA have been few and far between. 
But there's more to it than raw success in the medal tables. If even NBC's casual Olympic viewers knew that Douglas, Franklin, Schmitt, etc. were likely to bring home gold medals (after all, NBC made that perfectly clear from the get-go), they likely didn't know how engaging they could be, how likable, how much fun they would be to root for beyond the joy of merely seeing the stars-and-stripes raised and the Star-Spangled Banner played.
That's where the element of surprise has come in, and that -- combined with their overwhelming success -- is what has made the U.S. women the story of Team USA's London Games so far. And with the women's soccer, basketball and volleyball finals still to come, Allyson Felix and Co. doing their thing on the track, and still a handful more swimming and gymnastics medals on their way, that's not a story we see changing in the Games' second week, either.
Gil Roberts claims that the only crime that he committed was loving too much

Los Angeles preferred 2024, but may have to wait another four years to host Games again

TSA says it reached out to the gymnast and is looking into the incident
The record-setting Jamaican sprinter had one of his nine gold medals stripped

This could be the best Olympics ever

Hundreds of athletes are implicated across more than one Olympics