IIHF pres. on women's hockey leaving Olympics: 'That will never happen'
Canada and USA will play for gold once again in women's Olympic hockey but even with lack of competitive balance, the IIHF says the women's game won't be leaving the Olympics.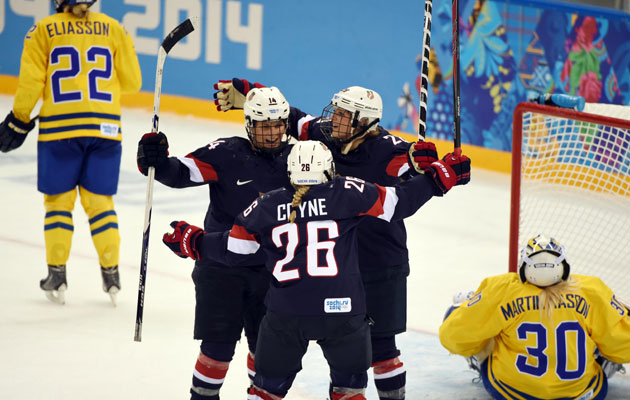 More NHL: Scores | Standings | League Leaders | Odds | Injuries | Power Rankings
Thursday is the women's hockey final and for the fourth time in five Olympic Games, it will be Canada against the United States. That matchup will guarantee that one of the two North American hockey powers will win gold for a fifth time.
It likely won't be the last.
When asked on Tuesday if women's hockey is in any danger of leaving the Olympics, IIHF President Rene Fasel was pretty clear on his belief.
"That will never happen," Fasel said. "I can guarantee that."
The rivals have dominated the sport since it came to the Olympics in 1998 with the two simply destroying teams along the way. The only time either team lost a game to another nation was in 2006 when Sweden upset the Americans in the semifinals.
Seeing the same two teams and the crooked scoreboards -- including this year in Sochi, though the scores haven't been as out of whack -- has inevitably resulted in questions about the sport's Olympic viability without any true competition.
It has been a concern for a while now with how lopsided the Games have been. Softball was taken out of the Summer Olympics for the same reason, the lack of competition across the board. One thing hurting softball that isn't the same for women's hockey, though, is that there are a lot more competitions at the Summer Games than Winter.
The hope for the women's game is that slowly the competition would increase. The scores at this year's Olympics haven't been as crazy as they have ben in the past but that might be thanks more to a slight format change to help keep games more competitive than anything else. Honestly it doesn't seem all that likely given the still vast disparity in the number of registered players in each country but the sport is going to get more of a chance from the sounds of it.
Show Comments
Hide Comments
The record-setting Jamaican sprinter had one of his nine gold medals stripped

This could be the best Olympics ever

Hundreds of athletes are implicated across more than one Olympics
Biles hopes to add another heap of gold medals to the United States' cache

If you've got a problem, yo, he'll solve it

The coaches made headlines for all the wrong reasons during the Olympics