Jamaica sets 4x100 relay world record to win gold; U.S. takes silver
It wasn't enough for Usain Bolt, Yohan Blake and Co. to defeat their American rivals and claim their second straight 4x100-meter relay gold medal--they did it by breaking their own world record in a smashing time of 36.84.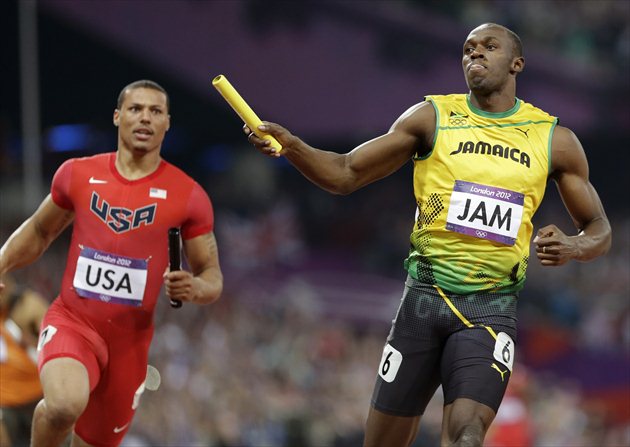 Ryan Bailey and the U.S. tied for the second-fastest 4x100 ever--and still couldn't hang with Usain Bolt. (AP)
In Saturday's 4x100-meter relay final, the U.S. team passed the baton effortlessly, set a new American record and tied the previous world record.
But even that wasn't nearly enough to stay with a Jamaican relay featuring Yohan Blake and the unstoppable Usain Bolt. Bolt ran cleanly away from American anchor leg runner Ryan Bailey, taking Jamaica across the line in a time of 36.84--smashing their own world record from the 2011 World Championships.
The American team of Trell Kimmons, Justin Gatlin, Tyson Gay and Bailey finished in 37.04, easily good enough for silver and a new national record by more than three-tenths of a second.
Kimmons and Gatlin outperformed Jamaican counterparts Nesta Carter and Michael Frater over the first two legs, giving Gay a slight edge over Blake as he took the baton. But that advantage had all but disappeared by the time Blake passed the baton to Bolt, and Bolt wasted little time in giving the Jamaicans a lead he had no chance of relinquishing.
Trinidad and Tobago took the bronze in 38.12 after third-place finishers Canada were disqualified for stepping on a lane line.
The victory takes Bolt to an unprecedented six gold medals in six Olympic races dating back to Beijing. He had already become the first-ever sprinter to win the 100-meter/200-meter double in back-to-back Olympics and Saturday's gold medal will further enhance his claim as the greatest sprinter of all-time.
The gold medal is the first for Blake after he settled for silver behind Bolt in the 100 and 200.
As for the Americans, while no one will argue they didn't run their best possible race, the result no doubt still stings as the U.S.'s gold medal drought in the event now stretches back to the 2000 games in Sydney.
On the positive side, the silver is the first Olympic medal in the star-crossed career of Gay. The second-fastest man ever, Gay struggled with injury in 2008, played a role in the dropping of the relay baton at those Games, then saw his impressive 9.80 place him fourth in the fastest 100 final ever run.
The medal is Gatlin's fifth all-time and his second of the London Games, giving him one to pair with his bronze from the 100. It's the first career medal for both Bailey, the fifth-place finisher in the 100, and Kimmons.
Los Angeles preferred 2024, but may have to wait another four years to host Games again

TSA says it reached out to the gymnast and is looking into the incident

The record-setting Jamaican sprinter had one of his nine gold medals stripped
This could be the best Olympics ever

Hundreds of athletes are implicated across more than one Olympics

Biles hopes to add another heap of gold medals to the United States' cache