Pavel Datsyuk practices Tuesday, says he'll play in Russia's first game
Pavel Datsyuk is good to go. The Russian captain practiced on Tuesday and said that he'll play in the hosts' first game on Thursday against Slovenia.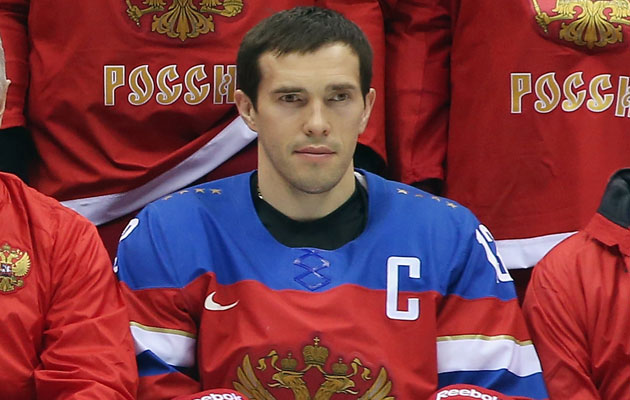 We can step down on the Pavel Datsyuk watch for Team Russia, he's going to play.
The drama kicked up about Datsyuk's availablity after the Russian coach said he might replace Datsyuk if he weren't completely healthy coming into the Olympic Games. That was only exascerbated when Datsyuk missed the Russian practice on Monday.
Well fear not, Datsyuk will play. He was on the ice on Tuesday to practice with his countrymen and afterward said he's good to go in almost the exact way you'd expect from him.
Datsyuk being Datsyuk today. How are you feeling? "Excellent." On his injury? "What injury?" Will he play in Russia's first game? "Yes."

— Dan Rosen (@drosennhl) February 11, 2014
Going with the mind over matter approach, Datsyuk will not surprisingly play for Russia, the idea of him missing was unthinkable. But just because he's trying to forget he has been dealing with an injury doesn't mean that he won't still play like he's dealing with a lower-body injury that cost him more than a month of action with the Red Wings.
Even if he's not completely healthy, though, Datsyuk is critical for Russia's chances in this tournament. Not only is he the team captain and a veteran in the NHL and internationally but he's a heck of a player, as if that needs to be said. The Olympic hosts will keep their fingers crossed that this is the last we talk about Datsyuk's health.
Russia will open the tournament on Thursday against Anze Kopitar's Slovenia team before facing the USA in Group A play on Saturday.
Show Comments
Hide Comments
The record-setting Jamaican sprinter had one of his nine gold medals stripped

This could be the best Olympics ever

Hundreds of athletes are implicated across more than one Olympics
Biles hopes to add another heap of gold medals to the United States' cache

If you've got a problem, yo, he'll solve it

The coaches made headlines for all the wrong reasons during the Olympics