USA sweeps men's ski slopestyle medals, Joss Christensen wins gold
The Americans swept the medal stand in men's ski slopestyle led by gold-medal winner Joss Christsen in the event's Olympic debut.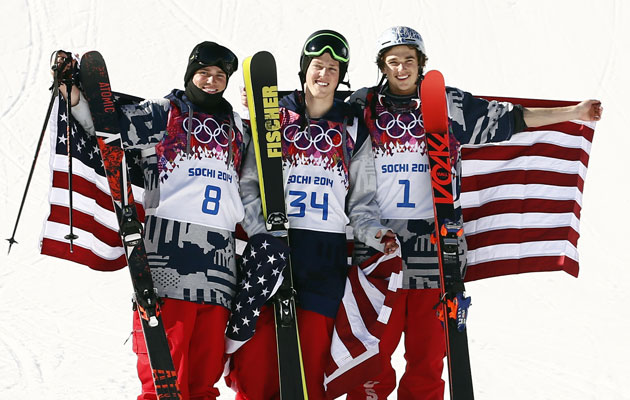 For one more time, the slopestyle course was good to the United States on Thursday, really good.
The Americans continued their dominance by taking not only gold but all three medals in the men's ski slopestyle event, a sweep of the podium. Joss Christensen took home the gold after a monster final run score of 95.80, punctuated by a triple corkscrew on the final jump. That followed up his qualification runs which were also tops in the field.
Christensen was joined on the podium by Gus Kenworthy -- the puppy-loving American -- in the silver position and the top-ranked skier in the world Nicholas Goepper for the bronze. The only other skier to crack 90 points was Norway's Andreas Haatveit, who finished with a 91.80 to Goepper's 92.40.
With the medal sweep in the men's event, that means the USA won gold in three of the four events on the course (men's and women's ski slopestyle, men's and women's snowboard slopestyle) as Christensen joined Jamie Anderson and Sage Kotsenburg as champions.
Just how rare is the medal sweep for the US? Incredibly.
This is only #TeamUSA's third sweep in #Olympic Winter Games history. #GOTEAMUSA

— US Olympic Team (@USOlympic) February 13, 2014
It is already the second time in these Olympics that a country has swept the medals in an event. The Netherlands took all three in the men's 5000m speed skate as well.
Coming into the event, certainly the USA had strong medal contenders but Christensen didn't figure to be at the top of the list. He entered the competition ranked 34th in the world but was simply superb on Thursday. A fourth American, third-ranked Bobby Brown, finished in ninth place.
Unfortunately for the USA, there are no more slopestyle events in the Games. It has been a fountain of success for the US with three of the four gold medals won so far coming from the slopes and six of the 12 medals earned so far.
Show Comments
Hide Comments
Our Latest Stories
The coaches made headlines for all the wrong reasons during the Olympics

The Olympic season ended on a high note in Brazil

Egypt's Ibrahim Hamadtou is a must-watch
It's been another rough week for the 12-time Olympic medalist

How to watch the opening ceremony and events at the 2016 Paralympic Games

Gold medalist Simone Biles revealed she has ADHD after her records were posted on the inte...