2014 FIFA World Cup: Italy, Balotelli take down England 2-1
FIFA World Cup 2014: Italy vs. England preview, live commentary and recap.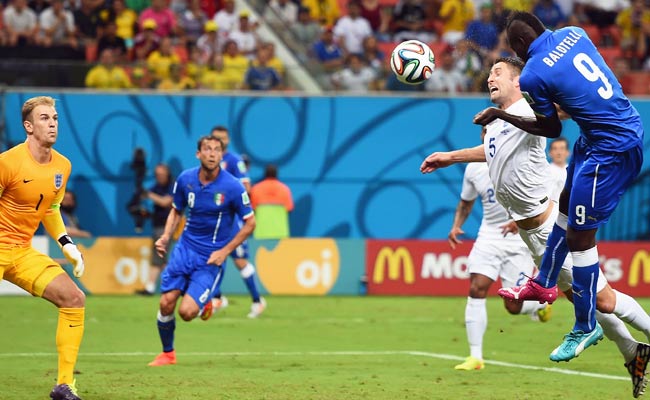 Italy 2 (Marchisio 35', Balotelli 50') - England 1 (Sturridge 37')
FULL TIME: Italy defeats England 2-1 in a great match. 
94' -- Johnson with a cross to nobody in particular and Italy clears.
93' -- Pirlo's free kick rings off the cross bar after changing directions a few times. He's just an absolute joy to watch.
93' -- Free kick for Italy. Pirlo in no rush to take it.
91' -- Yellow card on Sterling.
90' -- There will be five minutes of added time.
89' -- And another England shot sails a billion feet over the net. This one from Sterling.
88' -- And the corner from Gerrard is headed out by the Italians.
88' -- Corner coming from England. Not much time left.
87' -- Another chance for Rooney, but he too goes over the crossbar. Italy playing with fire, but England's out of gas.
85' -- Another free kick from a dangerous spot for England, but sadly Gerrard's attempt goes over the bar.
82' -- England must be exhausted. None of their crosses are going anywhere close to their intended places. Balls just flying all over the place with no control. That Manaus heat, man.
78' SUBSTITUTIONS -- Italy makes its third sub with Candreva coming out and being replaced by Parolo. Great match by Candreva. Meanwhile England replaces Daniel Sturridge with Adam Lallana. Sturridge played well too, but he was limping off. Can't believe England made this move willingly.
77' -- I do believe Wayne Rooney just unleashed the worst corner kick in the history of soccer.
76' -- England awarded a free kick just outside the box and Baines attempt is deflected wide by Sirigu. A nice shot and a nice save.
72' SUBSTITUTIONS -- Italy replaces Balotelli with Immobile, while England sends Jack Wilshere on for Henderson.
72' -- Glen Johnson somehow gets a shot through roughly 14 players but the ball is well wide.
68' -- Italy's plan is clear at this point. Get down the right flank as Baines is having a lot of trouble there defensively tonight.
66' -- Another corner from Leighton Baines goes directly to Sirigu. Typically expect better from the Everton man.
64' -- Raheem Sterling is down on the pitch and being looked at by trainers. Looks like a cramp.
63' -- Things are happening too damn fast in this match right now, it's hard to keep up. Both Italy and England just had scoring chances in the last 30 seconds. It's insane. 
62' -- Wow. Wayne Rooney finds himself with a wonderful chance and misses wide left. He should have buried that one. Could loom very large in this one. The reaction of his manager says it all.
Yeah bruh pic.twitter.com/Xfy8zCzejo

— Luke Zimmermann (@lukezim) June 14, 2014
61' SUBSTITUTION -- England subs off Danny Welbeck in favor of Barkley.
60' -- Another shot from Sturridge goes just right of the net. He's having a fantastic match.
60' -- Another cross from Candreva on the right nearly finds Balotelli's foot in front of the net but Joe Hart gets to it just in time.
57' -- Mario Balotelli now has an offside hat trick, as he's been flagged for it three times now.
56' SUBSTITUTION - Thiego Motta comes on for Marco Verratti.
56' -- Steven Gerrard with a chance to be a hero but he loses the ball in front of the net and it's a goal kick for Italy.
55' -- England looking very dangerous at the moment. You can feel the equalizer coming if Italy doesn't get its back line in order.
53' -- Rooney tries to respond for England, getting off a nice shot, but it goes left of the goal. He still searches for his first World Cup goal.
50' GOAL ITALY -- Candreva with a super cross that finds the head of Mario Balotelli and Super Mario did what Super Mario does. He put it in the net. 2-1 Italy.
48' -- Sturridge with a shot on goal but it's pushed aside by the keeper. Sturridge has looked very good today.
47' -- I'm going to go out on a limb and say there are three more goals in this match. Don't know who's going to score them, though. 
46' -- And the second half has begun.
7:01 p.m. ET -- An update on England trainer Gary Lewin, and it's not good.
BBC confirm dislocated ankle for Gary Lewin after the Daniel Sturridge goal celebration. #eng http://t.co/kpQOzZdLKt pic.twitter.com/BdOajtYQiz

— Bleacher Report UK (@br_uk) June 14, 2014
HALFTIME -- We head to the half with Italy and England locked up 1-1. An excellent first half, I'll take another one just like it in 15 minutes.
45+2' -- A minute later Candreva gets off a shot from a few feet to the left of the goal but hits the post.
45+1' -- Pirlo with a beautiful pass to Balotelli in the box, Mario gets off a chip shot with Joe Hart down and out from the net, but Jagielka shows off the hops to head it over the bar.
45' -- Two minutes of extra time added to the first half.
44' -- Darmian gets a nice run to get a shot off but it soars above the crossbar. 
42' -- If you were wondering, no, the English still don't dance as well as the Italians.
40' -- The injured person? Ironically it's England's trainer, Gary Lewin.
38' -- A bunch of trainers surrounding somebody on the sideline, and nobody knows who it is they're tending to. A player? A cameraman? Some mysterious creature from the Amazon jungle?
36' GOAL ENGLAND -- Daniel Sturridge sees your goal, Italy, and he matches it after a great pass from Wayne Rooney. Tied 1-1.
34' GOAL ITALY -- Marchisio gets off a screamer from just outside the box off an Italy corner and finds the back of the net. 1-0 Italy.
33' -- Balotelli gets his head on the ball in front of England's net, but he doesn't get good contact on the ball and blows a premium chance.
32' -- Free kick for Italy from a semi-dangerous spot, but it's right to Sirigu in net.
29' -- Things starting to clog up a bit for both teams. You have to wonder how the weather in the middle of the FREAKING AMAZON is going to affect each team as this match goes on.
24' -- England's second corner off the foot of Leighton Baines finds nothing but the outstretched arms of the goalie.
23' -- England comes SO CLOSE as a cross is deflected by Barzano and the deflection nearly finds the back of the net. Corner for England results in yet another corner.
22' -- Mario Balotelli gets off his first shot, but it sails well over the net and nearly into the seats.
21' -- Danny Welbeck calling for a penalty after being taken down in the box, but the problem for him is the cross had already passed him by 15 feet.
18' -- And there's Italy's best chance of the evening from Candreva, but Hart doesn't have to move to get in front of it, even if he did have trouble catching it. A juicy rebound was there, but no Italian to put it in.
16' -- Italy has yet to get a great chance. Plenty of possession in the final third, but it feels like England is dropping back all 11 members, plus some fans from the stands to clog the place up.
13' -- A nice run from Sturridge down the right side, but Chiellini gets back in time to keep him from getting off a good chance.
11' -- Danny Welbeck the recipient of a poor clearance from Italy and gets off a shot but it's wide left.
9' -- No goals yet, obviously, but this is a very open match. Both teams taking turns going up and down the field. Fun to watch so far.
7' -- Andrea Pirlo had an excellent cross pass in front of him but he passed on the shot. Probably should have been more selfish, it would have been an excellent scoring chance.
5' -- Another nice shot for England, this time by Henderson, but Sirigu gets to it without too much trouble. Nice pace to this one early.
3' -- Raheem Sterling unleashes a laser from distance, but it hits against the side of the net. I thought it went in at first.
2' -- Italy is already without its captain and goaltender, and it has an inexperienced back line out there tonight. England's pace could cause quite a few problems.
1' -- And we are off.
5:57 p.m. ET - Just going to get this out of the way now. You may have noticed my name ends in an "I," so I won't even pretend to not have a rooting interest here. That being said, I'll be fair, just let me get this out now. GO ITALY! FORZA AZZURRI! Ok, now back to being impartial.
5:55 p.m. ET - Both teams are on the pitch, the national anthems are being played, and we're only a few minutes away from kickoff. 
Pregame
With Uruguay falling to Costa Rica earlier Saturday this game takes on slightly more importance, as if either team comes away with three points its odds of moving on to the Round of 16 will be greatly increased.
Of course the big news pregame is that Italian captain and goalie Gigi Buffon will not be playing today due to a twisted ankle. In his place will be Salvatore Sirigu who only has the task of replacing one of the most celebrated goalies in Italy's long soccer history. No pressure or anything there, it's just the World Cup after all.
Here are your starting lineups:
ITALY
Goalkeeper: Sirigu
Defenders: Chiellini, Darmian, Barzagli, Paletta
Midfielders: Candreva, Marchisio, De Rossi, Pirlo (c), Verratti
Forward: Balotelli
ENGLAND
Goalkeeper: Hart
Defenders: Johnson, Cahill, Jagielka, Baines
Midfielders: Gerrard (c), Henderson, Sterling, Welbeck, Rooney
Forwards: Sturridge
**********
Match Preview: This is an excellent way to kick off play in Group D, as two of the world's soccer powers will go at it. It's also a very important match because Group D is essentially three teams playing for two spots (nothing personal, Costa Rica, I just don't like your odds) and coming away with three points in this match would be huge for either side.
Italy enters the 2014 World Cup looking to move past an incredibly disappointing performance in 2010, when the Azzurri managed to finish last in a group with Parguay, Slovakia and New Zealand. Yes, even the Kiwis managed more points than Italy did. Possibly due to that poor performance the Italians come to Brazil being looked over by many as an actual contender to win it all, even after getting to the finals of Euro 2012 before falling to Spain.
This is still a team with premier talent, with names like Andrea Pirlo, Gigi Buffon, Daniele De Rossi, Giorgio Chiellini and the boisterous Mario Balotelli. 
They'll be facing an England team that is coming off its own World Cup disappointment, though that disappointment has been a permanent fixture since 1966, the last and only time England won a World Cup. 
This version of the English will look a bit different than what you're used to, however, as it's suddenly a very young squad featuring six players aged 22 or younger. Will the combination of youth mixed with the experience of veterans like Wayne Rooney, Steven Gerrard and Frank Lampard pay off for the English? We'll get our first indication Saturday in Manaus.
More World Cup: Scoreboard | Schedule | Group Standings | U.S. Team news

The city of Samara's stadium, set to be used for the 2018 World Cup, has seen its construction...

Norway beat World Cup debutants Thailand 4-0 before a historic rout by Germany over Ivory Coast...

He'll be suspended for Friday's game against Iowa.
The World Cup was 'amazing,' but Seattle Sounders teammates Clint Dempsey and DeAndre Yedlin...

A painting in Brazil depicts the Dutchman's amazing goal against Spain.

German midfielder Cristoph Kramer has become the face of the ongoing concussion crisis after...