2014 FIFA World Cup: US player ratings vs. Germany
The US lost! No one really cares! Here's CBSSports.com's player ratings for the US-Germany Group G match.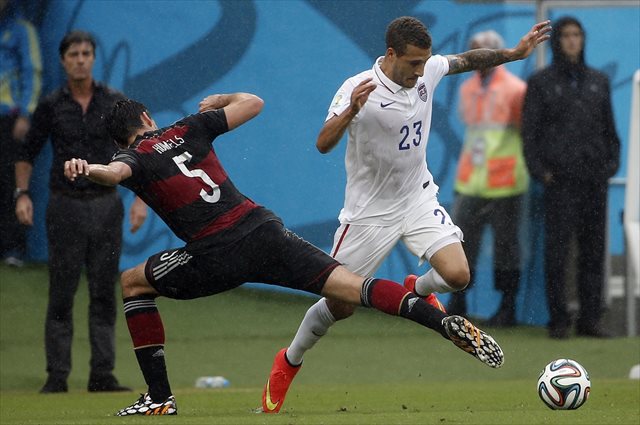 More World Cup: Latest news & notes | Scoreboard | Complete schedule
So much for that handshake draw. Germany played the first hour like the lethal World Cup contender they are, and a dead-legged US team mounted as many attacks as it seemed their fading stamina and the German defense would allow.
The result wasn't a classic -- once Thomas Muller scored Germany's go-ahead goal, Die Mannschaft didn't much bother looking for a second, and the US didn't have the energy to break them down with any consistency -- but it wasn't rigged, either. And thanks to Portugal's gift-wrapped win over mistake-prone Ghana (and even moreso, in retrospect, to the Pepe red card that turned their loss to Germany into a goal differential-shredding rout), it's a result the US will more than live with.
Despite Thursday's celebrations, though, to advance past a likely matchup with Belgium Tuesday, the US will need a bit more from its starting 11 -- and, thankfully, the four days of rest should give them a chance to produce just that.
Here's CBSSports.com's player ratings for the game, on a scale of 1-10:
STARTING 11
GK Tim Howard, 7 -- Showed the same superb quickness off his line to collect loose balls he'd displayed in the Ghana game, and added a handful of his usual flying saves. Though it's arguable Howard could have done better than redirecting a rebound directly to Muller on Germany's goal, that's a harsh view of what was already a stellar save -- and Muller's shot was entirely unstoppable.
LB Damarcus Beasley, 7 -- Can we quit regarding Beasley as a weak link now? As against Ghana, Beasley was largely left on a defensive island and once again fared as well as could be expected and probably better, his excellent positioning and timely interventions slowing down attack after German attack. Showed more attacking thrust than usual, too.
CB Matt Besler, 6 -- Not as eye-catching a performance for Besler as his restored partner in central defense, but the Sporting Kansas City star played 180-plus minutes across Manaus and Recife without making a single memorable mistake. As solid as it's possible to be.
CB Omar Gonzalez, 7, US Man of the Match -- It's true: Omar Gonzalez was the US's best player Thursday. Left for the bench by a series of mistakes earlier this year and the cause of considerable gulping from US fans when the starting lineup was announced, Gonzalez rediscovered the form that made him the key figure in a shutout of Mexico in the famed Azteca Stadium in 2013. His string of degree-of-difficulty in-the-box tackles across the first half was impressive, but his second-half headed clearance of a cross seemingly destined for a Miroslave Klose goal was genuine highlight material.
RB Fabian Johnson, 5 -- One of many US players that just didn't seem capable of summoning the same energy that had marked the Ghana and Portgual performances, Johnson flashed some of his usual swashbuckling runs down the right flank. But he was largely pinned in by the German offense, and misplaced a few balls in possession to boot.
DM Kyle Beckerman, 7 -- More of the same dirty work in central midfield from Beckerman, with even more teeth in the tackle -- and some necessary cynical gamesmanship -- than normal. That Beckerman was able to continue forcing even this most dangerous US opponent to attack down the wings rather the center -- again, after playing every minute of the Cup so far -- is a staggering accomplishment.
CM Jermaine Jones, 6 -- Jones played the first half like his hair was on fire, seemingly looking to defeat the same German national side that once discarded him singlehandedly. That performance played a major role in getting the US to halftime at 0-0, but it came at a cost, as his previously inexhaustible gas tank appeared to hit empty as the second half went along. Still probably the best American player at this World Cup so far.
LM Brad Davis, 3 -- Klinsmann said after the game he'd added Davis and Gonzalez to his starting lineup, essentially, to give Alejandro Bedoya and Geoff Cameron a rest. But if Gonzalez made him look like a genius, Davis's performance -- offering Beasley virtually no defensive help as the Germans flew down the right wing, and failing to make any real offensive impact, either -- stands as the only true questionable decision of Klinsmann's World Cup. So poor defensively he eventually switched sides with Graham Zusi so Beasley could get some help (even though Davis is an exclusively left-footed player whose offensive value substantially diminishes on the right) and then became the first player subbed off, despite not playing a minute in the tournament until Thursday.
RM Graham Zusi, 6 -- Zusi worked hard, defended gamely, and improved on his passing from the Portugal game, but for the second game couldn't do much with his set-piece deliveries. (Given that it was his corner kick that yielded the John Anthony Brooks goal that won the US its place in the Round of 16, though, no one's really complaining.)
AM Michael Bradley, 5 -- Bradley has deserved much of the criticism that's been sent his way after the US's first two games, and his continued (inexplicable) inability to control his touches or passes in the final third vs. the Germans won't do much to quiet it. But the whispers in certain corners that Klinsmann should consider dropping him are a vast overreaction; his defensive positioning remains impeccable, his short possession passing has improved from the Ghana game, and his effort level unimpeachable. He hasn't been good (at all), but he hasn't been that bad, either.
F Clint Dempsey, 5 -- With Germany dominating the ball and paying close attention to the US's lone striker, Dempsey simply didn't have much of a chance to make his imprint on the match (and had a handful of sloppy touches besides). Late headed chance was a tough one, but also one Dempsey no doubt feels he could have done better with.
SUBSTITUTES
LM Alejandro Bedoya, 5 -- Bedoya entered for Davis at the hour mark, by which point the US was already behind and tiring. Defended ably as usual, but had little chance to make his mark going forward -- until his late shot was skillfully blocked near the goalline by Phillip Lahm.
RM Deandre Yedlin, N/A -- Yedlin only saw the field for nine minutes after replacing Zusi, but those nine minutes -- in which his barreling run down the right created the chance for Bedoya, one that would stand as the US's best of the game -- strongly suggested Klinsmann should have found more time for the dynamic young Seattle Sounders fullback.
Show Comments
Hide Comments
The city of Samara's stadium, set to be used for the 2018 World Cup, has seen its construction...

Norway beat World Cup debutants Thailand 4-0 before a historic rout by Germany over Ivory Coast...

He'll be suspended for Friday's game against Iowa.
The World Cup was 'amazing,' but Seattle Sounders teammates Clint Dempsey and DeAndre Yedlin...

A painting in Brazil depicts the Dutchman's amazing goal against Spain.

German midfielder Cristoph Kramer has become the face of the ongoing concussion crisis after...