2014 World Cup: Can Brazil beat Germany without Neymar?
How will Brazil replace star attacker Neymar, who is out for the rest of the World Cup with a fractured vertebra?
• 3 min read
More World Cup: Latest news & notes | Scoreboard | Complete schedule
Friday evening was a roller coaster for the Brazil national team.
An emotionally-charged 2-1 win over Colombia put Brazil into the World Cup semifinal, but the excitement was dampened shortly after the result – when it was announced that star attacker Neymar will miss the rest of the competition with a fractured vertebra.
Neymar had a huge weight on his shoulders entering the World Cup, as this was his chance to cement his name among the world's best on its biggest stage. He had always been a key player for the national team, but he had an up-and-down debut campaign for Barcelona after joining the La Liga side from Santos last summer. With four goals in five matches (as well as one assist), Neymar hasn't disappointed.
Moreover, he has been one of the few consistent performers for Brazil this month. While the host nation hasn't lost a match yet, they haven't been the convincing favorites some thought they might be heading into the competition. Neymar has been a bright spot, creating chance after chance with his dribbling ability and pace in the final third.
The Brazil offense outside of Neymar has been inconsistent. Fred, who was so efficient in last summer's Confederations Cup, hasn't done much, scoring just one goal. He also hadn't done enough to take the attention away from Neymar, causing the young striker to play in almost a second striker role as opposed to a winger who attacked from the left flank. Hulk has been held scoreless thus far, despite creating numerous chances on his powerful left foot. He has been better the past couple of matches, though, after pulling disappearing acts in the early group matches.
For a quick example of how poor the non-Neymar attackers have been, the backline has combined for more goals than the rest of the squad outside of Neymar. David Luiz has two goals and Thiago Silva has one, while midfielders Fernandinho and Oscar have each notched one.
Oscar could be the key player going forward for Brazil. He was excellent in the opening match against Croatia, and has the ability to be the primary playmaker in Brazil's attacking band. He can play any position in the attacking midfield, and it wouldn't be surprising to see him replace Neymar as the main creative force for Brazil against Germany.
The question remains, though, which player takes Neymar's spot in Brazil's starting XI? There seems to be three options: Willian, Bernard or Ramires.
Willian, the Chelsea midfielder, has played a smaller role at the World Cup than some expected, but he has the dribbling ability and acceleration to be a threat going forward.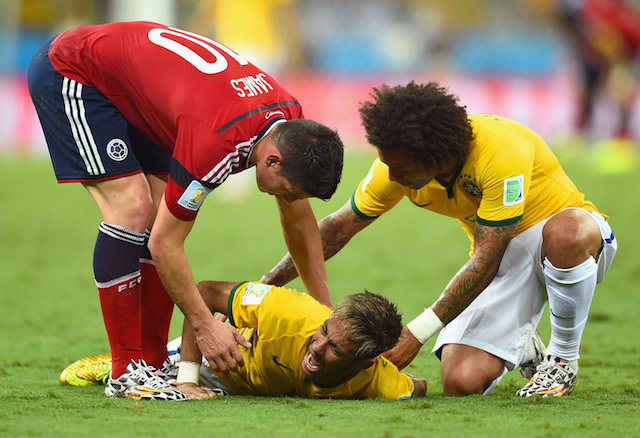 In fact, Silva thinks Willian could be the man to replace Neymar.
"I'm sure we have good spare parts. I believe very much in Willian, who has almost the same features as Neymar and believe in this moment he will fill the gap very well. This is where we have to show the strength of the group."
Willian did pick up a hip injury in training over the weekend, though, although it seems he will be OK.
If he's not the answer, manager Luis Felipe Scolari could decide to go with the diminutive Bernard or the versatile Ramires. The 5-foot-4 Bernard can slot into the wide role that Neymar plays without much of an issue, while Ramires' workrate and speed allows Scolari to adjust formations and tactics very easily.
All three are options, but the loss of Neymar will really hurt the attacking group. No one can outright replace the threat he creates -- and the attention he attracts from opposing defenses. For an offense already not hitting on all cylinders, this makes things even more difficult against Germany.
That's not the only issue for Brazil against Germany, though. Captain and star centerback Thiago Silva is likely to be suspended for the semifinal match due to yellow card accumulation. Brazil has appealed to FIFA to overturn the second yellow card, which would allow him to play, but it would be surprising to see Silva on the pitch Tuesday.
Silva and David Luiz have played next to each other for every minute of all five matches thus far in the World Cup, but one would expect Dante to replace Silva in the XI against Germany. The Bayern Munich defender plays with several of Germany's stars, and has experience in big matches. It will be interesting to see how he and Luiz play alongside one another for the first time this World Cup.
The city of Samara's stadium, set to be used for the 2018 World Cup, has seen its construction...

Norway beat World Cup debutants Thailand 4-0 before a historic rout by Germany over Ivory Coast...

He'll be suspended for Friday's game against Iowa.
The World Cup was 'amazing,' but Seattle Sounders teammates Clint Dempsey and DeAndre Yedlin...

A painting in Brazil depicts the Dutchman's amazing goal against Spain.

German midfielder Cristoph Kramer has become the face of the ongoing concussion crisis after...