2014 World Cup: What we learned, Day 6
Here's what we learned on Day 6 of the 2014 FIFA World Cup.
by

CBS Sports Staff

• 5 min read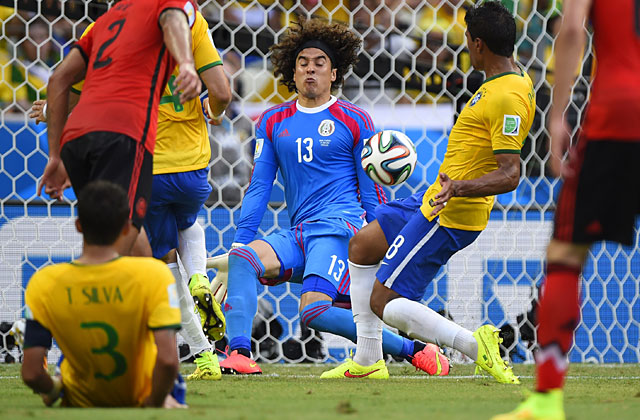 More World Cup: Latest news & notes | Scoreboard | Complete schedule
At the end of each day of action at the 2014 World Cup, our writers weigh in on what we learned from each match.
Mexico isn't the same Mexico from qualifying: Mexico was a disaster during the qualifying stages, needing massive help from the United States just to advance to the World Cup. They finished 11 points behind the United States, while also finishing below Costa Rica and Honduras in the CONCACAF table. They shuffled through four managers and no one really knew what to expect from Mexico in Brazil. After two matches, it's clear this is not the Mexico we came to know during qualifying. They are far more organized, far more together, and playing far more consistently. Miguel Herrera was appointed as the manager shortly before the playoff matches against New Zealand, and he has done a tremendous job. Talent was never the question for Mexico, but motivation and consistency have been the issues. They have cut back on the mistakes and even looked more threatening at times against Brazil. The door is open for Mexico to advance to the knockout stage.
Guillermo Ochoa could be this year's star keeper: There always seems to be a goalkeeper who carries his country to a surprising World Cup run -- and this year it could be Guillermo Ochoa. He kept a clean sheet against Cameroon in the opener, and did the same against Brazil, with the latter obviously more impressive. Ochoa had four highlight-reel saves, including a diving stop on Neymar's header in the first half. He also stopped Paulinho inside the six-yard box, Thiago Silva on a point-blank header, and an open Neymar strike from about 10 yards out. Brazil should have had at least a couple of goals, but the 28-year old Ochoa constantly saved the day for Mexico. Ochoa wasn't even a guaranteed starter for Mexico entering the World Cup, but there is no question who is the main man between the posts for El Tri right now.
Brazil still doesn't look like a World Cup favorite: After last summer's Confederations Cup title -- along with the fact they had home-country advantage -- Brazil was the favorite entering this World Cup. They had few weaknesses and plenty of individual talent. However, after two matches, there are still some question marks. Fred hasn't been very effective as a striker so far, spending most of his time in an offside position and not getting many clear chances. More concerning, their defensive transition has been poor. Against Croatia, there was far too much room in the midfield to exploit. On Tuesday, it was the defensive third in which Brazil struggled. Dani Alves and Marcelo got caught too high up the pitch on occasion, enabling Mexico to find several holes along Brazil's backline. They weren't able to penetrate into the box, but they had shot after shot from distance. With some issues in all three levels of the starting XI, Brazil still has kinks to work out.
While talented, Belgium isn't unbeatable. For the majority of the game, Algeria had a one-goal advantage over Group H favorite Belgium, and had the Belgians not changed their strategy in the second half, the Desert Foxes may well have pulled the upset. Throughout the entire first 45, players like Kevin De Bruyne and Nacer Chadli continually rifled shots that weren't anywhere near the goal and in turn yielded costly possession to the Algerians. After Algeria scored off its PK, all of their players, including their strikers, played behind the ball to keep Belgium out of its box. With so many people in a compact area, it became easy to just try one from outside, even if it wasn't prudent. The Algerians sat back, took the beating, and waited for their chance, which they ultimately got when they caught Toby Alderweireld out of position. Alderweireld got called for a foul leading to the PK. In the second, the Belgians were much more decisive with simple passes and they also attacked the Algerians' box through the air -- one of their strong suits. They took the lead off a 3-on-2 breakaway thanks to the excellent vision of Eden Hazard. 
Belgium's depth: With all the stars like Hazard, Vincent Kompany and Romelu Lukaku, it's easy to forget Belgium's reserves. Manager Marc Wilmots took Lukaku out after he hadn't recorded a shot in 60 minutes, and it almost immediately paid off. Divock Origi would've scored had it not been for a great save from Bolhi, but the other two reserves managed to knock in goals. Marouane Fellaini had three or four chances near the net but he managed to capitalize on just one in the 70th minute to pull his side even again. The other goal, from Dries Mertens, came off the 3-on-2 counter attack that saw Hazard play the winger out wide before he blasted it home with his right foot. Despite Lukaku's prowess, Wilmots' message was that if you're not producing, you can be replaced. Tough to argue with him given how deep his bench is. 
Algeria has a lot to be proud of: The Desert Foxes didn't score a single goal in the 2010 World Cup, and that was their first appearance on the stage since 1986. Needless to say, going up early on Belgium and maintaining that lead until the 70th minute was a massive achievement. Similar to Monday's USA-Ghana game, the Algerian defense was backloaded as it tried to resist constant pressure from Belgium's wingers. It had a perfect strategy. Pack in the defense and hope for counter attacks. The PK from Sofiane Feghouli was a landmark moment and the fact that their defense stood tall for so long was also impressive. If keeper Rais Bolhi can make those saves and if Madjid Bouguerra can hold the backline together, perhaps it can earn a point (if not more) against South Korea. 
Both teams have work to do: If either of these squads are to move through to the knockout stage, as expected, they'll both need to sharpen up somewhat. Neither side looked particularly solid Tuesday night, but that especially goes for Russia. They're a team with the talent to move through to the knockout stage and give Belgium trouble in Group H, but they certainly didn't look the part Tuesday. Sloppy play and spotty offense dominated the day, leaving much to be desired on their end.
Akinfeev looked rough: Most people will just remember the goal that slipped through Russia goalkeeper Igor Akinfeev's fingers, but he was pretty bad all night. He fumbled several balls that should have been easy handles, and he's lucky South Korea only came out with a single goal. Several rebounds could have been put home, as well. If Russia is going to have a chance to move through they'll have to shore up that back line.
The city of Samara's stadium, set to be used for the 2018 World Cup, has seen its construction...

Norway beat World Cup debutants Thailand 4-0 before a historic rout by Germany over Ivory Coast...

He'll be suspended for Friday's game against Iowa.
The World Cup was 'amazing,' but Seattle Sounders teammates Clint Dempsey and DeAndre Yedlin...

A painting in Brazil depicts the Dutchman's amazing goal against Spain.

German midfielder Cristoph Kramer has become the face of the ongoing concussion crisis after...