FIFA hands Luis Suarez nine-match international ban
Uruguay star Luis Suarez has been suspended from nine international matches and four months of soccer-related activity for biting an opponent.
• 1 min read
Uruguay star Luis Suarez has been suspended for nine international matches and four months of soccer-related activity for biting an opponent, FIFA announced on Thursday.
Suarez bit Italy defender Georgio Chiellini in Tuesday's 1-0 Uruguay win, but was not discplined on the field. 
Suarez's World Cup is over. He will miss the next nine Uruguay matches, which could last more than a year, depending on how far Uruguay advances this month. The Copa America in Chile is next summer, and the 2016 event is in the United States. Moreover, qualification for the 2018 World Cup will likely begin at some point during the suspension. Suarez will be able to play in friendlies.
Suarez will also miss the first two months of Liverpool's Premier League campaign, as four months from today brings us into late October. That would mean Suarez will miss up to nine Premier League matches and potentially three Champions League matches -- before he's even allowed to practice with the team. 
"Such behaviour cannot be tolerated on any football pitch, and in particular not at a FIFA World Cup when the eyes of millions of people are on the stars on the field. The Disciplinary Committee took into account all the factors of the case and the degree of Mr. Suárez's guilt in accordance with the relevant provisions of the Code. The decision comes into force as soon it is communicated," said Claudio Sulser, chairman of the FIFA Disciplinary Committee.
The nine-match suspension is the longest World Cup suspension ever handed out.
Suarez has now been banned for 34 matches since 2010 -- without receiving a single red card.
This is Suarez's third biting incident, previously biting PSV's Otman Bakkal in 2010 (seven-game suspension) and Chelsea's Branislav Ivanovic in 2013 (10-game suspension).
There was some question whether "football-related activity" included inability to transfer clubs -- given the Suarez-to-Barcelona rumors -- but FIFA said he would be allowed to transfer.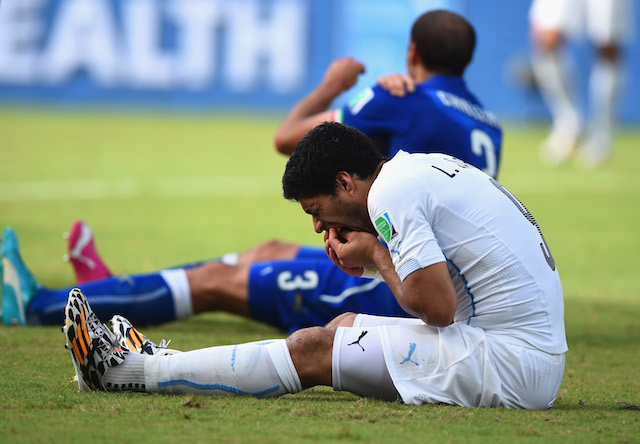 Show Comments
Hide Comments
The city of Samara's stadium, set to be used for the 2018 World Cup, has seen its construction...

Norway beat World Cup debutants Thailand 4-0 before a historic rout by Germany over Ivory Coast...

He'll be suspended for Friday's game against Iowa.
The World Cup was 'amazing,' but Seattle Sounders teammates Clint Dempsey and DeAndre Yedlin...

A painting in Brazil depicts the Dutchman's amazing goal against Spain.

German midfielder Cristoph Kramer has become the face of the ongoing concussion crisis after...