FIFA World Cup: Argentina's reliance on Messi grows due to injuries
Argentina has the best player in the world in Lionel Messi, but they will need to rely on him more than ever against the Netherlands.
• 3 min read
More World Cup: Latest news & notes | Scoreboard | Complete schedule
No team in the World Cup has been more reliant on one player than Argentina and Lionel Messi.
La Albiceleste are loaded with attacking talent, yet their fate has often come down to the magical exploits of the best player on the planet. Fortunately, Messi has been up to the task – notching four goals and one assist in five matches. He scored the match-winning goal against Iran in extra time, and had the match-winning assist against Switzerland in the Round of 16.
Argentina has won all five matches by one goal – and the play of Messi has been the main reason the South American side is still alive in the World Cup.
As they enter the semifinal against the Netherlands, though, the responsibility on the shoulders of Messi is growing bigger and bigger.
Midfielder Angel di Maria, who scored the match-winner against Switzerland, could miss the rest of the World Cup after being subbed out in the 33rd minute in Saturday's quarterfinal win over Belgium. He has a tear in his right thigh, and will not play against the Dutch on Wednesday. While Messi has clearly been the best player for Argentina, di Maria's speed and versatility has been a major asset for manager Alejandro Sabella. He's always been a speedy winger, but he played more of a midfield role for Real Madrid this season and has expanded his game as a result.
But there's more.
Star striker Sergio Aguero has missed the last two matches due to a muscle strain, and his status is up in the air for this week. Aguero has reportedly trained the last few days, but it's unclear whether he will start or if he can play an extended role for Argentina. Aguero is one of the most dangerous strikers in the Premier League, scoring 28 goals in all competitions for Manchester City – while also notching five goals in World Cup qualifying for Argentina.
If Di Maria and Aguero are both out – or unable to truly perform at their peak – the Argentina attack takes a hit. Gonzalo Higuain has started four matches as the striker, scoring the only goal of the match against Belgium. He will need to occupy the Dutch defense to free up Messi. Ezequiel Lavezzi has done a good job of providing width in the attack, and some people feel he's a better fit for the Argentina attack than Aguero.
The loss of Di Maria really hurts, though. He has linked up well with Messi on several occasions, and nearly had a goal against Belgium before getting injured. When Di Maria came off, he was replaced by Enzo Perez – a more defensive option in the midfield. Argentina simply doesn't have a ton of trustworthy attacking threats off the bench outside of Rodrigo Palacio, and he's been used solely as a sub. If Aguero is healthy, his speed and finishing ability will provide a much-needed added dimension. 
On the flipside, Sabella could choose to trot out a defensive lineup on Tuesday to help deal with Netherlands' attacking triumvirate of Arjen Robben, Robin van Persie and Wesley Sneijder. With that said, the Dutch would rather Argentina control possession and then spring loose on the counterattack.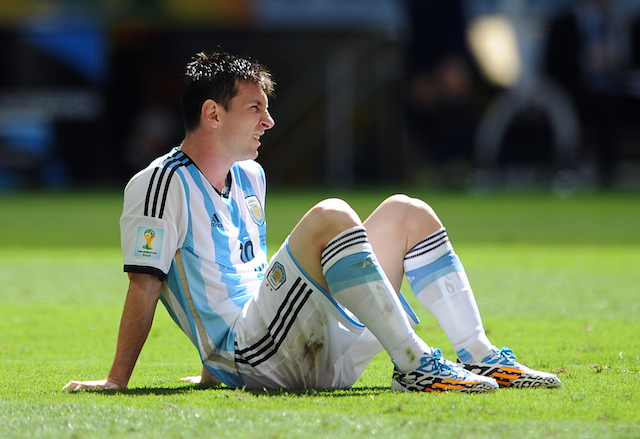 No matter who is healthy or what XI Argentina use against the Netherlands, it will still likely come down to Messi. Heading into this World Cup, there were some questions regarding his performance for country. His goal-scoring rate with Barcelona has been absolutely stunning, but the 27-year old didn't score in the 2010 World Cup or the 2011 Copa America. Messi has changed his role a bit this month, completely dictating the match and tempo for Argentina – and his country's reliance on him has increased as a result.
In a match that will likely be decided by one goal, a moment of brilliance could be the difference. And despite the growing pressure on Messi, the world's best player could be the man to provide it for Argentina.
The city of Samara's stadium, set to be used for the 2018 World Cup, has seen its construction...

Norway beat World Cup debutants Thailand 4-0 before a historic rout by Germany over Ivory Coast...

He'll be suspended for Friday's game against Iowa.
The World Cup was 'amazing,' but Seattle Sounders teammates Clint Dempsey and DeAndre Yedlin...

A painting in Brazil depicts the Dutchman's amazing goal against Spain.

German midfielder Cristoph Kramer has become the face of the ongoing concussion crisis after...