Venus Williams looks like old self in first-round win at U.S. Open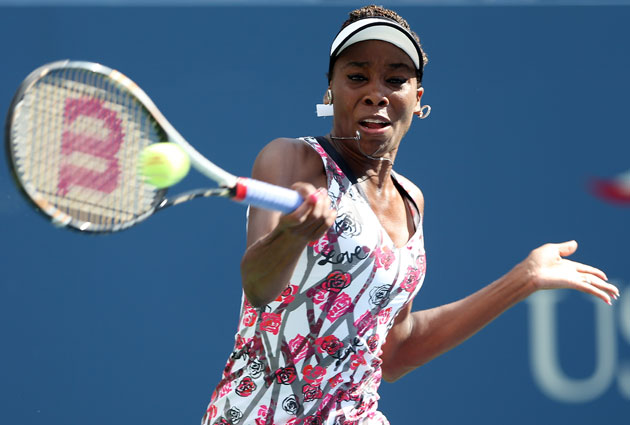 Venus sports her latest outfit in Tuesday's win. (Getty Images)
Venus Williams has always been the Queen in England on the lawns of Wimbledon. But sometimes it's just so nice to be back at home on your turf. Because the Venus that we saw advancing into the second round of the U.S. Open on Tuesday was a far cry from the one we saw at the last Slam a couple months ago.
There's a reason for that, of course. Venus has been dealing with a life-altering diagnosis, the one that found she suffers from Sjogren's Syndrome, an auto-immune disease that is similar to Lupus. She wanted so bad to come back for Wimbledon and the Olympics earlier this month, also on the grass in London, that she admitted she might have rushed it.
But if her first round match on Tuesday was any indication, she's in much better form now with increased conditioning.
Venus came out and dropped the first two games, being broken on her first service game by fellow American Bethanie Mattek-Sands on the court at Arthur Ashe Stadium on a hot New York day. You couldn't help thinking "oh no, not again," thinking back to the somewhat stunning beating she took from Elena Vesnina in the first round at Wimbledon.
"The first two games I couldn't quite get it right," Venus said. "She played some good shots, some good serves. [At two] love and I'm serving, I feel like I'm going to hold and maybe it's going to be even soon. I feel good on my serve."
That's when she kicked it into gear. Venus rattled off 15 of the next 16 points and ran away with the match from there, taking out Mattek-Sands 6-3, 6-1 in tidy fashion.
The most impressive part of it all? It looked like vintage Venus.
She was hammering serves, crushing forehand volleys, picking apart the corners. She made it tough to remember that her condition had seen her fall all the way to the 46th ranking in the world, an unseeded position at the U.S. Open.
When it was said and done Venus hammered home 22 winners to just 13 unforced errors. She had five aces and was five for 10 on break point conversions. There was little more she could have done to impress. She was in control after the first five minutes.
It's always dangerous to make grand proclamations after a first-round win at a Grand Slam event. Even in an unseeded spot Venus didn't have stiff competition from Mattek-Sands, the American veteran who has been dealing with her own injuries. However Venus did enter the Open not off that loss at Wimbledon but instead a semifinal finish in Cincinnati, losing to eventual champion Li Na. She was headed in the right direction even before playing on Tuesday.
Still, you never can be sure if great form early in a Slam is more of a mirage based on the level of competition or not.
But by virtue of being unseeded, we'll find out very soon. Up next for Venus will be No. 6 Angelique Kerber, the German who has played more sets than any player on tour this year, reached the semifinals of the U.S. Open a year ago and breezed through her first-round match on Tuesday with a 6-2, 6-0 win. It's a rematch from the Olympics when Kerber knocked Venus out of the singles competition.
Under normal circumstances it's the type of matchup you'd expect to see in the quarterfinals at the earliest, not the second round. Clearly these aren't normal circumstances. If Tuesday was any indication, though, things are getting just a little closer to normal for the two-time Open champ.
"I was a little nervous in the beginning, just coming back to the Open after last year," Venus said. "It was a big deal for me. So to get back out there in front of the crowd was a wonderful feeling."