Andy Roddick announces plan to retire at end of U.S. Open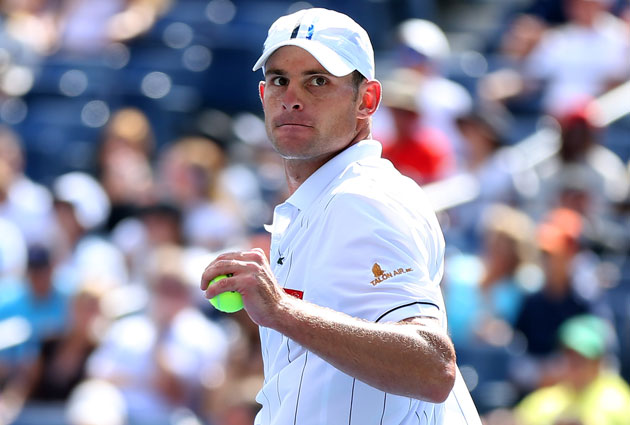 Roddick could finish his career with one Grand Slam title, four runner-up finishes. (Getty Images)
On the same day that he turned 30 years old, Andy Roddick called a press conference not to have a birthday celebration with the media but instead to announce his intention to retire from tennis as soon as his U.S. Open comes to a close.
"Walking off at Wimbledon I felt like I knew," Roddick said. "I couldn't imagine myself being there another year.
"I don't know if I'm healthy enough or committed enough to continue another year."
Whoa. Turning the round 3-0 must have made him feel a heck of a lot older than he did a day ago when he was 29.
Or it could also be the fact that Roddick has certainly played his best tennis already and he knows it. He has dropped out of the top 10 in the rankings, a spot where he was a mainstay for years. He entered the Open as the 20th seed, the second-highest American.
"I didn't want to disrespect the game by coasting home," Roddick said.
Now every match that Roddick plays will begin with the story of "this well could be his last." First up on the farewell tour is a match on Friday against Bernard Tomic of Australia, the 43rd-ranked player in the world and no easy out for Roddick.
The announcement comes just a day after one of the great's on the women's side, Kim Clijsters, announced her retirement from singles. She let it be known well before the Open that it would be her final tournament and she was knocked out in the second round by young Laura Robson of Great Britain. She was given a large applause and had the chance to bring it truly to a close. Roddick will get to do the same.
"I wanted an opportunity to say good-bye," Roddick said. "I hope I'm sticking around."
Even better, he's going to get that good-bye from the crowd at the U.S. Open, a crowd that always cheered as hard for him as any other player in New York.
Roddick was the face of American tennis on the men's side for well over a decade, taking the mantle from Pete Sampras and Andre Agassi. He was the last American male to win a Grand Slam, coming in the 2003 U.S. Open.
He is also the last American to hold the No. 1 ranking in the world. Roddick came close to a few other Slam titles, including 2009 at Wimbledon when he lost an epic fifth set to Roger Federer 16-14 in what many consider to be one of the greatest matches ever played.
Roddick was always known best for his punishing serve when he was at his peak, same for his forehand. He retires with the fourth-fastest serve on record, hitting 155 MPH in 2004. He leaves with 32 career singles titles -- assuming he doesn't add a 33rd in the next week -- third most for among active players.
Below is the full video of Roddick's retirement press conference.