Simply stunning: Tomas Berdych knocks out Roger Federer in U.S. Open quarters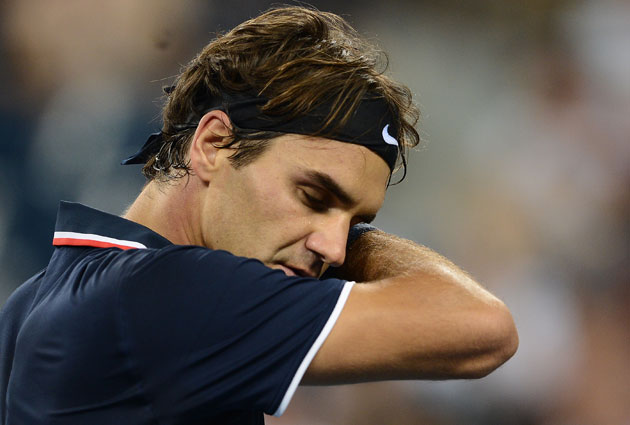 Federer will miss the weekend action in New York for the first time in nearly a decade. (Getty Images)
You want the shock of the U.S. Open? You got it on Wednesday night. Roger Federer is out of the tournament before the semifinals thanks to No. 6 Tomas Berdych's win on Wednesday night, 7-6, 6-4, 3-6, 6-4. It was simply shocking to watch, that just doesn't happen to Federer.
All match long the expectation was Federer was going to turn it around. After watching Andy Murray come storming back from down a set and two breaks, it seemed like only a matter of time. The best players have a way of simply turning on the switch and playing like we're used to them playing. Murray, for example, responded from his hole by winning 18 of 21 games to close in what ended up looking like a romp.
It took a long time, but it looked like it finally happened for Roger, he flipped the switch. Federer overcame being a break down in the third and came storming back with four straight games to take the set. At that point everybody thought it was done, Federer was going to run away and take it in five. Everybody but Berdych, of course.
The Czech player shook off the third-set comeback and held his nerve, stunning everybody by breaking Federer late in the fourth set and then closing it out on his serve at love. That was it, Federer was done.
"It was such an amazing summer I had, I thought I was going to come out and do that tonight," Federer said after the match. "Such a letdown."
How surprising was it? It was the first time in his career he lost under the lights at the U.S. Open. Consider that again. It was the first time that the five-time champ ever lost under the lights in New York.
"I'm disappointed," Federer lamented. "I really expected myself to play better tonight, especially at night. I've had such a great record."
Or consider this: The last time the U.S. Open semifinals did not include Roger Federer, the final four had the names Andy Roddick, Juan Carlos Ferrero, David Nalbandian and Andre Agassi. That was nine years ago.
The only part about this that's not stunning? We've seen Berdych do this before. He took out Federer at Wimbledon, an even bigger upset than Wednesday night, back in 2009. He also beat Federer the last time they met on an outdoor hard court a year ago. So he knew it could be done.
Still, that doesn't make it any less stunning to see.
But for every opportunity that closes, another one opens. Obviously that's the case for Berdych, who moves onto the semifinals on Super Saturday. But even more so it would appear to pave the way for Murray, who now doesn't have to go through Federer to reach the final, only the man who beat Federer.
Many have said that this might be the time that Murray finally breaks through and ends the Major drought for Great Britain, making us all forget the name Fred Perry. With Rafael Nadal out of the way, that was one less big name for him to go through already. Now Federer is out of his path too. This is as good of a shot as Murray has had in some time and he's just two matches away.
Of course, that would all be assuming Murray can get by Berdych, something the great Federer couldn't do.
It wasn't the greatest match Roger ever played. He missed a lot of shots early in the match and was never quite in sorts. If it didn't seem absurd enough of an idea, he almost seemed rusty from not having played a match since Saturday thanks to Mardy Fish's retirement from the tournament. However when he went on his run in the third set, his play seemed back up to its usual excellent standard. But Berdych withstood it in the fourth.
"With my game I'm able to make him some trouble," Berdych said afterward. "Even if he's playing well; there is something in my game he doesn't like." Maybe it's that huge serve and ground strokes.
On top of everything, it's almost like one final defeat of Andy Roddick. Over the years Federer seemed to torture Roddick like he did so many other players. All four of Roddick's losses in Slam finals came at the expense of Federer. So on the day that Roddick said his emotional farewell to the sport and rode off into the sunset of retirement as the news item of the day, Federer had to go and lose and steal the spotlight. Not that he would have liked, of course, but a side effect nonetheless.
Now we move into what feels like unchartered territory at the Open, a Super Saturday without Federer. Not many saw that one coming.