Foot fault helps lead to fall of John Isner in third round of U.S. Open
A foot fault call strikes an American again at the U.S. Open, this time setting John Isner off before the American was ousted in Round 3.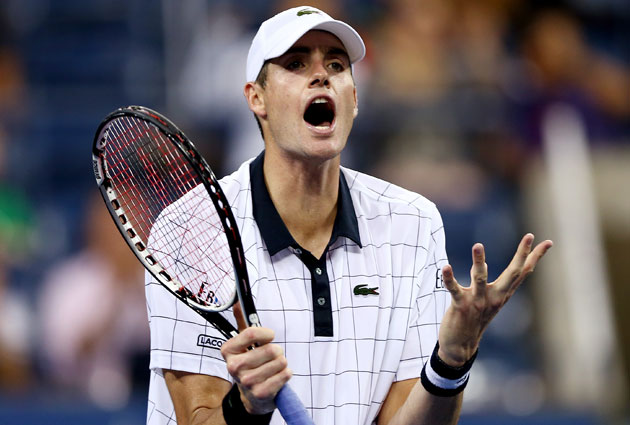 Isner wasn't pleased with how things went on Sunday night/Monday morning. (Getty Images)
They say nothing good happens after midnight. If he didn't already, John Isner might agree with that now.
It was late in the fourth set in the wee hours of the New York morning and things were going so well for No. 9 John Isner. He was up two sets to one over No. 19 Philipp Kohlschreiber and they were on serve in the set with Isner up 30-0 as the two seemed destined for a tie-break. If you're Isner, that sounds like a great plan.
Then the wheels came off and Isner crashed.
Isner, with his powerful serve and punishing forehand, decided to go for a drop shot to try and catch Kohlschreiber off guard. It hadn't worked all match for Isner so it wasn't a surprise when it didn't work that time. Actually, it was kind of dumbfounding. Isner's reaction showed he knew right away it was the wrong play and then his play got just wrong. Kohlschreiber came back and earned the rare break then consolidated it to force a fifth set.
Hey, no big deal, one set, winner take all. Isner took the break at the set to go back to the dressing room and get a whole new set of gear. Even if it was after 1 a.m., Isner was sweating like it were 1 p.m.. It was a chance to regroup and forge onto the fifth.
But as bad as things might have ended for Isner in the fourth, they got a lot worse to start the fifth
In the first game of the fifth set the downfall started somewhat innocently. Isner challenged a call and was wrong. That was just the beginning of the frustration because then an ace was overturned by a Kohlschreiber challenge and another ace was overturned ... by a foot fault.
If we learned anything over the years, foot faults will set a player over the edge (right, Serena?). A point later another Isner shot was ruled out and when the ball floated back to his side of the court he swung for the fences, crushing the ball into the upper deck. He was fortunate that he was only warned at the time but even that would come back to bite after he lost the frustrating first game and was down an immediate break.
Isner was unable to let it go. After recovering to hold onto the next service game in speedy fashion Isner returned to his seat for the changeover but decided he still had some words for the chair umpire and they were over that foot fault. He wasn't too complimentary of the official who made the call and let the umpire know. Isner followed it with a racquet-smashing display to make rock & roll stars proud and he was docked a point.
In Kohlschreiber's next service game Isner took it to deuce. Imagine if they began that game at love-love instead of Kohlschreiber getting a 15-0 head start. It was probably Isner's best chance to break back and return the set on serve. It didn't happen.
Isner was eventually able to compose himself and give the break attempts a few more go's but couldn't crack the German. Somewhat shockingly, Isner was sent packing at a match that finished at 2:26 in the morning, losing 4-6, 6-3, 6-4, 3-6, 4-6.
For Isner, that wasn't how it was supposed to go. He reached the quarters last year in New York and with a seemingly cushy draw, the hopes were high this time around. The only thing that ended up being high by the end of the match was his frustration level.
Credit is obviously due to Kohlschreiber. He played his match very well, sticking to his game plan. He beguiled Isner with drop shots time and time again, served inside on Isner to keep that forehand out of the equation and took advantage of his very clear speed edge over the gigantic Isner. He did as much to beat Isner as anything.
But Isner seemed to help beat himself, too. His frustration was very clear for a while and it looked like it was wearing on him. He was working so hard to overcome the setbacks, perhaps too hard. He is normally a pretty even-keel guy on the court but he was going up and down like a yo-yo.
This was set up to be Isner's chance at a break through, at least a pretty good shot to get to the semifinals of a Slam. With one difficult and frustrating game, that chance was gone.
Show Comments
Hide Comments
Probably not the best way to take out your frustration

Bouchard learned the hard way -- never bet against Tom Brady

The two legends will meet for the 35th time in their careers
Serena Williams passes Steffi Graf for the most major championships in the Open era

The sisters will meet for the ninth time in a Grand Slam final

The 37-year-old finished off the match with a 22-20 win in the final set