U.S. Open Day 11 matches to watch: Past champs Novak Djokovic, Juan Martin Del Potro clash
We're down to just two singles matches for Thursday at the U.S. Open: Men's quarters including a clash between two former champs at night.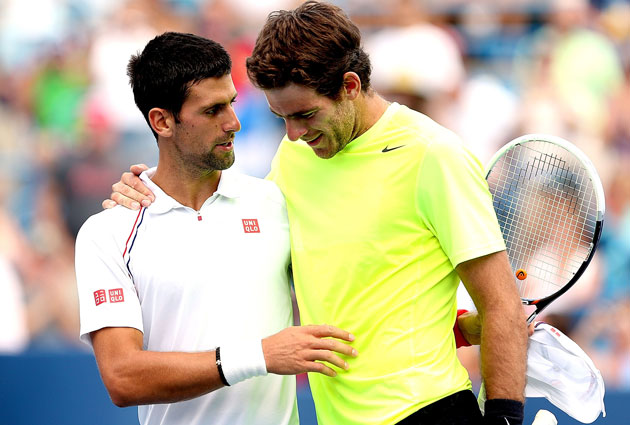 Djokovic and Del Potro split their meetings this summer. (Getty Images)
Day 10 was as big as it gets at the U.S. Open sans Super Saturday. It had an emotional farewell to a past champion in Andy Roddick, a surprising farewell from the tournament to five-time champ Roger Federer and a schedule chock-full of great matches thanks to the rain backing things up.
Unless you like watching overweight celebrities playing with tennis legends, Day 11 probably won't match it. But the nightcap should be worth the price of admission.
Here is a look at Thursday's schedule. (The men's and women's doubles semifinals will be going on all day on Armstrong.) The usual reminder of start times not being precise doesn't really apply.
12 p.m.: It's worthwhile to mention since it is the final: Mixed doubles will take to Ashe. With defending champions Melanie Oudin and Jack Sock out of the hunt, new champs will be crowned. The fourth-seeded team of Kveta Peschke and Marcin Matkowski will face the unseeded combo of Ekaterina Makarova and Bruno Soares.
1:30 p.m.: There are two spots left for the men's semifinals to come from the bottom half of the draw, so one will be settled in the day session.
The forgotten favorite, No. 4 David Ferrer, takes on the second-highest seed in his quarter of the draw, No. 8 Janko Tipsarevic. For both guys this presents a rare opportunity to reach a semifinal at a slam. Ferrer has done it three times in his career, once at the Open back in 2007, while Tipsarevic has never been there before. In a tournament without one of the top four players in Rafael Nadal, a door opens for somebody else to get through.
We all know how tough an out Ferrer is. He doesn't do anything that makes you say "wow," he just quietly keeps winning. He is consistent in his game, not really prone to many highs and lows. With his defensive abilities he's just tough to put away.
Tipsarevic, meanwhile, is a bit of a late bloomer. He has been around for years, but now he has risen to a career high in the world rankings thanks in large part to the growth in his serve. The fewest number of aces in a match he's had thus far came last round against Philipp Kohlschreiber when he recorded nine. Since losing the first two sets of the tournament, Tipsarevic has won 12 in a row to get this point.
The career head-to-head is sparse. They have met only three times before with the most recent battle coming at the 2008 Beijing Olympics. That was on the hard court and Tipsarevic won. The other two prior meetings -- one on hard court, one on clay -- went to Ferrer.
This match might not have the appeal that others have, but it figures to be a strong one. Both players have been playing well and come in with seeds in the top 10 for a reason.
7 p.m.: To wait for the big match of the day we have to go through this: John McEnroe teams up with Adam Sandler to take on Jim Courier and Kevin James. Yes, the comedians. Obviously it's an exhibition show to have some fun, but for me it's just a delay to the main course.
9 p.m.: Here we have it, under the lights on Ashe. It will be the defending champion and clear favorite now that Roger Federer is gone, No. 2 Novak Djokovic, taking on the 2009 champ and the man responsible for putting the finishing touch on Andy Roddick's career, No. 7 Juan Martin Del Potro. It's the last quarterfinal on the men's side with the final semis bid on the line.
Both men finished matches on Wednesday, so there shouldn't be much of a fatigue factor favoring one over the other. That's good because it would be a shame to have fitness level be a big factor in what looks like a great matchup.
These two have had a couple of run-ins this summer. The big one came in London at the Olympics where they battled for the bronze medal. It was in that match that Del Potro surprised Djokovic and won in two sets to keep the Serbian off the medal stand. The only other win of Del Potro's career against Djokovic came in the 2011 Davis Cup after Djokovic retired down a set and a break.
But London wasn't the last time they met. Djokovic exacted some revenge on Del Potro for London in the U.S. Open tune-up in Cincinnati, taking out Delpo 6-3, 6-2.
Thus far Del Potro hasn't had an air of invincibility about him in this tournament. However, as he showed in his win over Roddick, once he gets going, his top form is excellent. Remember, this is the only player to have squeezed through and won a major in the Federer/Nadal/Djokovic era. And it was in this setting.
But we're talking about Djokovic, who has not dropped a set in this tournament thus far. It wasn't until Wednesday that he even had to fight for one. Stanislas Wawrinka was able to break Djokovic twice in the opening set. Being the great return man that he is, Djokovic broke Wawrinka three times, including in the final game to win the set. After that it was his usual dominant self until Wawrinka had to retire in the third.
There are plenty of reasons why Djokovic is the favorite. But Del Potro has crashed the party before and he is capable of doing it again. That said, I don't think he'll push Djokovic too much, maybe grabbing a set. But that's why they play the matches because not many foresaw Federer falling to Tomas Berdych on Wednesday night.
Show Comments
Hide Comments
Probably not the best way to take out your frustration

Bouchard learned the hard way -- never bet against Tom Brady

The two legends will meet for the 35th time in their careers
Serena Williams passes Steffi Graf for the most major championships in the Open era

The sisters will meet for the ninth time in a Grand Slam final

The 37-year-old finished off the match with a 22-20 win in the final set