U.S. Open Day 4 matches to watch: Venus Williams in match of the day
Action at the U.S. Open has been great, you just wouldn't know if you've only seen matches on Ashe and Armstrong. That's about to change.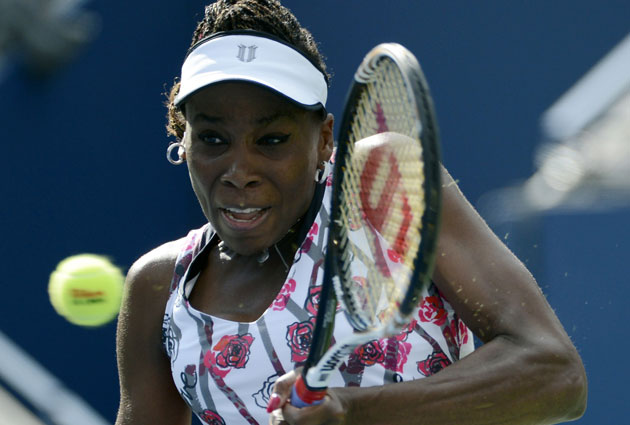 Venus won handily last time over Bethanie Mattek-Sands ... that likely isn't happening Thursday. (Getty Images)
The action so far at the U.S. Open has been great, you just probably wouldn't know it if you've only watched the matches on Ashe and Armstrong. That's about to change.
As Day 4 beckons the second round is completely upon us and it's already providing some really interesting matches. Here's what to watch for on Thursday (usual reminder: start times not precise).
11 a.m.: So the day doesn't seem to get off to a completely rousing start with Ana Ivanovic, who did look really good in her first match, taking to Ashe vs. Sofia Arvidsson and Maria Kirilenko playing over at Armstrong vs. Greta Arn.
The first matches of the day do provide one American in singles action. On Court 11 Tim Smyczek will look to keep the U.S. upset party going as he takes on No. 17 seed Kei Nishikori .
1 p.m.: Now we're talking on Ashe. No. 23 Mardy Fish , who certainly showed some room for improvement in his first-round match, faces a tough challenge in Nikolay Davydenko of Russia. Their head-to-head history forebodes a great match as the career series is 2-2, but Fish did win their most-recent match in 2011 on the hard court of Cincinnati rather easily, 6-0, 6-2.
At the same time Jo-Wilfried Tsonga is on Armstrong and the forgotten woman in the draw, No. 2 seed Agnieszka Radwanska, tries to finally make it past the second round of the Open on the Grandstand against Carla Suarez Navarro. But go just one more court out for another American who looked excellent in his first match. Jack Sock will look for a third-round berth against Flavio Cipolla .
4 p.m.: Serena Williams goes back to Ashe and the competition level probably reduces back down to what it's been the first few days as she takes on Maria Jose Martinez Sanchez. With how Serena has looked recently, if she drops more than a couple games it would be a surprise.
Over on Armstrong Serena's good friend and up-and-coming American Sloane Stephens will face Tatjana Malek. Like Sock, Stephens had a tremendously promising first match, taking out Francesca Schiavone and inspiring American tennis fans of another bright future.
Just in case that wasn't enough American pride for one session, Sam Querrey will be playing on the Grandstand and No. 15 Milos Raonic (hey, Canada is close to the U.S.) will face Paul-Henri Mathieu on Court 17. Action-packed afternoon.
7 p.m.: The night strikes on Ashe and that means Roger Federer takes to the court. Considering he has never lost a night match on Ashe in his career and that he's facing Bjorn Phau , expect the lack of competitiveness on the court to continue.
Things should be more competitive over on Armstrong as American veteran James Blake seeks a third-round spot taking on No. 24 Marcel Granollers of Spain. Undoubtedly the crowd at Armstrong will be backing the American, hoping he can produce one more run in a tourney.
Relatively quietly No. 6 Tomas Berdych will be out on Court 11 vs. Jurgen Zopp . OK, very quietly. Hopefully for Berdych, not too quiet.
9 p.m.: They saved the best for last on Ashe. Finally, the biggest stage in tennis under the lights will truly be the showcase.
Venus Williams looked in great form in her first match two days ago, but that wasn't against somebody of the level of Angelique Kerber, the sixth-seeded German who is enjoying a career year. On the year she is 53-16, a year spurred on by her semifinalist showing at the Open a year ago.
All time Kerber leads the series vs. Venus 2-1, one match on each of the three surfaces. Venus' win did come on the hard court, but that was in 2009 and each of them is a far cry from that point in their careers. More recently Kerber took out Venus on grass at the Olympics. But Venus might not have been quite ready a month ago in her conditioning. She admitted herself that she was desperate to play in the Olympics and she might have rushed it.
Lights, cameras, action. They have hit the U.S. Open 2012.
To settle debate over his controversial Serena Williams comments, McEnroe offered up a 'so...

In the midst of a hotly contested debate, Williams is more than comfortable with herself

Williams hardly minced words in reply to McEnroe's assertion that she would be "like 700" on...
The controversial former tennis player also called Williams the best 'female' tennis player...

Federer, back from a two-month break, falls in three sets to the No. 302 player in the world...

Nadal didn't just dominate Stan Wawrinka to win his 15th Grand Slam -- he did it in style