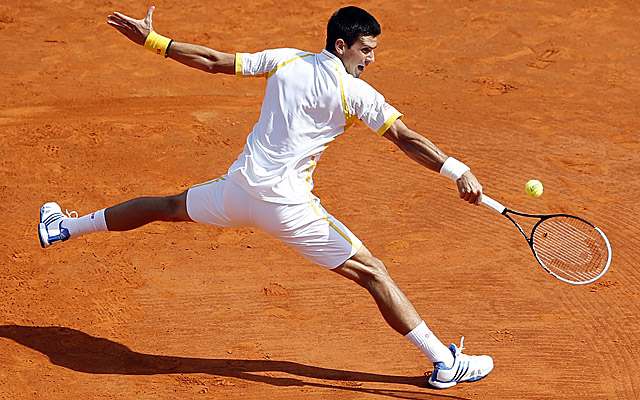 MONACO -- Rafael Nadal's eight-year reign at the Monte Carlo Masters finally ended Sunday as the Spaniard lost 6-2, 7-6 (1) to top-ranked Novak Djokovic in the final.
Nadal won his 46 previous matches at Monte Carlo -- beating Djokovic in last year's final -- and his last defeat here was against Guillermo Coria 10 years ago. Nadal missed the 2004 tournament through injury before winning his first Monte Carlo title the following year.
Nadal then beat Roger Federer in the next three finals. His eight straight titles were an ATP record for one tournament.
Djokovic faced Nadal for the 16th time in a championship decider, and they are now 8-8 in finals. Nadal had won the previous three, including the French Open final last year.
"Rafa, thank you for allowing me to win it once," Djokovic said. "I couldn't ask for a better start to the clay season."
Nadal dropped one set on the way to the final -- to Grigor Dimitrov -- while Djokovic dropped two, having been doubtful to even play after twisting his ankle on Davis Cup for Serbia and the United States two weeks ago.
"I didn't know I would be a part of the tournament this year ... [It's] the best decision I ever made in my life," Djokovic said.
Nadal looked well set to take the match to a third set after opening up a 4-2 lead in the second, but his serve let him down. Especially in the 12th game, when Djokovic broke him to love to take the momentum back heading into the tiebreaker.
Djokovic sealed the victory on his first match point with another booming forehand winner and then held his head in hands and looked skyward and talking to himself for a few seconds -- last year, Djokovic's grandfather died during the tournament but he carried on playing to reach the final -- before dropping to the ground and kissing the clay.
After a brief shower, the match started with a delay of around 45 minutes, and the Serb raced ahead 5-0 in just 25 minutes. Neither player has won a set 6-0 against the other in 34 meetings, but Djokovic came very close before Nadal summoned up the strength to save five break points in the sixth game.
Nadal has reached five consecutive finals since returning from a knee injury in February -- winning three, and losing two -- while Australian Open champion Djokovic won his third title of the year and 37th overall.
Nadal, who leads Djokovic 19-15 in their overall meetings, applauded warmly as the Serb received the trophy that had belonged to the Spaniard for so long.
"Congratulations ... good luck for the rest of the season," Nadal told Djokovic at the awards ceremony.
Djokovic looked emotional as he sang along with the Serbian national anthem.