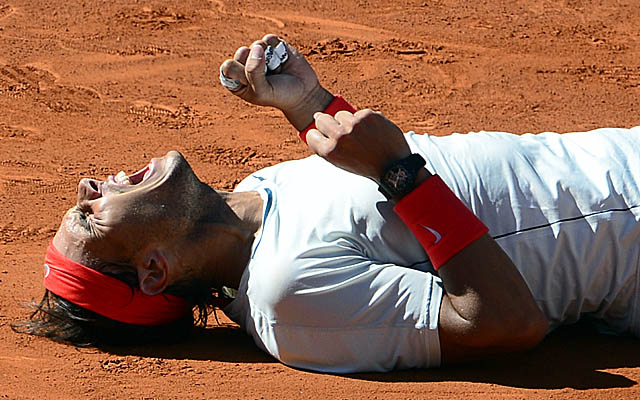 MADRID -- Rafael Nadal won his fifth title since returning from a knee injury by beating Stanislas Wawrinka 6-2, 6-4 Sunday for the Madrid Open championship.
Cheered on by the home crowd at the Caja Magica, the fifth-ranked Nadal cruised to his 55th career title and extended his head-to-head record with Wawrinka to 9-0.
Nadal flopped on his back and screamed in joy when his Swiss opponent's final volley fell long to end the match.
It was Nadal's seventh straight final since coming back from a nagging case of tendinitis in his left knee that sidelined him for seven months.
"I'm very happy and maybe this victory is even more special considering how complicated this year has been," said Nadal. "This tournament couldn't have gone better for me.
"I think this was my best match of the tournament. This was perhaps the match where I was the most aggressive."
Nadal imposed his ground game from the start. He worked his opponent around the court and punished him with passing shots when he tried to come forward.
The local favorite set the tone in the first game by breaking Wawrinka with a vicious flick to land the ball on the sideline.
Nadal, who had won here in 2005 and 2010, roared out to a 4-0 lead in 20 minutes.
The 15th-ranked Wawrinka settled down in the second set and was able to take Nadal's service game to deuce. But Nadal returned two line-drive shots by Wawrinka at the net before he fired the third try long. Nadal then drove in an ace to end Wawrinka's challenge.
"Nadal showed again that he is the best on clay," said Wawrinka, who also congratulated Nadal's coaching staff for helping him back from his layoff.
"Since he has come back he has shown that it is really tough to beat him."