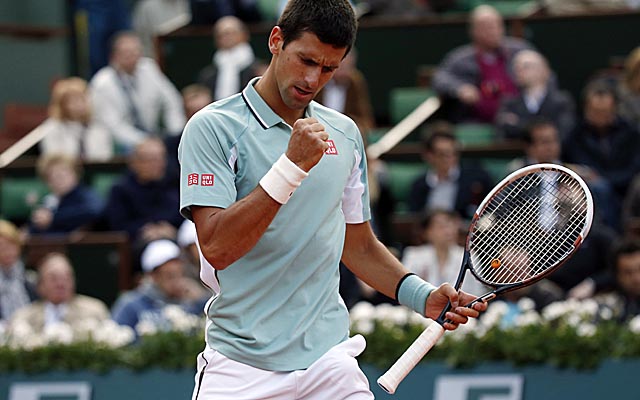 PARIS -- Top-seeded Novak Djokovic began his bid to win his first French Open title with a 7-6 (5), 6-4, 7-5 victory Tuesday against 58th-ranked David Goffin of Belgium.
The key moment came in the first-set tiebreaker, with Goffin serving at 5-all. After he faulted once, a fan yelled, "Allez, David!" Goffin then proceeded to miss his second serve too, for a double-fault that gave Djokovic a set point.
Goffin's backhand into the net gave that set to Djokovic, who had won fewer total points until then, 39-36.
In 2012, Goffin got into the French Open field as a "lucky loser" and took a set off Roger Federer in the fourth round.
Djokovic is trying to complete a career Grand Slam. He lost to Rafael Nadal in last year's final in Paris.
Sam Stosur waited 2 1/2 hours to play because of rain, then quickly won her opening match at the French Open.
The 2010 runner-up swept the first nine games Tuesday and drubbed 42-year-old Kimiko Date-Krumm 6-0, 6-2.
Matches were delayed at the start on a 55-degree afternoon. And when the rain stopped, Stosur was ready. Playing on cozy Court 1, nicknamed the bullring, Stosur dominated with her strong serve and pinpoint groundstrokes, repeatedly skipping shots just inside the lines.
Shortly after Stosur finished, rain returned, prompting another interruption.
"I was happy to get out there and start," she said. "It was spitting a little bit when we went out there. You think, `Oh, are we going to start or are we not?' Lucky for me I was able to finish the match before this last downpour came."
Australian Bernard Tomic, whose father was barred from Roland Garros after being charged recently with assaulting his son's hitting partner, retired trailing Victor Hanescu 7-5, 7-6 (8), 2-1. Tomic was treated for a right hamstring injury after three games and limped at times during the match.
American Jack Sock, a 20-year-old qualifier ranked 118th, made a successful Roland Garros debut by beating Guillermo Garcia-Lopez 6-2, 6-2, 7-5. Sock wore initials on his shoes in honor of two friends who died recently in separate car crashes.
"Kind of hits you out of nowhere," he said. "I was definitely thinking of them out there."
No. 12 Tommy Haas earned his first Grand Slam victory since turning 35, beating Guillaume Rufin 7-6 (4), 6-1, 6-3. Youth was also served - Lucas Pouille, a 19-year-old wild card from France, defeated American Alex Kuznetsov 6-1, 7-6 (2), 6-2.
No. 26 Grigor Dimitrov advanced when Alejandro Falla retired with indigestion trailing 6-4, 1-0.
France's Marion Bartoli, a semifinalist two years ago, needed more than three hours on center court to beat Olga Govortsova 7-6 (8), 4-6, 7-5.
Australian Open champion Victoria Azarenka's match against Elena Vesnina was among 10 first-round matches postponed. They won't begin until at least Wednesday, three days after some players were already into the second round.
Stosur, seeded No. 9, enjoyed a career breakthrough three years ago when she reached the Roland Garros final before losing to Francesca Schiavone. She won the U.S. Open in 2011, but this year has been hampered by a right calf injury and has yet to reach a semifinal.
Stosur said she's now feeling 100 percent and hoping for a good run in Paris.
"The first hurdle is done, but there are many, many more ahead of me," she said. "I have to stay on track, but I think this was a very good start."
Date-Krumm, who won the Strasbourg doubles title last week, is the third-oldest woman to play in the French Open. When she made her Roland Garros debut in 1989, nearly half the players in this year's women's draw had not yet been born.
She said she didn't play any singles matches on clay leading to Roland Garros because the surface is her weakest, and while she had low expectations against Stosur, she felt she played better toward the finish.
"I enjoy it a little bit in the end of the second set," she said. "My tennis, it was not so bad. Stosur is so strong, and she's specialist on the clay. ... I'm already focused on the grass-court season."
When rain returned after 90 minutes of play, soggy fans huddled in corridors and formed long lines at the gourmet coffee, hot dog and waffle stands.
Last week, tournament officials said they would proceed with plans to build a retractable roof over center court despite a judicial ruling in March that put the project on hold. The roof would be completed in 2018 as part of a $440 million renovation at Roland Garros.
The men's final last year between Djokovic and Rafael Nadal was halted because of rain in the fourth set, forcing an overnight suspension and the completion of the tournament on a Monday. It was the first time in 39 years the French Open didn't finish on time.