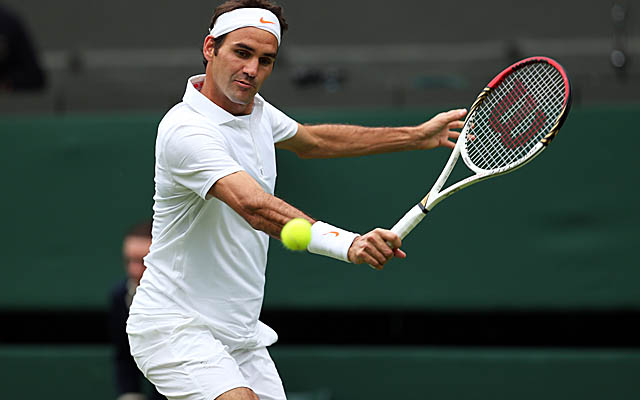 LONDON -- Ten years after winning his first Wimbledon title, Roger Federer began his bid for a record eighth trophy at the All England Club on Monday with the same dominance that has defined his grass-court greatness.
Opening the tournament on Centre Court as defending champion, Federer looked right as home as he dismantled Victor Hanescu of Romania 6-3, 6-2, 6-0 in just 68 minutes, according to Associated Press reports.
This was a grass-court clinic from Federer, who had 32 winners, seven aces and just six unforced errors. He won 90 percent of the points when he put his first serve in.
When his serve is clicking, Federer usually is unbeatable. On this day, he won 15 of his first service points and 24 out of the first 25.
Last year, Federer pulled even with Pete Sampras and William Renshaw at seven Wimbledon titles. He is attempting to become the first man to win the major eight times, which would bring his total of Grand Slam titles to 18.
In keeping with tradition, Federer had the honor of playing the first match on the sport's biggest stage as the reigning men's champion. This was the seventh time he strode out first on Centre Court.
"It's slightly different," he said. "Nine years ago when I came out the first time, it was the most special thing in the world. It still feels amazing. It was an absolute pleasure playing on Centre Court."
Federer came out wearing a white collared jacket with orange trim, then quickly got down to business. He never faced a break point and broke six times.
Federer has a habit of making things look easy. And so it was in the opening game when, stranded at the net, he reached behind him for a reflex forehand volley that landed in for a winner. In the third set, Federer lifted a perfect backhand lob over the 6-foot-6 Hanescu for a break and a 5-0 lead.
Done with her pre-tournament verbal volleying with Serena Williams, Maria Sharapova improved to 11-0 in first-round matches at Wimbledon by beating 37th-ranked Kristina Mladenovic of France 7-6 (5), 6-3 later on Monday.
The third-seeded Sharapova, who won her first Grand Slam title at the All England Club in 2004, struggled through the opening set, according to AP. But at 5-all in the tiebreaker, Sharapova hit a cross-court backhand winner to earn a set point, which she quickly converted with an over-the-shoulder backhand volley winner off Mladenovic's lob.
It didn't take long for Wimbledon to produce its first upset on the opening day of the tournament.
Puerto Rican teenager Monica Puig had 38 winners and eliminated fifth-seeded Sara Errani of Italy 6-3, 6-2 Monday in the first match on Court 18 of the grass-court Grand Slam.
The 19-year-old Puig, playing her first grass-court tournament as a pro, outplayed the Italian veteran with her hard-hitting baseline game.
Errani was runner-up at last year's French Open and had reached at least the semifinals of three of the last five Grand Slams. But on the slick grass at the All England club Monday, she had only 13 winners and was broken four times.
Puig squandered five match points before hitting a forehand winner past Errani to close out the match. The Puerto Rican dropped her racket to the turf and covered her face in her hands.
Errani withdrew from last week's grass-court warmup at Eastbourne with a leg injury, but showed no signs of any physical problems during the match.
It's the third time a top-5 women's seeded player has lost in the first round at Wimbledon since 2001. The others were Martina Hingis in 2000 and Francesca Schiavone in 2010.
The loss marked another humbling Wimbledon exit for Errani.
Last year, the Italian went an entire set without winning a point in losing 6-0, 6-4 in the third round to Yaroslava Shvedova of Kazakhstan. Shvedova was the first player in a Grand Slam to achieve a so-called "golden set" by winning 24 straight points.
Second-seeded Victoria Azarenka overcame a right knee injury from a scary fall for a 6-1, 6-2 victory over Maria Joao Koehler in her Wimbledon opener.
Azarenka easily took the first set and was ahead 1-0 in the second when she slipped and fell. She was sobbing on the court and took an injury timeout for treatment. She played the rest of the match with her right knee heavily wrapped.
Once play resumed, Azarenka limped noticeably and winced after several points. But Koehler, making her Wimbledon debut, did not have the power or consistency to make Azarenka, the two-time Australian Open champion, pay for her diminished mobility.
In another women's match, former top-ranked Ana Ivanovic of Serbia advanced to the second round with a 7-6 (1), 6-0 win over qualifier Virginie Razzano of France.
The 12th-seeded Ivanovic, a semifinalist here in 2007, swept through the second set in 22 minutes, finishing the match with her sixth ace.
The weather was cloudy but dry for the beginning of the two-week championships.
Also scheduled on Centre Court is No. 2-seeded Andy Murray playing Benjamin Becker of Germany.
Murray, who lost to Federer in last year's final, beat the Swiss star a month later for the Olympic gold medal and won his first Grand Slam at the U.S. Open. He is bidding again to become the first British player to win the men's Wimbledon trophy since Fred Perry in 1936.
Two-time champion Rafael Nadal, seeded No. 5 this year, was paired against Steve Darcis of Belgium on Court No. 1. Nadal is coming off his eighth victory at the French Open.
Defending women's champion Serena Williams plays Tuesday.
The next time Williams and Sharapova meet, it could be in the final.
"I think it's great for women's tennis when we play each other," Williams said.
Until then, fans and non-fans alike can keep picking apart the unexpected trade of verbal jousts between two of the sport's biggest stars -- a back-and-forth that has turned the lead-up to Wimbledon into something much more than simple tennis talk.
The latest chapter came on the eve of the tournament. Trying to set aside a number of awkward outcomes from a Rolling Stone profile of her posted online last week, Williams used her pre-tournament news conference Sunday to express her apologies.
• For comments that put both her and Sharapova's love lives on center stage.
• For remarks she made about the 16-year-old victim in the Steubenville, Ohio, rape case.
• And, it seemed, every bit as much for letting the author of that story into her private world, thus turning the buildup to Wimbledon into a festival of dirty laundry that has the headline writers for the London tabloids drooling. ("This time it's personal" and "I'm sorry, Maria!" were among the lines used.)
"It definitely hasn't been easy," the No. 1-ranked Williams said about the stir created by the magazine's profile. "And I feel like I really wanted to say: I apologize for everything that was said in that article."
Earlier in the week, Williams had issued a statement expressing regret for remarks about the 16-year-old victim in the Steubenville case. On Sunday, she said she and the family ``came to a wonderful understanding, and we're constantly in contact.''