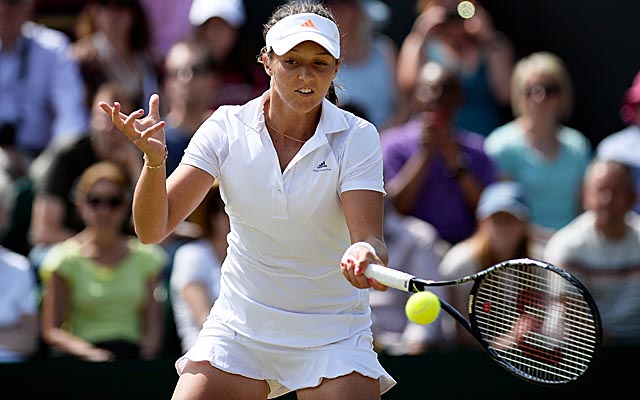 It's not unusual to see six-time major champion Novak Djokovic getting ready for the fourth round, but not far away was Jerzy Janowicz, winner of a grand total of six matches at major tournaments before this one.
No surprise that 2011 French Open champion and two-time Slam runner-up Li Na was still around, but so was 19-year-old Laura Robson, the first British woman to get this far at the All England Club since Sam Smith in 1998. With early exits by Roger Federer and Rafael Nadal, and Maria Sharapova long gone, too, after a chaotic first week, the Wimbledon draws were dotted with unfamiliar names after Sunday's traditional mid-tournament break, names such as Kenny de Schepper and Adrian Mannarino, Karin Knapp and Monica Puig.
Five of the remaining 16 men were set to make their fourth-round Wimbledon debuts Monday. Six never have reached a Grand Slam quarterfinal: de Schepper, Ivan Dodig, Janowicz, Lukasz Kubot, Mannarino, and Andreas Seppi. Perhaps not coincidentally, each of those relatively unknown half-dozen players benefited from at least one of the record-tying 13 walkovers or mid-match retirements from injury or illness so far.
Four of the 16 women left also were hoping to reach a major quarterfinal for the first time: Robson, Knapp, 19-year-old Puig of Puerto Rico, and 20th-seeded Kirsten Flipkens of Belgium.
Djokovic, for one, liked the idea of some players getting a chance to introduce themselves to a wider audience, according to the Associated Press.
"It's interesting ... to see new faces -- for the crowd, for [the] tennis world, in general," said Djokovic, who might not feel quite the same way if he were among the 11 men and women seeded in the top 10 who no longer are playing.
Truth is, there hasn't been much variety of late in the men's draws at Grand Slam tournaments, especially at the very end: Federer, Nadal and Djokovic have won 31 of the past 33 titles.
"It's good [to have] change, in a way, because it's always expected, obviously, from top players to reach the final stages of major events. When it doesn't happen, it's a big surprise," said the top-seeded Djokovic, the only past Wimbledon champion left among the men. "It's a bit [of a] strange feeling not to have Federer or Nadal at the second week of a major. In the last 10 years, it was always one of them."
In recent years, it's also always been Djokovic, who is scheduled to face 35-year-old Tommy Haas on Monday. Djokovic has played in 16 consecutive Grand Slam quarterfinals -- the longest active streak now that Federer's 36-major run is done. At the past 10 Slams, he's also reached at least the semifinals, picking up five trophies and three runner-up finishes.
Second-seeded Andy Murray, meanwhile, has been a finalist at the last three major tournaments he entered and won the US Open in September, only increasing the expectation among locals that he can be Britain's first male champion at Wimbledon in 77 years.
Nothing is guaranteed right now, though.
"Second week of a Grand Slam is a new start, especially here, where you have [time] off," said 15th-seeded Marion Bartoli, the 2007 Wimbledon runner-up who faces the 104th-ranked Knapp, an Italian making her first appearance in a major's fourth round. "It's really a new tournament starting."
All 16 men's and women's fourth-round matches were on Monday's slate -- no other Grand Slam tournament sets things up this way -- so fans will get the chance to discover some folks they might not recognize immediately.