Scolari, Neymar address concerns over World Cup protests in Brazil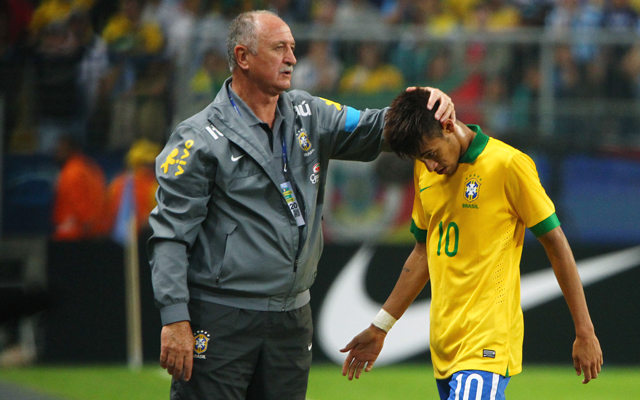 Less than 50 days away from debuting at the 2014 World Cup, two important figures of the Brazil national team addressed concerns about protests that are expected to take place in the host nation during the tournament.
Head coach Luiz Felipe Scolari expressed concern that planned protests in the host nation could have a negative affect on his team's chances of winning their sixth title while one of the team's star players, Neymar, said that he backs the protests as long as they are "peaceful" in nature.
In Brazil, anti-government protests began to arise last year with citizens of the South American nation demanding better public services. They've also protested against increases in travel fares and supposed government corruption. Protesters have indicated a strong disagreement with the government using public money to fund sporting events rather than other areas of need.
During last year's Confederations Cup in Brazil, protests were rampant throughout the tournament. Some were peaceful in nature while others resulted in violence.
The AP reports that Scolari told Globo TV in Brazil in an interview on Sunday that while Brazilians have the right to protest, perhaps the timing of these protests are not coming at the "right time."
Per the AP:
"I think the protests can happen," said Scolari. "If they are peaceful, then that's democracy. Everyone has the right to protest. But I don't know if it's the right time."
Meanwhile, Neymar told CNN that he is not against the protests, as long as they do not lead to violence.
Per CNN:
"My opinion is that protesting, there's no problem with it, as long as it is peaceful without violence, without vandalism," said Neymar. "If it's for Brazil getting better, they have to protest."
Neymar went on to say that he wants the home fans to cheer for Brazil to help them put pressure on opponents.
Brazil will be hosting the World Cup for the second time in its history. Despite winning a record five tournaments, they lost a decisive final game against Uruguay at the 1950 World Cup in Brazil and have yet to win the title on home soil.