US Men's National Team No. 14 in May FIFA world rankings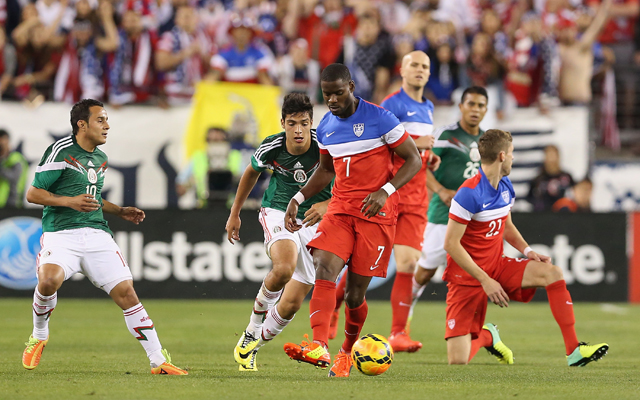 FIFA released its latest world rankings for the month of May on Thursday and the United States Men's National Team fell one spot to No. 14. They remain the highest ranked team in the CONCACAF region, ahead of their rivals Mexico, who remain No. 19 overall.
The U.S. and Mexico drew 2-2 in a friendly played in early April in Glendale, Ariz. in their only activity during the month. The next FIFA rankings will be unveiled on June 6. The U.S. are scheduled to take on Azerbaijan in San Francisco's Candlestick Park on May 27 in another friendly World Cup tune-up match.
World Cup holders Spain remain the No. 1 ranked team ahead of Germany and Portugal, both teams are part of Group G along with the U.S. and Ghana in this year's tournament.
Brazil moved up two spots to No. 4, ahead of fellow CONMEBOL nation Colombia and is now the highest ranked South American nation just in time to host the World Cup in June. For Brazil, it is their highest ranking since July 2011.
The FIFA rankings, which use a formula-based procedure, are widely criticized as a somewhat questionable ranking system, but also remain the most official rating system in world soccer.
Here's a peak at the rankings:
FIFA World Rankings - Top 15
Rank
Team
Confederation
Points
+/-
1

Spain

UEFA
1460
0
2

Germany

UEFA
1340
0
3

Portugal

UEFA
1245
0
4

Brazil

CONMEBOL
1210
+2
5

Colombia

CONMEBOL
1186
-1
6

Uruguay

CONMEBOL
1181
-1
7

Argentina

CONMEBOL
1178
-1
8

Switzerland

UEFA
1161
0
9

Italy

UEFA
1115
0
10

Greece

UEFA
1082
0
11

England

UEFA
1043
0
12

Belgium

UEFA
1039
0
13

Chile

CONMEBOL
1037
+1
14

USA

CONCACAF
1015
-1
15

Netherlands

UEFA
967
0