Your Guide to the 2014 US Men's National Team: A tactical overview
More World Cup: Group Previews | More US Soccer news | World Cup news & notes
Heading into the third send-off match against Nigeria, the United States Men's National Team was not in an ideal situation. They were less than impressive in the first two friendlies, with tactics and personnel still left to be figured out. Couple that with being in arguably the toughest group in the competition, and the confidence among USMNT supporters wasn't high. However, a a very solid outing against Nigeria -- with tactics most similar to what the U.S. will use in Brazil -- has brought back some optimism.
For the first two send-off matches, manager Jurgen Klinsmann made the decision to switch from a 4-2-3-1 to a 4-4-2 diamond, and there were some adjustments to be made by the players. Instead of having two center midfielders in front of the back four, there was just one – with Michael Bradley playing further up the pitch. Moreover, Klinsmann moved Fabian Johnson from left back (where he has played with the USMNT) to right back (where he plays with his club team). Personnel-wise, there was plenty of attention paid to the exclusion of Landon Donovan from the 23-man squad, but that wasn't the biggest issue for the first two friendlies. It seemed like there were multiple spots in the starting XI up for grabs, including left back, left midfield and maybe even more.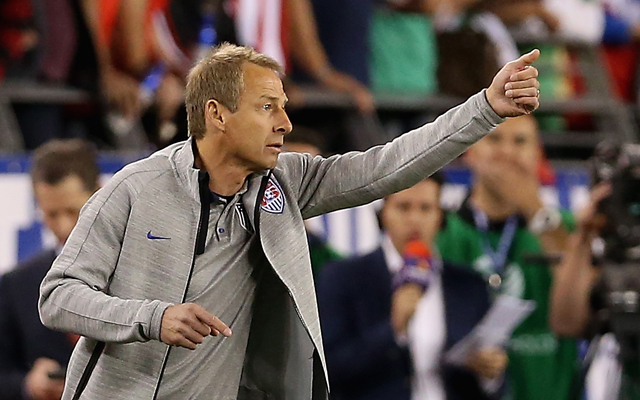 Then came the third friendly, against Nigeria. Klinsmann went back to using two midfielders in front of the back four, with Jermaine Jones and Kyle Beckerman playing together. It wasn't technically a 4-2-3-1, it wasn't a 4-3-3, it wasn't a 4-4-2 diamond – there wasn't really a set formation, but it did seem like the most likely set-up for Brazil.
With that in mind, let's go position-by-position and see how things stand as the USMNT heads to South America.
Goalkeeper: Despite some slip-ups from Tim Howard a year ago and an impressive club campaign from Brad Guzan, Howard was entrenched as the starter. He made his 100th appearance for the USMNT on Saturday against Nigeria, and will only add to it in Brazil. He's experienced, vocal and will be counted upon to be the last line of defense. Guzan is the backup, with Nick Rimando as the emergency third keeper.
Right back: Heading into the send-off matches, it looked like the right back position would be up for grabs. Then Klinsmann moved Fabian Johnson from the left to the right and solved that problem. Johnson has made some terrific runs down the right flank in the friendlies, and could be key for providing width. Speedy youngster DeAndre Yedlin will make a bigger impact down the road, but his pace can help now.
Center back: Geoff Cameron started all three send-off matches and will be the starter in Brazil. In a defense that had its share of issues, Cameron was solid. His communication with Johnson has improved, too. He's capable of playing either center back or defensive midfielder, but he'll certainly be on the back line at the World Cup.
Center back: This was a trouble spot for the first two friendlies, with Matt Besler making several mistakes and constantly being out of position. Moreover, because he and Cameron hadn't played together too often, there were some communication issues. He looked better against Nigeria, though, as he wasn't left out in space on the counterattack as much. Omar Gonzalez was expected to push for a starting spot, but he's struggled and could drop to fourth-choice. Twenty-one year old John Brooks has shown flashes, and could surpass Gonzalez on the depth chart.
Left back: This was another spot that didn't seem set in stone heading into the Nigeria match, with veteran Damarcus Beasley and 24-year old Timmy Chandler fighting for the starting position. Now, it seems like Beasley will be the starter in Brazil. He's naturally left-footed, meaning he can push down the left flank to provide width and crosses. Chandler has pace, but a couple of late mistakes against Turkey dropped his stock a bit.
Defensive midfielder: There are plenty of people who aren't huge fans of Jermaine Jones. He's not a great passer, he's not a great dribbler, and he has some disciplinary issues. With that said, Jones has a high workrate and has experience against top-flight competition. He's aggressive and is not afraid to make a tackle. At the bottom of the diamond, he needs to be more disciplined and stay back, though. Kyle Beckerman is pushing for a starting spot, but . . .
Midfielder: . . . and this is where it gets interesting. For the first two friendlies, Jones was the lone defensive midfielder on the pitch. Michael Bradley was forced to play something like a No. 10 role, while also tracking back and playing ahead of the center backs. It was an impossible task. Against Nigeria, though, Klinsmann went with two center midfielders ahead of the back four, with Kyle Beckerman getting the nod alongside Jones. With those two playing together, the side was more organized, more disciplined, and more narrow (thus harder to break down) defensively. That could be the strategy in Brazil. Right now, it looks like Beckerman – who is solid, disciplined, and always in position – and Jones will start together.
Midfielder: This might be the lone spot up for grabs, especially if Jones and Beckerman are on the pitch at the same time. Against Nigeria, Alejandro Bedoya got the start. He seems to fit in well with the more narrow formation for the U.S., as he is eager to close down opponent passes and links up well with the forwards and Fabian Johnson. Will he start in Brazil, though? Graham Zusi made 12 appearances during qualifying, and he seems like the more offensive-minded option. He crossed well during the first couple of friendlies, providing aerial service for the strikers. Brad Davis is a set-piece specialist, and could be brought on late in the match when the U.S. needs a goal. Bayern Munich phenom Julian Green might not get many minutes in Brazil, but he's one for the future.
Center/attacking midfielder: Michael Bradley is the key player for the United States. He's not only the best player in the squad, but he's the guy that needs to play well for the U.S. to advance. His starting spot was never in question, but his role is still seemingly up in the air. Klinsmann has moved him forward, so he can make more of an impact with his creativity and playmaking. Right now, it seems like he will play right behind Clint Dempsey and Jozy Altidore. Mix Deskerud could push for a starting spot in other formations, but he's probably the best option if something happened to Bradley. He's also going to be a great option for the final 20-25 minutes of a match.
Forward: There was some concern for USMNT supporters when Clint Dempsey was held out of the first friendly due to a groin issue, but he was excellent against Turkey and put those worries to rest. His play inside the 18 against Nigeria was not something to be remembered, but his movement and confidence is a huge asset for the U.S. His starting spot has never been in danger. Chris Wondolowski started for Dempsey in the first friendly, and he's been scoring at a high rate in the MLS, but it remains to be seen if he's even third-choice in the strike force.
Forward: The Jozy Altidore we saw against Nigeria was the Jozy Altidore the United States needs in Brazil. He started out like he did in the first two friendlies – and like he did during his awful Premier League season – but a wide-open tap-in seemed to light a fire under him. Altidore's touches were suddenly far more confident, more under control, and more aggressive. His touch, turn and finish for his second goal was fantastic. Prior to the Nigeria match, there were calls for Icelandic American Aron Johannsson to start, but those have quieted. With that said, Johannsson has likely positioned himself as the go-to option off the bench at the forward position.