CBSSports.com 2014 FIFA World Cup Awards: Best Player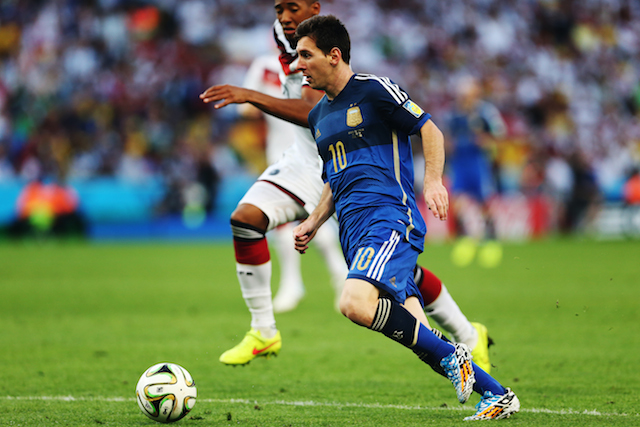 The morning after. It's been a wild month-long World Cup sprint, but Mario Gotze's extra-time goal gave Germany the trophy over Argentina – and now we won't get any more World Cup action for four years. Before we pack it in (Premier League starts in just 33 days!), though, there's still time to take a quick look back at what transpired in Brazil.
The five members of the Eye on World Cup team got together (or exchanged one email each, in reality) and voted on four awards and a Best XI from the World Cup.
We'll start with the Best Player.
Lionel Messi entered the 2014 World Cup with plenty of pressure. Despite being arguably the greatest player in the world, Messi had never been the same player for Argentina that he was for Barcelona. This is a player who has scored at least 38 goals for his club team six years running, but was held scoreless in the 2010 World Cup and 2011 Copa America for Argentina. Everyone knew he needed a big tournament if his home country was to advance deep in the competition – and if Messi was going to cement his legacy.
And while Argentina fell short in the final against Germany, Messi captivated the world for seven matches. He scored four goals and had one assist, but it was more than that. There was the match-winning goal against Iran in extra time, the pass to Angel Di Maria to beat Switzerland in extra time, the ball that led to a Gonzalo Higuain goal against Belgium.
Messi changed his role somewhat this month, playing as a more creative attacking midfielder than a forward or striker. He dropped back a bit further to receive the ball and then link up with Higuain or Di Maria or Lavezzi. He didn't score in the final three matches of the World Cup, but he still attracted three or four defenders at a time and was the focal point of opposition scouting reports. Once Di Maria went down with a tournament-ending injury, teams focused a bit more on Messi. In the end, though, magical Messi won the Golden Ball – and CBSSports.com's Best Player award.
Others receiving votes:
Thomas Muller, Germany: He started with a hat trick against Portugal and never looked back, finishing with five goals and three assists.
James Rodriguez, Colombia: Clearly the breakout star of the tournament, Rodriguez likely would have won this award going away had Colombia advanced past the quarterfinal round.