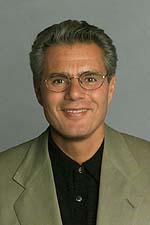 ARMEN KETEYIAN
Reporter
THE NFL ON CBS
Seven-time Emmy Award winner Armen Keteyian joined CBS Sports as a special-features reporter in December 1997. Keteyian has been a primary reporter for the Network's coverage of the NCAA Men's Basketball Championship since 1998 and annually contributes reports on key NCAA issues and features on teams and players during CBS Sports' Final Four broadcasts.
This season he served as a game reporter with the NFL broadcast team of Dick Enberg and Dan Dierdorf after spending six years with Greg Gumbel and Phil Simms. He also contributes reports for THE NFL TODAY and served as a reporter for the CBS Television Network's coverage of Super Bowl XXXV and Super Bowl XXXVIII. He served as a reporter for CBS's coverage of the 1998 FedEx Orange Bowl, the 1998 Olympic Winter Games and has been the host and co-writer of the Tour de France (2001-04).
He also is a correspondent for HBO Sports' "Real Sports with Bryant Gumbel," for which he has twice won Emmy Awards in Sports Journalism, and for "Inside the NFL."After working for two newspapers in California, Keteyian joined Sports Illustrated, where he was a writer and reporter from 1982 to 1989. He then joined NBC Sports as a reporter and producer, working on a wide range of programming, including the 1988 Olympic Summer Games.
He joined ABC News in New York as a network correspondent in September 1989 and for eight years reported on hard-edged and issue-related sports stories for "World News Tonight with Peter Jennings" and other ABC News broadcasts. He has written or co-written nine books including, most recently, the New York Times best seller, Why You Crying?, the autobiography of actor/comedian George Lopez, Money Players: Days and Nights Inside the New NBA, a critically acclaimed account of the rise of the NBA under Commissioner David Stern, and the New York Times best seller Raw Recruits. Keteyian was graduated cum laude from San Diego State University in 1976.
He was born March 6, 1953, in Detroit and lives in New Canaan, Conn., with his wife, Dede, and their two daughters.