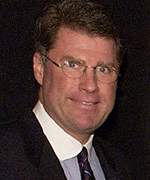 MIKE GMINSKI
(CBS Sports Analyst)
Mike Gminski joined CBS Sports in 2004. This is his seventh year as an analyst for CBS Sports' coverage of the NCAA Men's Basketball Championship. He currently serves the same role for Fox Sports Net on their coverage of Atlantic Coast Conference men's basketball.
Gminski spent eight years as a commentator for the NBA's Charlotte Hornets. He played basketball for Duke University (1977-80) and was a two-time All-American, three-time Academic All-American and the 1979 ACC Player of the Year. He led Duke to the NCAA Championship game in 1978 against Kentucky and his jersey number 43 was retired at Duke. Gminski was the seventh overall pick in the 1980 NBA draft by the New Jersey Nets and played seven years for New Jersey where he led the Nets to five straight playoff berths.
Gminski retired in 1994 after a14-year career where he played on four NBA teams - New Jersey, Philadelphia, Charlotte and Milwaukee. He is Chairman Emeritus of the Board of Advisors for Duke Children's Hospital and resides in Charlotte, N.C. with his wife, Stacy and son, Noah.