2013 NBA Draft: Even after ACL tear, Kentucky's Noel should be No. 1 pick
Nerlens Noel won't be Anthony Davis, Kyrie Irving, Kevin Durant and certainly not LeBron James. But, even after recovering from ACL surgery, he's the best prospect in the NBA Draft and should be taken No. 1.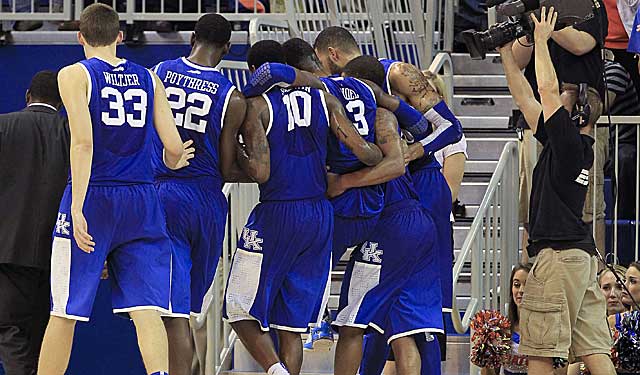 There is no Anthony Davis, no Kyrie Irving, no Kevin Durant, and certainly no LeBron in the 2013 NBA Draft that will take place on June 27.
But there is Nerlens Noel.
No, the offensively challenged 6-foot-10 Noel isn't a lock to be taken with the first overall pick. In fact, he wasn't even a lock prior to the torn ACL and meniscus he suffered back in mid-February in Gainesville.
However, everyone near the top of the draft has questions.
"In Noel's absence, I didn't think anyone stepped up and showed they would be any better than him," one high-ranking NBA exec said. "As long as the knee surgery looks good, he's at least a game-changer defensively."
Ben McLemore has the physical skill set, but the Kansas wing isn't an alpha dog and has the tendency to disappear in key moments. Anthony Bennett is a tweener forward who is a liability on the defensive end. Some have Oklahoma State freshman Marcus Smart in the equation, but he's a non-shooter and far from an exceptional athlete. Trey Burke was the best college player in the country, but he's a 6-foot point guard who doesn't have blazing speed. UCLA Shabazz Muhammad was the hip pick by some entering the season, but his stock has fallen because of a lack of explosiveness and lateral quickness.
Noel has one skill that translates to the next level: He's a big man who can change the game on the defensive end.
Thanks for modern medical technology, Noel will get back to what he was prior to the injury on Feb. 12, when he was nearly averaging a double-double (10.5 ppg, 9.5 rpg) to go along with 4.4 blocks and more than two steals per contest. Adrian Peterson is living proof, returning to the field less than nine months after surgery and rushing for more than 2,000 yards.
McLemore is a heck of a talent, but there's a reason why a shooting guard hasn't been taken No. 1 overall since David Thompson back in 1975. Two-guards are a dime a dozen in the NBA, while big men are becoming increasingly more scarce. Noel can be one of the top 10 centers in the NBA. Let's face it: That's not all that difficult nowadays. I mean, Bismack Biyombo is logging 25-plus minutes a game in the league. Larry Sanders, a project when he was drafted out of VCU a few years ago, is averaging 9.8 points, 9.5 rebounds and 2.8 blocks this season for Milwaukee.
Noel will improve on the offensive end because he possesses tremendous work ethic and is coachable. Will he ever be Brook Lopez on that end of the floor? No, but he can become Serge Ibaka. Oklahoma City's center averaged 13.2 points, 7.8 rebounds and 3.1 blocks per contest this season.
This season, an athletic, rebounding, freak shot-blocker is worthy of the No. 1 overall pick. There's no franchise-changer. Multiple NBA general managers have told me throughout the season that they would attempt to trade out of the No. 1 spot.
Are there concerns about Noel's health? Absolutely. This is his second significant leg injury (he broke his leg as a sophomore in high school), but there's not much of an alternative.
"Broken leg and ACL, no offense and 215 pounds," one NBA general manager told CBSSports.com. "And he still may be, and should be, the No. 1 pick."
Who else do you want at numero uno? Cody Zeller? No, thanks. His teammate, Victor Oladipo? I love the kid, but he's still a 6-foot-3 shooting guard who has limited offensive skills. Otto Porter or Alex Len? Maybe in the top five, but not at No. 1.
There aren't many in this class that will be able to handle the pressure of being the No. 1 overall pick, either. It can be a curse. Kwame Brown couldn't handle it. Michael Olowakandi flopped after leaving Pacific in 1998. Noel can handle the hype and the expectations. He doesn't get caught up in the hoopla, and it can't be any more difficult than following Kentucky's national title team in Lexington.
Noel won't be his predecessor who roamed the paint in Lexington. Davis is far more skilled on the offensive end of the floor. Nor will Noel be Kyrie, K.D. or even Blake Griffin.
But in the 2013 NBA Draft, one that is considered void of future superstars and maybe even perennial all-stars, Noel is the safest choice at the top.
Gary Parrish and Matt Norlander spend some time on the SEC, too

Having shocked Kansas at Allen Fieldhouse, Duke legend Bobby Hurley is coaching the Sun Devils...

Jay Wright's undefeated Wildcats are now No. 1 in the Top 25 (and one)
Coach K's Blue Devils are the fourth preseason top-10 team to lose to a sub-75 KenPom team

TCU, which downed Nevada late Friday, continues to flourish under second-year coach Jamie...

The fans rushed the floor and celebrated after Taylor University scored its 10th point of the...