2013 NBA Draft: Should these guys stay or should they go? Let's find out
Playing 'Stay or Go,' with NBA prospects: A guy like Anthony Bennett is a lock to go but a player like James Michael McAdoo needs to regain his once-high status.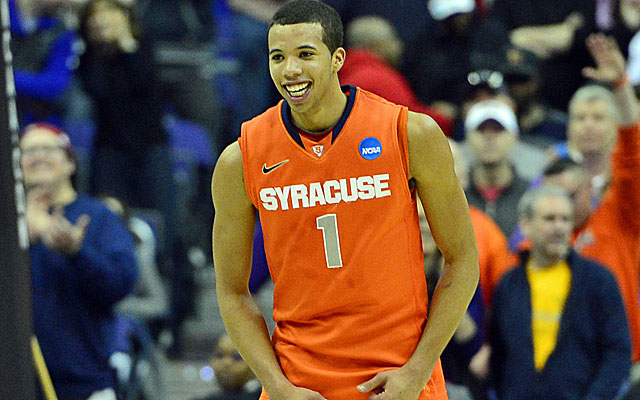 GOODMAN ON NBA DRAFT: Draft Home | Latest Mock | Prospect Rankings 
Time is short for those contemplating whether to remain in college to whether to move onto the pros. Only a few years ago, college kids could go through workouts with NBA teams and then decide to withdraw from the NBA Draft. That's no longer the case. The NCAA's deadline to withdraw and retain eligibility is April 16 -- a little more than two weeks from now.
NC State's duo of Lorenzo Brown and C.J. Leslie have both declared -- as has Kentucky freshman Archie Goodwin. Kentucky's raw and talented big man Willie Cauley-Stein has said he'll return to Lexington despite being a lock first-rounder.
It's time for us to play a little game of "Stay or Go." We might have forgot a name or two, but we cover most of the key guys who have decisions to make:
Kyle Anderson, UCLA: Larry Drew II is gone, so new coach Steve Alford's first order of business should be to make certain Anderson knows the ball will be in his hands next season. If it is, his stock will rise. He's one of the best passers in America, but didn't truly get a chance to show it this past season. Anderson is likely a second-rounder, but could work his way into the first round next year. VERDICT: Stay in school
Isaiah Austin, Baylor: The NBA folks love them some length -- and Austin has no shortage of that. He's a 7-footer who loves to roam the perimeter. I'm not certain that'll ever change. What Austin really needs is to get in the weight room, put on some bulk and learn to get down on the block with more regularity. Austin is a likely lottery pick because of his potential, but he needs to return to college because he'll get eaten up in the NBA. VERDICT: Stay in school
Anthony Bennett, UNLV: The 6-foot-8 Canadian brought back visions of Larry Johnson in Vegas because of his body and skill set. He averaged 16.1 points and 8.1 rebounds, and should be a lock to go in the lottery. Sources have told CBSSports.com that he's already decided to leave the Runnin' Rebels after one season. VERDICT: Go pro
Reggie Bullock, North Carolina: He had a solid season, but he's a second-rounder who could work his way into the first round next season -- especially if the Tar Heels can make some noise. Bullock has size and can shoot it. VERDICT: Stay in school
Trey Burke, Michigan: He was on the verge of leaving Ann Arbor last season, but decided to return and it was a terrific decision. He's in the Final Four, and should be a lock to be selected in the lottery. VERDICT: Go pro
Jahii Carson, Arizona State: He had a phenomenal season, but he's still small and isn't in the first-round equation. The Sun Devils should be solid again next season, and maybe he can make a jump since this was his first college season. VERDICT: Stay in school
Allen Crabbe, California: His stock has really risen among the NBA folks due to his production and the expansion of his game. He's long and can really shoot the ball, and he's now able to make plays off the bounce. He could become a lock first-rounder next year. VERDICT: Stay in school
Michael Carter-Williams, Syracuse: He's long and fast, and is playing some of his best basketball when it counts. The NBA guys love length and potential, and Carter-Williams oozes both. He could wind up being the first point guard taken if he comes out. Hit it while you're hot, Michael. VERDICT: Go pro
Gorgui Dieng, Louisville: Rick Pitino already said he's gone, and the Cards big man likely will be a late first-rounder. He's come a long way and should remain in the NBA for a long time due to his size, work ethic and ability to defend and block shots. VERDICT: GO PRO
Jamaal Franklin, San Diego State: I've gone back and forth on Franklin, but his game probably won't improve much. He's a tremendous athlete who plays with toughness. He gets to the basket and is a big-time rebounder for his size, but his perimeter shot is questionable. Again, this draft is weak and he could slip into the late first round. VERDICT: Go pro
P.J. Hairston, North Carolina: He struggled shooting the ball as a freshman, but showed that was a fluke and shot 40 percent from beyond the arc this season. He's a guy who, like his teammate Reggie Bullock, needs to return to make his way into the first round. VERDICT: Stay in school
Myck Kabongo, Texas: The NCAA hit him with a 23-game suspension, but the speedy Canadian point guard showed plenty of maturity and played well after becoming eligible. He's got the physical qualities (speed, speed and more speed) the NBA loves right now, and the Longhorns could be just as bad next season as they were this year. Could sneak into the late first round is he proves he can shoot it with consistency. VERDICT: Go pro
Shane Larkin, Miami (Fla.): Had a terrific season coming almost out of nowhere. His size is a concern, but he's quick, can shoot and also will thrive in the pick-and-roll game at the next level. The Canes were bumped early in the NCAA tourney, but NBA scouts saw plenty of him when he excelled -- and he'd lose almost everybody significant off this year's team, so his team could be virtually irrelevant next season. VERDICT: Go pro
Alex Len, Maryland: He's a legitimate 7-footer and is skilled. Sure, he doesn't play hard all the time, but I repeat: He's a 7-footer and is skilled. The big Ukrainian will be a lottery pick with that size and ability to score in the post. VERDICT: Go pro
James Michael McAdoo, North Carolina: Struggled despite posting impressive numbers. He still hasn't found a position, so he needs to stay in college and work on his skill set. He's probably a late first-rounder if he comes out now, but could sneak into the back end of the lottery with an improved jump shot and the ability to beat people off the bounce. VERDICT: Stay in school
Doug McDermott, Creighton: As much as I'd love to see him in college another season, I think McDermott's best move is to include his name in the NBA Draft. Creighton is heading to the Big East next season, and McDermott would face even more defensive attention because the Bluejays lose Grant Gibbs and Gregory Echenique. VERDICT: Go pro
Ben McLemore, Kansas: Redshirted last season and almost instantly became Bill Self's top player. He's got a defined position at the next level, is a high-caliber athlete and also shot the ball much better than many expected from the perimeter. Could be the first shooting guard taken No. 1 overall since David Thompson in 1975. VERDICT: Go pro
Mike Moser, UNLV: Dealt with a ton of injuries after opting to return to school. Could have possibly received a guaranteed contract a year ago, but now his stock has tumbled. With Anthony Bennett leaving, Moser will return to his natural spot at power forward -- and should make his way back into the equation for a guaranteed deal. VERDICT: Stay in school
Shabazz Muhammad, UCLA: Ben Howland let the cat out of the bag (not that there was much suspense) that the big, strong, hard-playing wing was gone after only one season in Westwood. The coaching change shouldn't change anything in that regard. Muhammad won't go No. 1 as some predicted, but he'll still be taken in the lottery. VERDICT: Go pro
Shabazz Napier, Connecticut: He stuck around despite not being eligible for the NCAA tourney, so why not give it another season to see what he can do now that the Huskies have coaching stability and can return to postseason play. Napier could work his way into the first round with another quality season. VERDICT: Stay in school
Nerlens Noel, Kentucky: Tore his ACL in mid-February, but had already proven himself as a dominant defensive player and shot-blocker. What he also showed the NBA folks is how hard he plays on a consistent basis. The draft is weak, and Nerlens could still go No. 1 overall. VERDICT: Go pro
Victor Oladipo, Indiana: His stock will never be higher than it is right now. This is a kid who wasn't even on the radar a year or two ago, and now he's a likely lottery pick. He's a super athlete who can really defend, and his offensive skills have come a long way. He'll also graduate in three years. No reason to stick around, Victor. VERDICT: Go pro
Kelly Olynyk, Gonzaga: The NBA folks tell me he'll be taken somewhere between 15 and 25, which is a far cry from where he was a year ago when he was an anonymous redshirt in Spokane. Olynyk's stock is high after a stellar, productive season, and I'm not sure it can get much higher -- especially with a terrific group of freshmen coming into the college ranks next season. VERDICT: Go pro
Adreian Payne, Michigan State: This one isn't clear-cut at all. Payne is a tremendous talent. He's 6-foot-10 and can literally do it all. He can step out and make shots, he's athletic and can block shots and rebound. However, he doesn't do it all the time. The light came on the second half of the season, but NBA guys still have their doubts. I say Payne should return and show he can dominate from start to finish, and then he could become a lottery pick. VERDICT: Stay in school
Otto Porter, Georgetown: The small-town kid from Missouri blew up this season, and has turned himself into a lottery pick, maybe even a top five guy. Porter could elect to stick around and it wouldn't shock me, but his stock will never be higher, even after the first-round NCAA exit. VERDICT: Go pro
Alex Poythress, Kentucky: His role will decrease, but Poythress needs to be patient. He could wind up being a four-year kid, but that worked out just fine for a guy like Mason Plumlee. Next season could be tough with so many talented players coming into the program, but again, Poythress will get his shot again. It could be next season that the light turns on, or it may have to wait until his junior or season season. VERDICT: Stay in school
Phil Pressey, Missouri: You can't go out like this, Phil. Not with two consecutive first-round exits. The Tigers will lose a good amount, but he'll have a running mate in the backcourt next season with Tulsa transfer Jordan Clarkson. Pressey's stock has fallen, but he can get it back if he works on his decision-making for next year. VERDICT: Stay in school
Marcus Smart, <span data-shortcode= State" data-canon="Oklahoma Sooners" data-type="SPORTS_OBJECT_TEAM" id="shortcode0">: He's not a great shooter, athlete or a natural point guard. But Smart is a winner who competes and has all the intangibles. His stock is high right now, and I'm not certain it can rise. The smart decision here is to go, since it's not a stellar point guard crop. VERDICT: Go pro
Tony Snell, New Mexico: He's got exceptional length and can shoot the ball. However, Snell is erratic and that scares most of the NBA guys I've spoken to about him. He's in a similar situation as Michigan State's Adreian Payne with plenty of upside, but still with plenty to prove to the folks that matter. VERDICT: Stay in school
Adonis Thomas, Memphis: I wasn't even going to put him on this list, because there's no way he should even think about leaving. Had a subpar season and needs to come out and show NBA guys he can play with intensity and be consistently productive. VERDICT: Stay in school
Deshaun Thomas, Ohio State: He's probably a late first-rounder or early second-rounder, but he won't do much more than he did this season. Thomas isn't going to get any more athletic, and that's the knock on him. He might as well go now in what's a weak draft. VERDICT: Go pro
Patric Young, Florida: There's no debate here. Young, once considered a lottery pick by some, needs to return and get his degree and try and work his way back into the mix for a guaranteed deal. VERDICT: Stay in school
Cody Zeller, Indiana: His stock fell this season, but he's still almost certainly a top 10 pick. Zeller is what he is -- a terrific runner with good skill level, but he's not a killer -- and isn't a vertical athlete. This draft is lackluster, and the more NBA guys see Zeller, the more his stock could fall. VERDICT: Go pro
Auriemma looks to capture his 1,000th win at the helm of UConn's program

Oklahoma joins the Top 25 and is No. 17 after taking down Wichita State on the road

The Tar Heels, No. 4 in the CBS Sports Top 25 (and one), are 10-1 after beating Tennessee.
Oklahoma and Arkansas are new additions to Sunday's Top 25 (and one)

Gary Parrish and Matt Norlander discuss a wild Saturday of college basketball

Ball left the program earlier this month and has since signed with a Lithuania professional...