2013 NCAA tournament Haiku previews
So let's look at the tournament through a Haiku view. Maybe this will help with your picks. Probably not. Either way, here goes.
• 2 min read
There are so, so, so many types of previews for you to rest your eyes upon out there. With that in mind, something simple. Something different. Something not all that original, but fun, nonetheless. A Haiku preview. Haiku, of course, is a form of Japanese poetry that infuses/mandates 17 syllables in a 5/7/5 pattern. The restrictions enable creativity in most. Not necessarily me. I just tried to hack through this in a similar vein as my bracket.
So let's look at the tournament through a Haiku view. Maybe this will help with your picks. Probably not. Either way, here goes.
MIDWEST

Louisville Cardinals vs. North Carolina A&T Aggies : Louisville wins big / Thursday's first after dinner / A few blowouts: fine
Colorado State Rams vs. Missouri Tigers : Missouri worried? / Had to wait a year for this / Norfolk State still haunts
Oklahoma State Cowboys vs. Oregon Ducks : Oregon got jobbed / Cowboys boast the best player / Doubt this one is close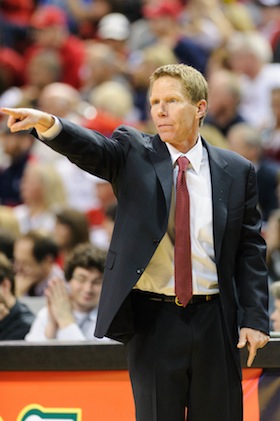 Mark Few's team has pressure to make Elite Eight. (USATSI)
Saint Louis Billikens vs. New Mexico State Aggies : Big-time storyline / Billikens playing for Rick / Look for the big man
Memphis Tigers vs. St. Mary's Gaels : Pastner needs win here / Oh, Gaels just wanna have fun / Dellavedova
Michigan State Spartans vs. Valparaiso Crusaders : "Drew for the win: good!" / Now coaches alma mater / But it's Izzo Time
Creighton Bluejays vs. Cincinnati Bearcats : Best "O" in the land / A good battle of the Cs / Mick Cronin sweater
Duke Blue Devils vs. Albany Great Danes : Great Danes a great name / Duke in same spot as last year / Show Mama Curry
WEST
Gonzaga Bulldogs vs. Southern Jaguars : Zags now have pressure / Long gone are days of cute team / Southern plays good D
Pittsburgh Panthers vs. Wichita State Shockers : Best 8/9 matchup / No! Carl Hall cut his hair / Pitt an under-seed
Wisconsin Badgers vs. Ole Miss Rebels : Marshall Henderson / Marshall Henderson again / Marshall Henderson
Kansas State Wildcats vs. La Salle Explorers : K-State so quiet / La Salle last trip: '92 / Doctor in the house
Arizona Wildcats vs. Belmont Bruins : Big upset special / Belmont seeking first Dance win / Sean Miller coachface
New Mexico Lobos vs. Harvard Crimson : Lobos are legit / Next year Harvard will be sick / Know name: Tony Snell
Notre Dame Fighting Irish vs. Iowa State Cyclones : No Te'o jokes here / Bring back the mock turtleneck / Sneaky good game, this
Ohio State Buckeyes vs. Iona Gaels : Iffy on Buckeyes / Lack enough weapons on O / Iona just runs
SOUTH

Kansas Jayhawks vs. Western Kentucky Hilltoppers : A snoozer right here / Rock-chalk chant by five-min mark / Olivia Wilde
North Carolina Tar Heels vs. Villanova Wildcats : Nova an unknown / Heels not suddenly that good / Roy won't face KU
VCU Rams vs. Akron Zips : Zips have no zip now / Alleged pot trafficking / Here comes the Havoc
Pretty much how we feel about today. (USATSI)
Michigan Wolverines vs. South Dakota State Jackrabbits : Naters Gonna Nate Wolters / This is a point guard battle / Cheap stock: Wolverines
UCLA Bruins vs. Minnesota Golden Gophers : Tubby's job on line / Howland not much better, though / To the loser: gone
Florida Gators vs. Northwestern State Demons : KenPom No. 1 / Last time for Northwestern State / Kenny Boynton : boink
San Diego State Aztecs vs. Oklahoma Sooners : Wow is this game yuck/ Worst 7/10 game ever? / Um, Aztecs ... I guess
Georgetown Hoyas vs. Florida Gulf Coast Eagles : Otto Porter POY / Andy Enfield: a hero / Gulf Coast beat The U
EAST
Indiana Hoosiers vs. James Madison Dukes : Love teams with full names / No 16s over 1s now / Tom Crean likes clapping
NC State Wolfpack vs. Temple Owls : State, what happened, yo? / Fran Dunphy needs first Dance win / This one has me stumped
UNLV Rebels vs. California Golden Bears : How is this one fair? / 12 seed Cal gets San Jose / Anthony Bennett !!!
Syracuse Orange vs. Montana Grizzlies : Which Cuse will we get? / Something amiss with program / Hee hee: Wayne Tinkle
Butler Bulldogs vs. Bucknell Bison : Battle of the Bs / Holla at Mike Muscala / Butler has big flaws
Marquette Golden Eagles vs. Davidson Wildcats : Marquette lacks the stars / My dumb butt has Davidson / I'm awful at things
Illinois Fighting Illini vs. Colorado Buffaloes : Sweet 16 sleepers / Which Brandon Paul will we see? / There goes one more 3
Miami (Fla.) Hurricanes vs. Pacific Tigers : An old-man special / One coach is retiring / Other: a comeback
---
For more college basketball news, rumors and analysis, follow @EyeOnCBB on Twitter, like us on Facebook and subscribe to the thrice-a-week podcast on iTunes. You can follow Matt Norlander on Twitter here: @MattNorlander.
Marvin Bagley, if eligible at Duke this season, projects as the country's top power forwar...

The Big Ten Tournament is a week earlier than usual, so the regular-season schedule may look...

Arizona, Grand Canyon and Tulane are also in Barcelona and have reported to be accounted for...
The Kansas forward is no longer accused of walking out on an $88 tab

Cavaliers basketball coach tapes statement on behalf of his university and his city

Gary Parrish and Matt Norlander discuss all things Marvin Bagley and his immediate future