2014 NCAA Tournament No. 1 seed: Arizona Wildcats
Cats are athletic, can be explosive offensively and have the nation's best defensive stats.
• 3 min read
More NCAA hoops: Tournament bracket | Complete coverage | Latest news
Coach: Sean Miller | NCAA Tournament record: 11-6
Best finish: Elite Eight (2008 with Xavier, 2011 with Arizona)
Assistants: Joe Pasternack, Damon Stoudamire, Emanuel Richardson
Starting lineup:
G: T.J. McConnell
G: Nick Johnson
F: Rondae Hollis-Jefferson
F: Aaron Gordon
C: Kaleb Tarczewski
Top reserve: Gabe York
Leading scorer: Nick Johnson (16.1 ppg) | Leading rebounder: Aaron Gordon (7.8 rpg)
National championships: One (1997) | Last Final Four: 2001
Why Arizona might win it all: Defense and athleticism. This team is a joy to watch -- but I don't even want to think about what they must be like to score against. Nick Johnson, Rondae Hollis-Jefferson and Aaron Gordon are athletic wunderkinds. Adjusted for strength of opponent, Arizona gives up 86.9 points per 100 possessions. That's a great rate, No. 1 in the nation (the No. 1 per-possession defense team in the country has won the title in one of the past 11 seasons). There are no simple or easy spots on the floor to exploit against Sean Miller's D. They make you squeeze yourself to get a clean look. And then you've got to get back on defense and prepare for a team that's almost as good on the offensive glass as the defensive glass.
Why Arizona might not win it all: Even though the Wildcats dropped the Pac-12 title game to UCLA, over the past three weeks this team has looked almost as good as it did when it was at full strength. The issues? Not having the team's best all-around player, Brandon Ashley, could eventually prove costly. Let's be clear: A lot of people expected Arizona to drop to a No. 3 seed or so when Ashley's season ended to injury in Arizona's first loss of the season, Feb. 1 at Cal. But in many ways the Wildcats have continued to look good or great, even if the Wildcats have gone 9-4 since. If you want a tangible reason for doubt: Arizona shoots 65.5 percent from the free-throw line, one of the worst percentages of any team in the NCAA Tournament.
Player to watch: T.J. McConnell. The junior point guard is most vital. He's the best fit at the point during Miller's time at Arizona. Having seen Arizona games in person, McConnell's leadership, competitiveness and ability to stabilize the team are impressive. With McConnell a true point guard, Arizona's chances of winning rise exponentially when he's arranging the offense.
One guy soaring: Aaron Gordon, and I mean that literally. You see Gordon's block from the Pac-12's semis?
No caption needed. #BearDown pic.twitter.com/k9UI7henPu

— ZonaZoo (@ZonaZooOfficial) March 15, 2014
The future lottery pick does just about everything well except create his own shot. As aggressive as he is without the ball on offense, he doesn't try to force plays too often when he gets his hands on it.
One guy slumping: Kaleb Tarczewski. He has had no double-digit rebound games in the past five and has not scored more than 12 points in that stretch. He also has zero blocks in his past five games, with 13 turnovers. You've gotta nitpick to downgrade this team.
Notable stats: Arizona outscores opponents by an average of 15 ppg. When a team enters the NCAAs with such a margin, it's a tremendous accomplishment. Also: This is Miller's 10th season as a head coach. In six he has won 25 or more games, and in three he has cracked 30 wins.
Final thought: Miller's probably considered the best coach who hasn't made a Final Four. He's going to tally multiple trips before his career is over. Getting to one in a given year is never easy, but over time things average out, and the guys who are worthy almost always make the ultimate stage. Arizona is one the best five teams in college basketball. Miller's building an empire and re-establishing Arizona as a top-10 national program. Getting to the Final Four would validate pretty much every other significant stride he has made the past four seasons.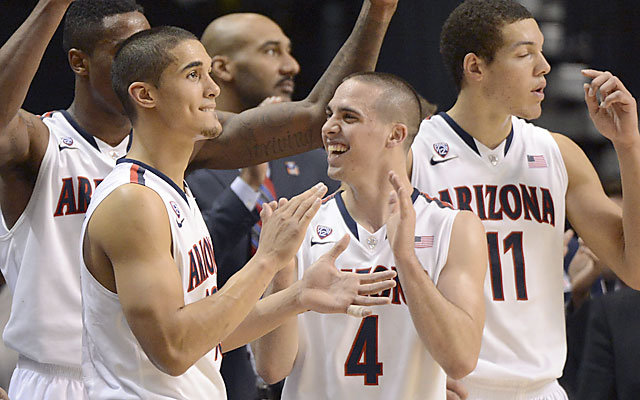 An earlier version of this story mistakenly showed the No. 1 defensive team in KenPom had won nine of the past 11 NCAA tournaments. That typo has since been corrected.
Teams not in Power 7 leagues who may earn a bid if they don't win their conference tourney...

The nation's No. 3 player will commit Saturday and here's his impact on each of his finali...

Gary Parrish and Matt Norlander also preview the weekend and Zion Williamson's announcemen...
The Sun Devils started 12-0, but since then are 2-4 after Wednesday's loss to Stanford

Andrew Jones is Texas' second leading scorer

Oklahoma's star freshman has a father who has been there and done that