2014 NCAA Tournament No. 1 seed: Florida Gators
Florida has experience, balance and plays D as well as anyone in the country.
• 3 min read
More NCAA hoops: Tournament bracket | Complete coverage | Latest news
Coach: Billy Donovan | NCAA Tournament record: 31-11
Best finish: National champion (2006, 2007)
Assistants: John Pelphrey, Matt McCall, Rashon Burno
Starting lineup:
G: Scottie Wilbekin
G: Michael Frazier
F: Casey Prather
F: Will Yeguete
C: Patric Young
Top reserve: Dorian Finney-Smith
Leading scorer: Casey Prather (14.4 ppg) | Leading rebounder: Dorian Finney-Smith (6.9 rpg)
National championships: Two (2006, 2007) | Last Final Four: 2007
Why Florida might win it all: At full strength, the Gators haven't lost a game yet. As a result of injuries and early season personnel issues, though, they developed a rock-solid seven-man rotation most teams can't match -- and that doesn't include future first-round pick Chris Walker, who became eligible midway through the season. Florida is experienced, starting four seniors who have been to three straight Elite Eights. The Gators don't have a superstar in the lineup, but Scottie Wilbekin was the SEC Player of the Year and he leads a balanced attack. Casey Prather and Michael Frazier are good complementary scorers, and Patric Young is a threat down low. This team wins with defense and is one of the best defensive teams in the country, with versatility and ability to rotate effectively in help situations.
Why Florida might not win it all: The Gators don't have many weaknesses, but there are some trouble spots that could hurt them in the NCAA Tournament. First, Florida isn't a great outside-shooting team. Frazier is a terrific 3-point shooter and Wilbekin has improved his outside stroke, but the Gators aren't always consistent beyond the arc. Moreover, they might not have that next-level talent that some people think you need to win a title. Wilbekin is a terrific college player, but can he take over a game in the Final Four?
Player to watch: Michael Frazier. Wilbekin makes Florida go and Young may be the heart and soul, but Frazier could be the key offensively. When he's knocking down outside shots, the entire offense runs much smoother. If you look back at the games where Frazier struggled in SEC play, Florida had some trouble with inferior teams. He needs to make outside shots, to stretch defenses -- which in turn opens up ball-screen situations for Wilbekin and driving lanes for Prather.
One guy soaring: Scottie Wilbekin. He was maligned at times during his first three seasons, and being suspended for the first five regular-season games didn't help. But Wilbekin is the catalyst for everything Florida does at both ends. He's a terrific perimeter defender and his ability to read ball-screens on the offensive end and make good decisions is outstanding. Wilbekin is also the guy who will have the ball in his hands late in the game and late in the shot clock.
One guy slumping: Casey Prather. It's hard to say Prather is struggling, given his overall numbers -- but he has come back to earth in the latter stages of SEC play. After scoring in double figures in the first 18 games, Prather hit double figures only five times over the next 11 games. When he can get out in transition and stay in attack mode, Prather is hard to stop -- and that's a huge key for Florida.
Notable stat: 16. That's how many total games Florida's top seven have missed this season. Casey Prather (injury) missed two, Dorian Finney-Smith (suspension) missed two, Scottie Wilbekin (suspension) missed five and Kasey Hill (injury) missed seven. This team has proven it can win without being at full strength -- which could come in handy in the NCAA Tournament with foul trouble or an unforeseen injury.
Final thought: Florida might be the title favorite. The Gators haven't lost since Dec. 2, and they are unbeaten with their current roster at full strength. They are a complete team in terms of balance, experience and consistency at both ends. And as one coach mentioned, the biggest thing is the way they handle adversity. Teams don't go on 13-0 and 15-0 runs against them. There will be adversity in the NCAA Tournament -- and the Gators have shown they can handle it effectively. This could be Billy Donovan's third national championship team.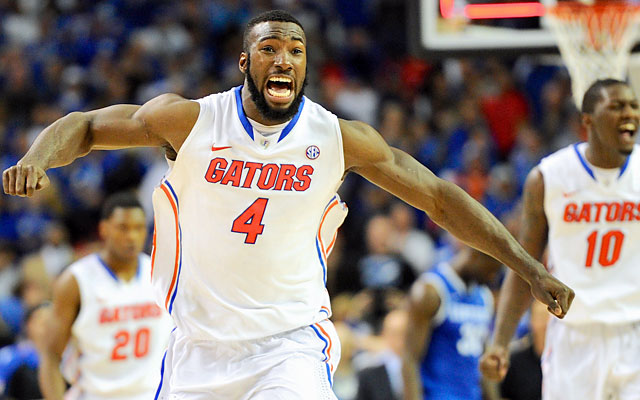 Cincinnati and Iowa highlight an impressive inaugural field for the Cayman lslands Classic

The president didn't take kindly to not getting a thank-you from LaVar

Southern California, ranked No. 8 in Sunday's Top 25 (and one), travels to face Vanderbilt...
Simons, 18, is a former Louisville pledge who is suddenly eligible for the upcoming draft

The Blue Devils improved to 4-0 in an easy win vs. Southern.

If LiAngelo Ball didn't come from a famous family, we might think differently of him