2015 NCAA Tournament Brackets: Kentucky-Duke most popular pick
Kentucky and Duke are the most popular picks to reach the Final Four and meet in the championship game according to CBSSports.com's Bracket Challenge Users.
• 1 min read
Kentucky, Duke, Virginia and Wisconsin make up the most-selected Final Four according to the brackets filled out by CBSSports.com Bracket Challenge users as of midday Tuesday. 
Villanova and Arizona are also popular picks to win their regions, and Gonzaga has even got some momentum as a team that could come out of the South Region. But no one combination of teams has separated itself as the overwhelming fan favorite quite like the prediction of a Kentucky-Duke matchup in the national championship game.
Check out the data, as off 12:15 p.m. ET on Tuesday, below:
Most popular national championship game matchups: 
1) Kentucky-Duke (28.3 percent)
2) Kentucky-Virginia (10.6 percent)
3) Kentucky-Villanova (9.8 percent)
4) Kentucky-Gonzaga (7.2 percent)
5) Wisconsin-Duke (4.9 percent)
Most popular Final Four picks
1) Kentucky, Wisconsin, Virginia, Duke (11.4 percent)
2) Kentucky, Wisconsin, Villanova, Duke (8.3 percent)
3) Kentucky, Arizona, Virginia, Duke (6.9 percent)
4) Kentucky, Arizona, Villanova, Duke (5.3 percent)
5) Kentucky, Wisconsin, Virginia, Gonzaga (3.0 percent)
As you can see, there is much less separation with the Final Four picks than the overwhelming agreement on Kentucky and Duke meeting in the title game. It should be noted, for those picking the Wildcats and Blue Devils, that two No. 1 seeds have met in the championship game only six times since 1979. 
And when it comes to the champion, you'll never guess who the overwhelming favorite is ... 
Most popular 2015 NCAA Tournament champions:
1) Kentucky (57.5 percent)
2) Wisconsin (10.9 percent)
3) Duke (7.8 percent)
4) Arizona (5.5 percent)
5) Villanova (3.2 percent)
6) Virginia (2.6 percent)
7) Gonzaga (1.9 percent)
8) Notre Dame (1.7 percent) 
9) Kansas (1.6 percent)
10) Iowa State , North Carolina (1.1 percent)
You want to talk about busted brackets? If Kentucky does lose, pools are going to be wide open across the country. (Disclaimer: I don't think Kentucky will lose, either)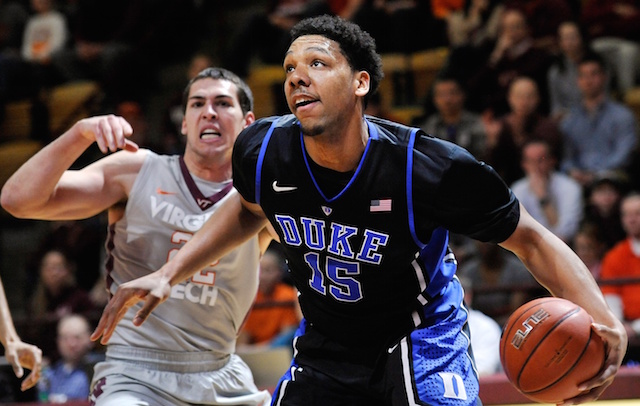 Here's your friendly reminder that Connecticut isn't the only No. 1 seed in the women's to...

Even if you had a terrible first round, there's still hope with our tourney games

See how our CBS Sports experts have fared so far in the NCAA Tournament
Print a new bracket here if your previous bracket already blew up after all of the first-round...

The second round gets underway on Saturday and runs through Sunday night

Gary Parrish and Matt Norlander discuss a No. 16 seed beating a No. 1 seed for the first t...