2016 NBA Mock Draft: Marquette's Henry Ellenson rises into Top 10
Ben Simmons and Brandon Ingram are still Nos. 1-2 but Marquette's Henry Ellenson cracks the top 10 now after being taken by the Raptors at No. 9 in Sam Vecenie's latest mock draft.
I'm not a major believer in the NCAA Tournament radically changing the opinion on prospects, especially older ones who have been around for a while. That's why this mock draft features many of the same selections we saw in the last one. The entire top-five is the same, the Raptors select Henry Ellenson, the Kings select Kris Dunn, and the Pelicans end up with Jakob Poeltl. It's not a lack of creativity on my part, it's more that simply there hasn't been much in the way of anything that would shift the paradigm drastically.
That's going to change here in the coming weeks. With the rules for early entrants changing this offseason, that means teams have had to move up their workout schedules and begin them a bit earlier than expected. The larger-than-past early entrant pool combined with a weaker-than-average prospect pool is going to allow for more movement throughout the draft Process. The difference between No. 21 on the CBS Sports Big Board and No. 50 is lower than in recent years, and any of the players in that fold could reasonably move into the top 30 by the time June rolls around.
Also, it wouldn't be crazy to see a heavily international first round, as 20 players born outside of the United States currently reside in the top-45 on the CBS Sports Big Board. In this mock draft, 12 of the selections were born outside of the United States, including five of the top seven. That's something to keep an eye on going forward.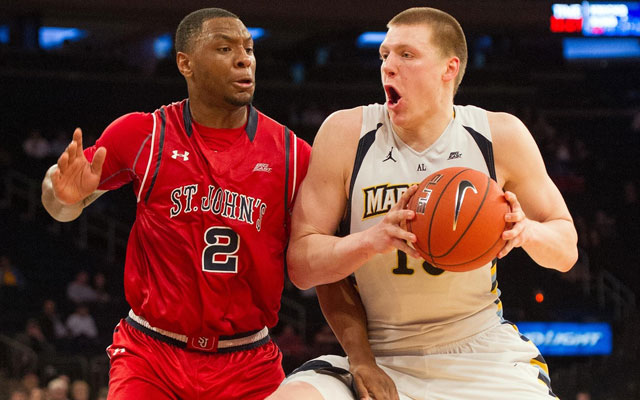 NBA Mock Draft - 04/18/2016
Round 1
1. Philadelphia 76ers
Ben Simmons, F, LSU: This isn't an easy call between Simmons and Duke forward Brandon Ingram. Ingram is younger, longer, and can shoot, whereas Simmons just simply has unbelievable, preternatural basketball sense to go with more power and a better overall frame. Simmons also isn't exactly an ideal fit with who the Sixers have around already, what with Jahlil Okafor and Nerlens Noel not exactly being shooters. My guess here is though that Bryan Colangelo will want to make his mark on the team, and that Mike D'Antoni will play a more integral role. And honestly, I'm not sure I can imagine a better player to go with D'Antoni than Simmons, a 6-foot-9 floor maestro whose athletic gifts should be accentuated by the wide-open offense that D'Antoni plays. And it's my firm belief that at No. 1 you take the player you feel best about making a strong impact, and not worry as much about fit. Simmons is the pick here, leaving the Lakers mighty happy as well at No. 2.
2. Los Angeles Lakers
Brandon Ingram, SF, Duke: The Lakers will be happy to land Ingram, who could pair really well with all of the young players on their roster due to his length, ability to create shots and skill spacing the floor. Ingram is nearly 6-10, so he'd pair well with the average-sized power forward that is Julius Randle, and Randle's physicality would complement Ingram's toughness despite his size well. That size and ability to play without the ball would also pair well with what essentially is a two lead guard system in the backcourt with Jordan Clarkson and D'Angelo Russell. Plus, at only 18, the former Blue Devil still would seem to have quite a bit of upside remaining in his body, both strength and explosiveness-wise going forward. This would be a home run if the Lakers can keep their pick.
3. Boston Celtics
Dragan Bender, PF, Israel: Bender would work really well here on multiple levels for the Celtics. First and foremost, he'd be a relatively high-upside, versatile pick under a coach in Brad Stevens who has really figured out how to best utilize mobile players who can defend and shoot. At 7-feet tall, Bender is a really fluid, mobile athlete who can defend on the perimeter and handle different switching schemes. Offensively, he's really improved as a shooter this season, his passing is superb, and his general instincts are quite strong. Plus, his buyout is not particularly onerous, meaning he could come over sooner rather than later. This would be a really solid pick for the Celtics.
4. Phoenix Suns
Jaylen Brown, F, California: The Suns have a pretty settled backcourt in Eric Bledsoe, Brandon Knight and Devin Booker. Plus, they already have Alex Len and Tyson Chandler at the center spot for the future. Brown would fit relatively well on the wing next to Booker, as the former Kentucky product could provide an awful lot of shooting while the 6-7 Cal product could wreak havoc athletically, defend, get out in transition, and hopefully become a strong slasher one day. He also could profile interestingly as a small ball 4.
5. Minnesota Timberwolves
Jamal Murray, SG, Kentucky: The Timberwolves could really use someone to space the floor between Ricky Rubio and Andrew Wiggins. Enter Murray, who was one of the best players in country at moving off the ball and knocking down shots while coming off of screens. Rubio and Wiggins would also help to compensate for Murray's defensive inadequacy currently, as they're both quite good on that end of the floor. Another interesting wrinkle Murray might be able to provide in time is the ability to allow Rubio to play a bit off-ball, as the Spaniard is a tremendous cutter without the basketball. This would be a relatively perfect fit.
6. New Orleans Pelicans
Jakob Poeltl, PF, Utah: Poeltl would replace what is essentially a sunk cost at this point in Omer Asik. He'd also allow the Pelicans to keep Anthony Davis at the 4, something they seem resolved to do in order to help him avoid taking hits inside and putting wear on his tires. Poeltl would work well with Davis, as he has a relatively polished post game and has improved as a passer and defender throughout his time at Utah. One thing to watch with him: athletic testing. Poeltl could really test well for a 7-foot, near 250-pound true big.
7. Denver Nuggets
Buddy Hield, SG, Oklahoma: The Nuggets could go the international route here, but instead let's give them Hield in order to help their shooting woes. Last season, the Nuggets finished 26th in 3-point percentage, only knocking down 33.8 percent of their 3s. Enter Hield, who is one of the most instinctual shooters you'll run across. The Bahamian sharpshooter does a better job of filling in behind offensive rebounds (something that could really fit well with the Nuggets and Kenneth Faried) or flaring out to the 3-point line for open looks than possibly any player I've ever scouted. He also has some defensive potential with his length. The Nuggets could really fill a hole well here.
8. Sacramento Kings
Kris Dunn, PG, Providence: The Kings are in a tough spot, and realistically could go a wide variety of directions. After all, the organization is in a rough spot and doesn't yet have a coach. However, one position of need could definitely be point guard, given that Rajon Rondo is a free agent this offseason. Dunn would represent an upgrade defensively on Rondo, who is a shell of his former self on that end now, and should eventually be an upgrade on Rondo offensively due to his terrific vision and athleticism. This is a good fit.
9. Toronto Raptors
Henry Ellenson, PF-C, Marquette: The Raptors could use a power forward prospect to develop, and Ellenson fits well within their offensive scheme. He stretches the floor, has great basketball sense, and would eventually fit with either Jonas Valanciunas post play inside, Bebe Nogueira's length and shot-blocking ability outside, or any of the wings. He's simply a versatile player offensively who struggles a bit defensively, and I'd think the Raptors have enough around him to make it work.
10. Milwaukee Bucks
Timothe Luwawu, SG, France: Over the last few years, the Bucks have prioritized length and athleticism in the draft. Luwawu fits in that regard, as the wing playing for Mega Leks in the Adriatic League is a great athlete with a near 7-foot wingspan who can play both guard wing positions.
11. Orlando Magic
Denzel Valentine, SG, Michigan State: Valentine has the kind of feel for the game that it's relatively easy to see Scott Skiles valuing. But more importantly than that, he'd provide floor spacing from beyond the arc that this roster desperately needs. Also, he'd provide a bit of insurance for if the team decides to allow Evan Fournier to leave via free agency this offseason. For his part, Valentine's much more than a shooter, as he's an active rebounder from the wing with length, a phenomenal passer, and a great chemistry guy that could really settle into a solid NBA role.
12. Utah Jazz
Ivan Rabb, PF, California: Rabb is a really solid, polished player who has tremendous footwork and the ability to finish with either hand. He'd provide some further frontcourt depth with the Jazz, and he'd have the potential to play with either Derrick Favors or Rudy Gobert competently if he could extend his range a bit past 12 feet, something scouts feel relatively good about happening. He might not have a massive ceiling necessarily, but Rabb can be the solid guy the Jazz develop along with Trey Lyles.
13. Phoenix Suns
Domantas Sabonis, PF, Gonzaga: This fills another potential hole for the Suns. Phoenix acquired this pick by trading Markieff Morris during the trade deadline, and could replace him with the tough, physical Sabonis. The 20-year-old is a smart basketball player who should become a solid role player in the NBA due to his touch around the rim, rebounding, and potential to develop as a shooter away from the basket. Length is a concern here, but the Lithuanian big man is about as crafty and smart as they come and I'd bet on him figuring out how to play in spite of it.
14. Chicago Bulls
Tyler Ulis, PG, Kentucky: This roster is ripe for a turnover-filled offseason after the calamity that was their 2016. One place that seems relatively uncertain is the point guard spot, as Derrick Rose was not nearly the player he's been in the past in 2015-16 (although he did finish strongly). Still, having a steady hand as a backup/2nd option is always a good plan, and Ulis fits extremely well in that role. He's highly intelligent, has the right kind of mentality to succeed in the NBA, and can really run a team as well as shoot off the dribble and pester teams defensively at the point of attack. Plus, the fans certainly wouldn't mind another Chicago kid around, I'm sure. He works really well here.
15. Denver Nuggets
Furkan Korkmaz, SG, Turkey: Few teams scout Europe as well as the Nuggets do, and with three picks in the top 18 of this draft it's relatively easy to see a circumstance where the Nuggets use at least one of them to stash a player. Korkmaz could work as that stash, as the 19-year old is a solid athlete with great feel for the game and the potential to develop a solid jump shot. He's still quite skinny and needs to work on his overall strength, but Korkmaz could become a nice wing in the future for a team that could use some size there.
16. Boston Celtics
Marquese Chriss, PF, Washington: Again, the Celtics have a ton of picks and can afford to take some home run swings. Chriss represents about as big a home run swing as you'll find due to his explosiveness and quickness athletically at 6-9. He doesn't yet have a great feel for the game, and his defense, rebounding and passing is quite poor right now. But he blocks shots, can hit the 3 ball, and has about as high a ceiling as any power forward in the draft outside of Simmons. The Celtics can throw him in Maine for a couple of years and let him develop due to their depth, then see where they're at in 2018 with him.
17. Memphis Grizzlies
Skal Labissiere, PF, Kentucky: This would be a really good landing place for Labissiere, as he'd be going to a familiar area in Memphis, as it's where he attended high school after coming in from Haiti. The Grizzlies, for their part, are entering an extremely uncertain offseason that could see a lot of roster turnover on a team entering the twilight of its prime. If Mike Conley departs, it'd be easy to see them blowing things up a bit and starting new. It's important to remember the Grizzlies likely will not have their first round pick next year either, meaning a high-upside guy works.
18. Detroit Pistons
Demetrius Jackson, PG, Notre Dame: The Pistons need more production and stability out of their backcourt in the worst way. Jackson could really help to provide that. He's an athletic player who can both score and pass, as well as get into the lane at will and limit turnovers. His shooting should also appeal to Stan Van Gundy's floor-spacing sensibilities around Andre Drummond. He also has some experience in two point guard lineups, and could possibly play together with the long Reggie Jackson.
19. Denver Nuggets
Wade Baldwin IV, SG, Vanderbilt: I'd be surprised to see the Nuggets use all three picks in the first round, but given that this is a mock draft and I don't project trades let's give them another point guard that would complement Emmanuel Mudiay relatively well. Baldwin is a downhill force offensively that also has a terrific 6-10 wingspan and should have a lot of potential defensively. That length could allow for some interesting, versatile lineups including Mudiay and Gary Harris. This works well.
20. Indiana Pacers
Deyonta Davis, PF, Michigan State: There are few teams that need depth in the frontcourt more than the Pacers do. Davis would represent a massive steal for the organization, as there's a chance by the time the draft process is over that he shows himself to be worth a lottery pick in this down draft. He's 6-10, quite athletic, and has a ton of potential on defense due to his mobility and length. His best comparison might be something of a Tristan Thompson, as a combo big man who might be best off as a rebounding, defending center.
21. Atlanta Hawks
Taurean Prince, SF, Baylor: The Hawks are another team that has had success with versatile weapons. Prince is a capable scorer with long arms who can shoot and play both forward positions. That could especially useful if Kent Bazemore leaves in free agency this offseason, as Prince could fit well as a 3 man shooter in this offense.
22. Charlotte Hornets
Brice Johnson, PF, North Carolina: Johnson is an athletic, bouncy, tough rebounder inside who has done a lot of work to improve defensively and offensively. He has a burgeoning offensive game, as he's a bit more comfortable out to about 13 feet with his jumper. The problems are that he's not a particularly good passer, and his defense simply might not be up to snuff. But over the last few years, Charlotte has prioritized collegiate production, so Johnson -- a North Carolina grad -- makes as much sense as anyone here.
23. Boston Celtics
Jonathan Jeanne, C, France: Jeanne is a high-upside project who may or may not declare for the draft by the time things are all said and done. But he's the kind of home run swing the Celtics an afford to take in this draft, as they have more capital than anyone else. He's an athletic 7-foot shot-blocker and rim runner who can move in transition and rotate in the paint.
24. Philadelphia 76ers
Malik Beasley, SG, Florida State: here are plenty of backcourt options the 76ers could go with here. Beasley works well though, as he's a terrific shot maker. The team could use quite a bit of floor spacing still, as they finished 24th in the NBA in 3-point percentage despite taking the eighth-most in the NBA. He's also proficient at attacking closeouts and getting into the midrange, plus he's a bit more explosive than you think athletically around the rim. Simply, he's an efficient player, and the Sixers could use that.
25. Los Angeles Clippers
DeAndre' Bembry, SF, Saint Joseph's: The Clippers could simply just use more offense off the bench, and they could use it as soon as possible as they're a contending team. Bembry makes sense, as he's a smart creator with the ball, solid defensive player that should be able to learn Doc Rivers' schemes, and excellent passer. He needs to work on his jump shot, but Bembry fits the Clippers needs well.
26. Philadelphia 76ers
Dejounte Murray, PG, Washington: Another young, high-upside backcourt swing for the 76ers. I'm not the biggest fan of Murray necessarily due to his inability to shoot and his relatively lower end explosiveness. However, he has his fans around the league due to his size at the point guard position and his ability to create shots with terrific ball-handling and agility.
27. Toronto Raptors
Juan Hernangomez, PF, Spain: The Raptors are another organization that really does its homework overseas. They will know as well as anyone that Hernangomez is putting up relatively historic numbers for a player his age in the ACB League, and even though I have them filling their power forward hole with Ellenson with their first pick, it makes sense to try to solidify what has been a position of relative weakness for them over the last couple of years.
28. Phoenix Suns
Thon Maker, C, Australia: This represents a home run swing for a Suns organization that has three first rounders and can afford to do so. Maker is an upside pick all the way, as the high schooler has a 9-3 standing reach and solid athleticism to go with a good perimeter game and potential 3-point shot. The problem with Maker is that he's nowhere near ready to play in the NBA, and his feel for the game might be a bit low. Still though, it's a swing worth taking for the Suns if he's sitting at the end of the first round.
29. San Antonio Spurs
Malcolm Brogdon, SG, Virginia: This is the most Spurs pick imaginable. They take one of the best players in the country at running off of screens as well as one of the premier perimeter defenders. He might be 23 and have relatively lower upside than some of those taken above him, but Brogdon could fit extraordinarily well in the San Antonio scheme.
30. Golden State Warriors
Diamond Stone, C, Maryland: While some consider Stone a surefire top 20 pick, I'm just not quite sold. At Maryland this season, he struggled with rebounding, couldn't defend on the perimeter, and generally didn't create much offense for himself. Still though, this would represent a relatively high upside pick for the Warriors. Stone has great touch around the rim, knows how to make himself available as a roll man, and could generally have some of the more questionable parts of his personality adjusted by playing in such a strong locker room. It's about as great a spot as he could hope to land.
CBS Sports HQ Daily Newsletter
Get the best highlights and stories - yeah, just the good stuff handpicked by our team to start your day.
Please check the opt-in box to acknowledge that you would like to subscribe.
Thanks for signing up!
Keep an eye on your inbox for the latest sports news.
Sorry!
There was an error processing your subscription.
Who's Next: Will UNC stay 'in the family' again when it eventually has to replace Williams...

Pitino wanted to bring a 'spirit of optimism' to Twitter, but the Twitterverse had other plans...

Weathers is accused of stealing a wallet containing credit and debit cards at a bar in Sti...
James is the highest-rated prospect to commit to the Vols since Rick Barnes was hired in March...

Who's Next: What will happen when the Wildcats have to replace John Calipari?

Calhoun is taking over a D-III upstart in West Hartford and officially coming out of retir...