A big surprise and massive comeback headline Saturday's Tournament
Dayton extended its season with an upset of Syracuse while Wisconsin overcome a double-digit halftime deficit to beat Oregon and make the Sweet 16 for the third time in four seasons.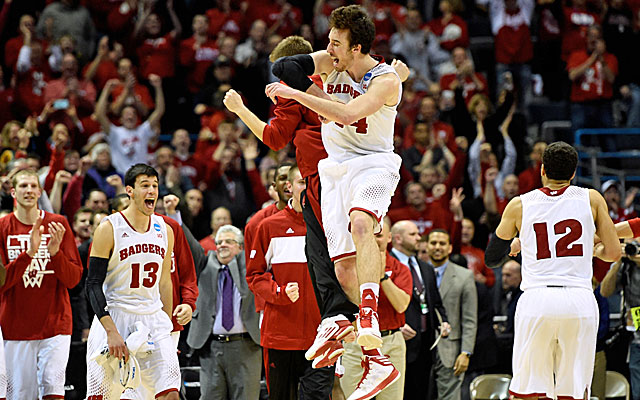 More NCAA hoops: Tournament bracket | Complete coverage of NCAAs | Latest news
Two young coaches (Archie Miller and Kevin Ollie) and six reliable winners (Billy Donovan, Tom Izzo, Steve Fisher, Bo Ryan, Rick Pitino and John Belien) punched tickets to the Sweet 16 on Saturday. Did you miss anything? No worries. I've got you covered right here ...
Game of the day: Before we go forward let's back up and realize that Dayton would not have even been in this NCAA Tournament without three straight wins to close the regular season, and that the Flyers needed a runner in the final seconds against Ohio State to advance to the Round of 32. My point? That Sweet 16 runs can and often do come out of nowhere, and that's the best way to explain Dayton's 55-53 win over Syracuse that launched the Flyers into the second weekend of this NCAA Tournament. They finished tied for fifth in a conference (Atlantic 10) that Duke's Mike Krzyzewski publicly questioned. Now they're the only A-10 school alive, and Archie Miller is about to get paid, jack.
Player of the day: Shabazz Napier is not Kemba Walker. But I understand why those two names appear in the same sentence on the regular, and the Connecticut senior did his best Kemba impersonation in the Huskies' 77-65 win over Villanova. Napier took 13 shots, made nine and finished with 25 points, five rebounds and three assists. I'm not sure what kind of NBA player he'll be, but, man, he sure is a terrific college player.
Comeback of the day: Wisconsin was down 12 points at the half and obviously in trouble. But the Badgers got a little better offensively, a lot better defensively and rallied for an 85-77 win over Oregon that pushed Bo Ryan's team into the Sweet 16 for the third time in four seasons. "Do you know how many fast-break points [Oregon] got in the second half? Zero," Ryan said. "Oregon. One of the quickest teams in the country. So you've got to give the players a heckuva lot of credit." Consider it done, Bo.
Where were the upsets? Dayton and Connecticut won as underdogs, but the rest of Saturday went as scripted with the higher-seeded favorites winning the other six games. That's not terribly exciting, I understand. But every day can't be filled with drama, you know?
Coaching development of the day: Nobody was hired or fired. But I reported early Saturday that Manhattan coach Steve Masiello has emerged as a serious candidate at USF. Masiello's mentor, Louisville's Rick Pitino, subsequently acknowledged that he has spoken with Masiello about USF, and Pitino implied that he's advised Masiello to take the job if offered. So this particular coaching search could be wrapped soon.
Five notable numbers
2: That's the number of Sweet 16s San Diego State has made in the past four seasons -- this the result of a 63-44 win over North Dakota State. And how about Steve Fisher? The Aztecs competed in all of three NCAA Tournaments before Fisher arrived in 1999. They've been to seven since, and they're now just one win away from their first Elite Eight.
3: That's the number of consecutive Sweet 16s Louisville has made thanks to a 66-51 win over Saint Louis in which the Cardinals committed 19 turnovers but still won easily. Among the reasons for that: SLU finished 0-of-15 from 3-point range. Two more wins, and Louisville will be back in the Final Four for the third straight season.
12: That's the number of Sweet 16s Michigan State has now made in the past 17 seasons thanks to an 80-73 win over Harvard. For those counting, Tom Izzo needs just two more wins to make his seventh Final Four and extend his streak of taking every four-year Michigan State player to the final weekend of the season, at least once.
14: That's the number of 3-pointers Michigan made in its 79-65 win over Texas. Those 14 were 10 more than the Longhorns made, three more than the Longhorns even attempted. (Obviously, I'm no basketball coach. But it's hard to lose when you make more 3-pointers than your opponent even attempts, I think.)
28: That's the number of consecutive games Florida has now won after its 61-45 victory over Pittsburgh, and be sure to quote this fact to your friends: Florida has only lost two games all season -- to Wisconsin and Connecticut. All three of those schools happened to make the Sweet 16, point being that the Gators' resume looks even better today than it did a week ago, and it looked so good a week ago that they got the No. 1 overall seed.
Final thought: Dayton's surprising win over Syracuse ensured that a double-digit seed will be in the Sweet 16, but you shouldn't really be surprised by that because 28 of the past 30 NCAA Tournaments have featured a double-digit seed in the Sweet 16.
Did you realize that?
Honestly, I didn't until I saw this post from Matt Norlander.
And this is precisely why I hate when fans of schools randomly ask if their favorite team is a "Sweet 16 team" because, man, you just never know which teams might be Sweet 16 teams because, in this sport, the best 16 teams are never actually represented in the Sweet 16.
Why?
Because the NCAA Tournament is a single-elimination tournament.
Of 40-minute basketball games.
With a short 3-point line.
Consequently, surprises often emerge. Right now, Dayton is the biggest surprise. But give it 24 hours. By this time tomorrow, that label could belong to Stephen F. Austin or Mercer. And that's why your bracket will always look like hell eight days post Selection Sunday, and that's why Warren Buffett will never lose a billion dollars on basketball.
The Jayhawks, ranked No. 6 in the Top 25 (and one), can grab a share of the league Saturda...

Micah Roberts set lines for Vegas' biggest casinos. Now, he's locked in a pick for Oregon vs....

Former Vegas bookmaker Micah Roberts is 12-7 on games involving Gonzaga or BYU
Josh Nagel has his finger on the pulse of West Virginia basketball and released a pick for...

The FBI investigation took another high-profile twist

The Zags are ranked No. 9 in the CBS Sports Top 25 (and 1)