Adidas Invitational: Day Three Recap
Day three of the July live period is in the books. Friday saw several Texas prospects steal the spotlight, while Kendal Harris and several Dallas Mustangs improved their recruitment.
• 4 min read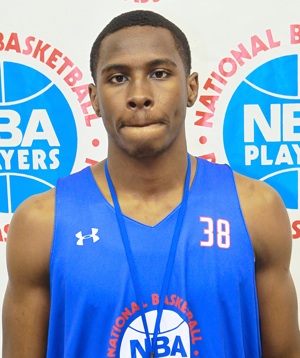 2013 guard Kendal Harris made a name for himself on the Urban DFW Elite perimeter. (Davide DePas)
INDIANAPOLIS – With borderline top-30 prospects Jordan Mickey and Karviar Shepherd in the frontcourt, most eyes are focused on the post when watching Urban DFW Elite.
Over the past couple of months, though, guard Kendal Harris has made a name for himself on the perimeter. The 6-foot-5 prospect out of Richardson Berkner (Tex.) continues to get better.
"I feel like I'm getting into my groove, just trying to impress the coaches," Harris said. "I think I did today." 
Harris held his own at the recent Pangos All-American and NBPA Top 100 camps, going against some of the top players in the country at his position.
"I'm doing what I do best, attacking the basket," he said. "It's getting me in my game. When I gotta go against one of them, I know how hard I have to play."
Arkansas, Texas A&M, Alabama, Texas, Oklahoma State, USC, Gonzaga, Creighton, Marquette and SMU are all pursuing Harris. He wants to take visits to Texas, Marquette and Alabama after the AAU season ends.
"I'm looking for style of play, real fast, up and down," Harris said. "Any my relationship with the coach."
Balance brings success to Dallas Mustangs
There's no superstar on the Dallas Mustangs AAU team, with Missouri-commit Zach Coleman the lone player even committed to a high-major school. However, they have several very solid prospects on the roster, and have used that to their advantage. 
The Mustangs won their three "super pool" games by a combined 65 points, and then defeated the Iowa Barnstormers in the opening round of the playoffs.
"I like this team a lot because we all could go for 20," Leyton Hammonds said. "It's hard for anybody to guard us. We have it all."
Hammonds and Coleman have been difficult to guard on the wings, while Marcus Foster is consistent on the perimeter and Soma Edo brings plenty of energy on the inside. Nathan Hawkins is another shooter.
"All of my teammates get involved, and we all share the ball," Foster said. "I can go off, anyone can go off."
Foster is hearing from Kansas State, SMU, TCU, Lehigh, Oklahoma and Creighton. Meanwhile, Hammonds has Oklahoma State, Oklahoma, Oregon, Arizona State, TCU and West Virginia on his trail.
Hammonds, who has a 3.7 GPA, also just came back from a visit to Stanford. He plans to make a decision in August.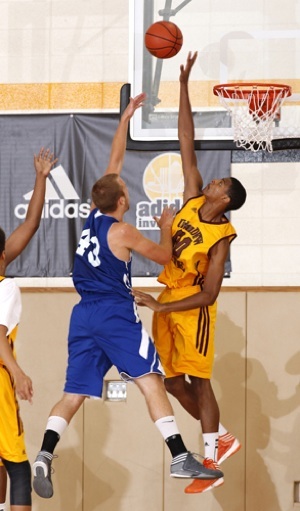 Potential five-star forward Jordan Mickey had arguably the best performance of the day. (Adidas)
Top Performers
Jordan Mickey, 2013, Urban DFW Elite: Mickey was absolutely dominant in his playoff game on Friday. He controlled the paint, scoring at will on the inside and also knocking down face-up jumpers. Mickey blocked shots and rebounded on the defensive end, and played well in transition.
Zak Irvin, 2013, Eric Gordon All-Stars: The Michigan-bound Irvin had his shot falling against NY Rens. He consistently knocked down 3-pointers, even with defenders in his face. Moreover, Irvin was able to get his own shot and pull-up in the mid-range.
Zach Coleman, 2013, Dallas Mustangs: Coleman, a Missouri commit, was extremely difficult to guard. His length, size and athleticism made him a matchup problem for Ohio Basketball Club, hitting perimeter shots and also going off the dribble. His floater is nearly impossible to stop.
Elijah Brown, 2013, Double Pump Elite: The son of Lakers' coach Mike Brown was cooking on Friday night. He hit at least five 3-pointers, including one where he was fouled on the follow-through. Brown's stroke is extremely consistent and he is capable of getting hot if left open.
Jaron Hopkins, 2013, Compton Magic: On Thursday, I was not very impressed with Hopkins' performance, but he showed the tools to be a quality player. He was much better on Friday, demonstrating a quick handle and tremendous vision for someone his size. At 6-foot-4, he's going to be a tough point guard to defend.
Kendal Harris, 2013, Urban DFW Elite: Harris is a strong guard who gets to the rim better than most guards in the class. He is quick in transition, and is also very capable of going off the dribble against defenders. Harris can knock down perimeter shots, and also defends well.
Notes and Notables: Jordan Mickey, a borderline five-star prospect, has Louisville, SMU, Ohio State, West Virginia, Kansas, LSU, Texas and Texas A&M on him. He wants Kentucky to get more involved . . . Elijah Brown has the Pac-12 on him, as well as Butler, San Francisco and Saint Mary's . . . Minnesota Pump N Run has two very good frontcourt prospects. Reid Travis could be a top-100 player in 2014, while Cullen Russo is intriguing in 2013 . . . Kentan Facey has had seemingly every high-major school in the country watch him the past two days. He hasn't put it together yet, but Facey has unbelievable length and athleticism . . . Leyton Hammonds has very good size and scoring ability for the perimeter, while Marcus Foster had his 3-point shot falling consistently . . . He plays mostly below the rim, but Andrew Chrabascz is physical and knows how to finish inside . . . Soma Edo is a freak athlete who had the crowd on the edge of their seat . . . Ballard (Ky.) forward Kelan Martin is getting better and better . . . Montgomery Evans ran the show effectively for the Eric Gordon All-Stars. He just needs to improve his decision-making . . . 6-foot-11 Satchel Pierce has excellent skill for his size . . . Karviar Shepherd showed off a good finesse game, but he needed to dominate more inside against an inferior opponent. 
Will any of these six teams make it to 2018 without their first loss?

Temple could be a big problem for undefeated Villanova, the No. 1 team in the Top 25 (and...

It appears he's more than happy to pay up, given the circumstances
Lithuania seems ready for the Ball era to begin

The Sun Devils make a big jump and the Jayhawks slide after ASU pulls the big upset

Arizona's big man from the Bahamas balled out against two talented teams